Integrated Credit Card Processor Overview
Integrated credit card processing with SuperSalon gives both convenience for salon staff, and security for clients. Every phase of SuperSalon's development keeps the stringent PCI Compliance laws in mind before any version of the program is released. For more information on PCI compliance, you can reference the appendix in this guide, or via our online documentation.
The initial view of the Integration Setup interface will show the selection of processors, the settings for the card swiper, and the text fields for inputting the configuration data. The interface can be broken down into its three major parts as follows:
Credit Card Processor Selection
This section of the Integration Setup page provides six choices in the form of buttons for each integrated method currently supported by SuperSalon. Clicking on the associated button will display the unique configuration data that is required for processing.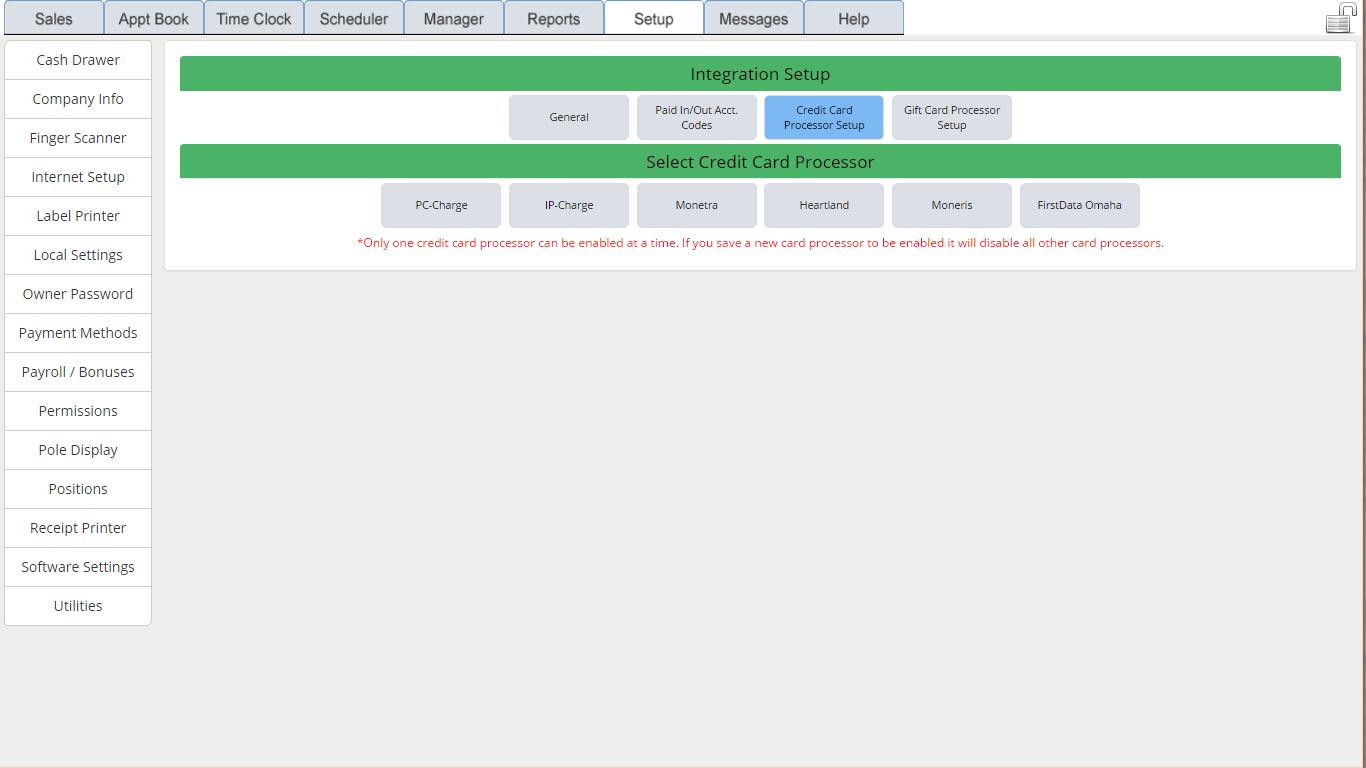 Each of these integrated processors will have their own setup information that will come in the form of a tear sheet which will contain all of the appropriate login credentials and server addresses. For more information on all six of these unique methods, please consult with either RSD technical support, or the sales department.
Only ONE integrated credit card processor can be active in SuperSalon at a time. Enabling or disabling the function can be done in the processors' configuration settings.
Select Card Swipe Settings
The second part of the integration setup page is where users configure the physical card reader for use with the system. Selecting the "Card Swipe Device" button will reveal a list of all card readers available for that processor.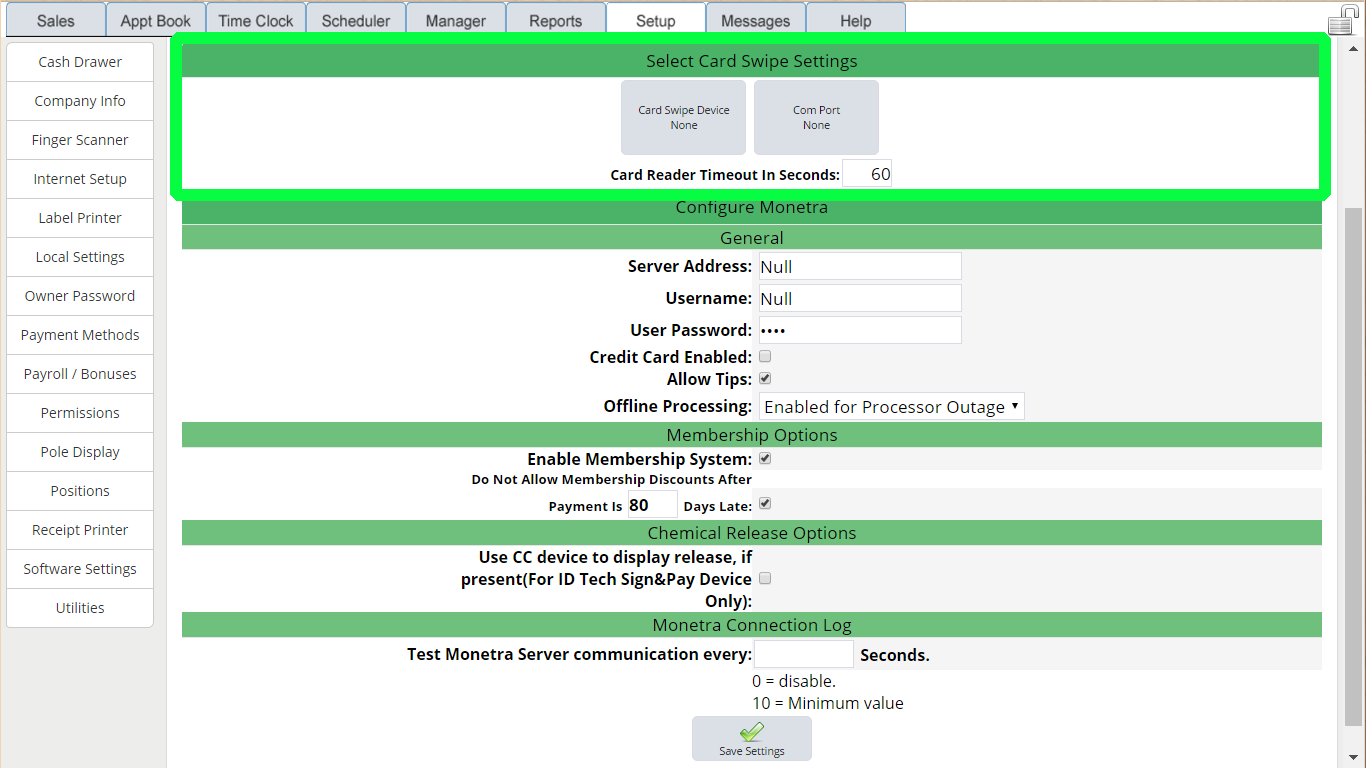 When the correct physical card reader is selected, clicking on the "Com Port" button will give the user the opportunity to select the correct communications port the device will utilize during the sales process.
Processor Configuration Settings
Each of the six supported integrated processing methods utilize a different set of data requirements to function with SuperSalon. This section of the credit card integration setup page is where that unique data will be input.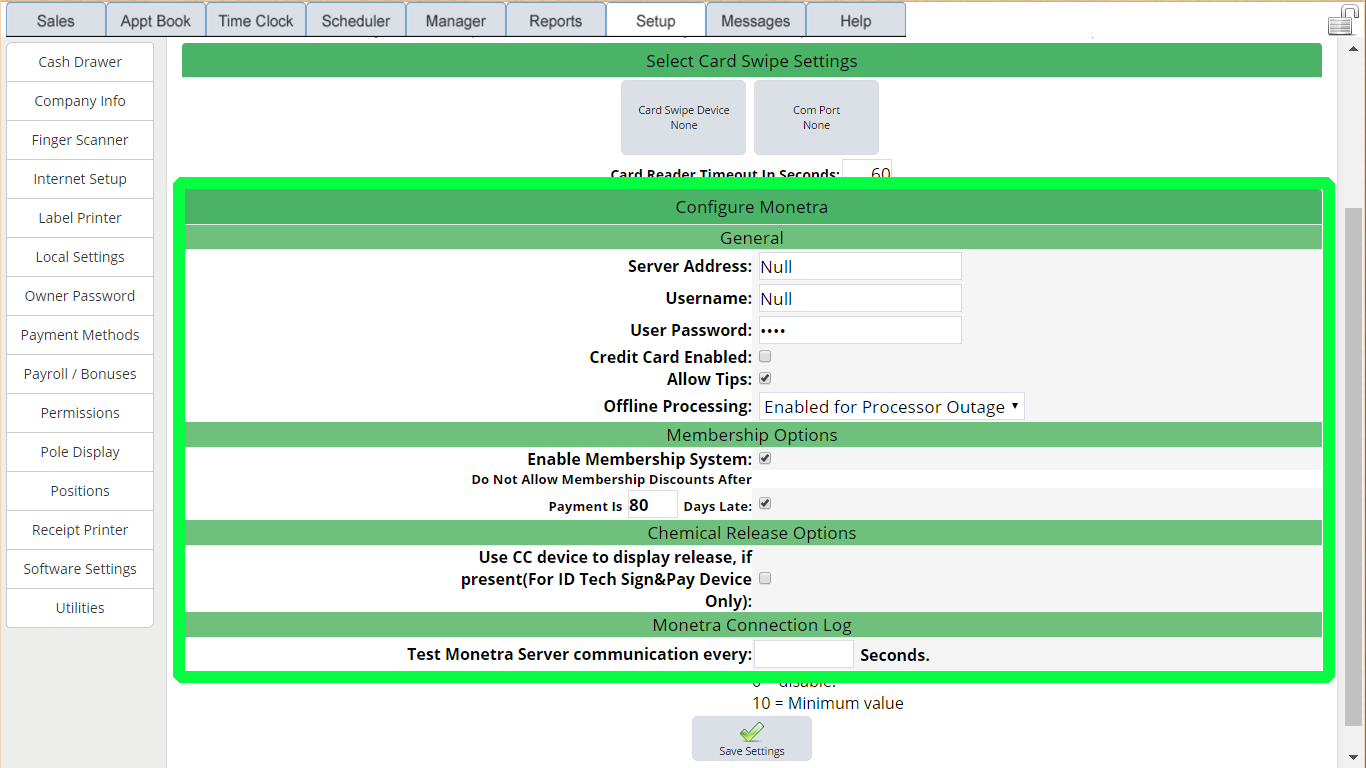 Other settings, such as enabling or disabling credit or debit, can also be found in this configuration section.
---
---