Gift Certificates Report
Location: Reports > Gift Certificates > Gift Certificates
Note that this report is for
gift certificates
only, not SVS gift cards or Factor4 gift cards.
Tracks all active and inactive gift certificates currently in use by customers at the selected salon.
Use Cases by Role
Salon Owner: Another great "meeting report" that can quickly inform salon owners of the current status of their gift certificate program.
Salon Manager: Salon managers can use this report to investigate current balance is left on gift certificates after a customer inquiry.
Salon Employee: Front line staff such as stylists and receptionist find value in this report by being able to answer customer questions about gift certificates with it.
Data Filters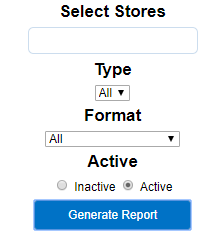 Select Stores: Clicking or tapping here will open the interface that allows the user to select the store(s) that will be be used for the report.
Type: This drop down allows users to filter the data by gift certificate type.
Format: Using this drop down allows users to filter the data by the following metrics:

All
Account
Customer
Simple (No Tracking)

Active: Filling in either checkbox will filter the report data by either inactive or active gift certificates, respectively.
Generate Report: Clicking or tapping on this button will retrieve the report data.
Metrics Tracked
Type: This column displays the gift certificate type, and will default to "Account" if only one is used.
Format: Displays the format of the gift certificate, as listed in the Payment Methods submenu.
Customer/Account Number: The unique account number or customer name associated with the gift certificate.
Date Sold: The exact time stamp in which the gift certificate was sold in both date and time.
Last Used: Displays a timestamp of the most recent time the gift certificate was used.
Sold To: The name of the customer who the gift certificate was sold to.
Sold Four: This column will display the reason why the gift certificate was sold, and will default to "Unknown" if none is given.
Total $: The total amount for which the gift certificate was originally sold.
Used $: The amount used so far on this gift certificate.
Balance $: The current balance left on the gift certificate, as of the date of the report.
---
---