Adding Services on iOffice
Adding services to a salon is a fundamental skill that any iOffice user can quickly learn and start taking advantage of immediately. There are a number of options and variables available both when adding a new service, and editing an existing one. Learn more about which ones might be most useful for you and your business here.
To Add a New Service to iOffice
From anywhere in iOffice click the Manager tab, and then the Services menu. Select the store at which you'd like to create a new service.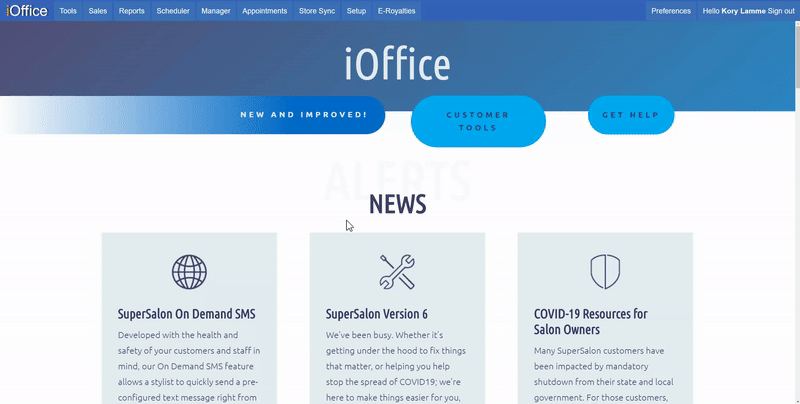 Click the Add Service button.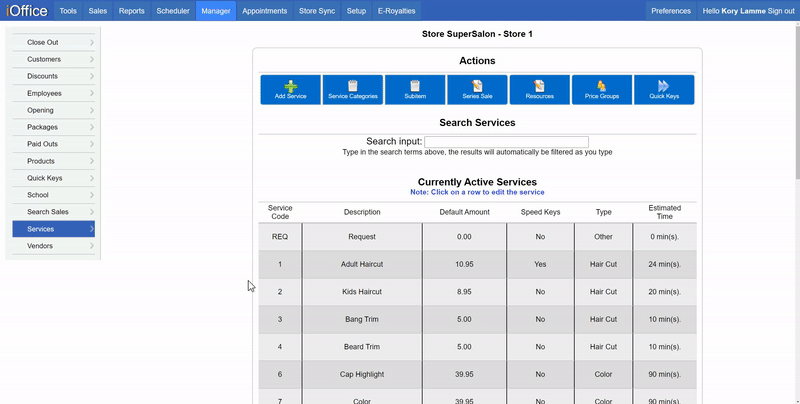 Enter some of the basic (but important) details for the service, including a unique service code.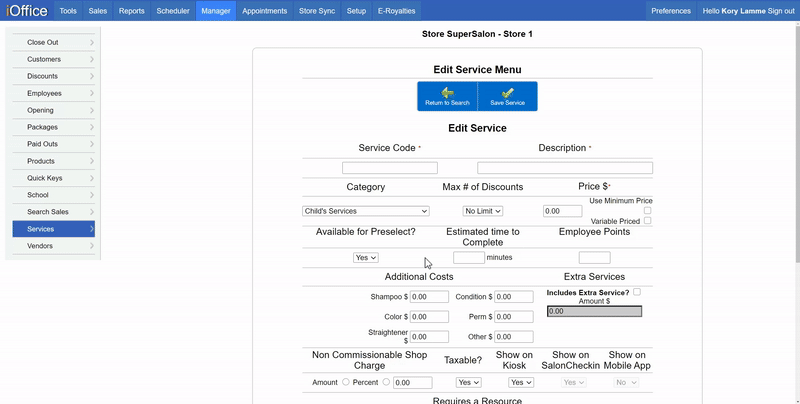 Service Code: A unique numerical identification code for tracking a service.
Description: A short description of the service. Acts as the name of the service in most reporting, during ticket creation, and at check out.
Category: Select a service category under which the service falls, parsing it out into category based reporting.
Configure max discounts, pricing, and a few service time and production settings for the new service.
Variable pricing enables you to set a base minimum price for a service, after which stylists can alter it during ticket creation or at check out.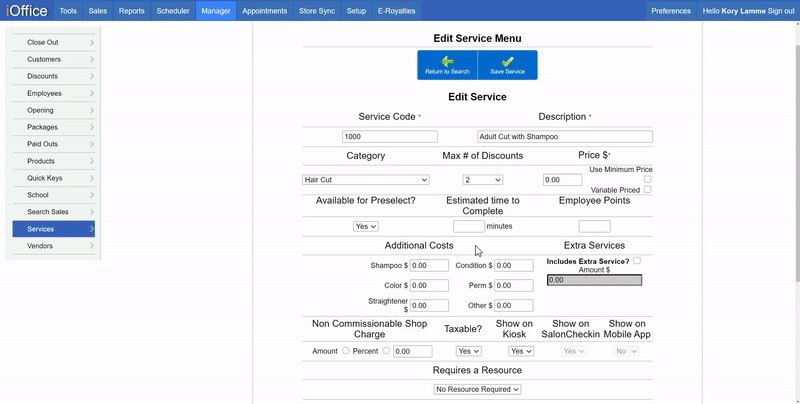 Max # of Discounts: Set a limit to how many discounts can be applied to this product during each sale.
Price $: How much in dollars customers will be paying at check out, pre-tax.
Available for Preselect: Set to yes if this service should be listed
Estimated time to Complete: Set how long the service will take to complete on average.
Employee Points: Input the number of employee points accrued by this service.
Custom service times can also be set per employee
in their profile
, allowing closer production tracking for each employee based on their speed or skill level.
Input any additional charges or extra services that will be applied to the service automatically, charging customers for additional product or services included in servicing.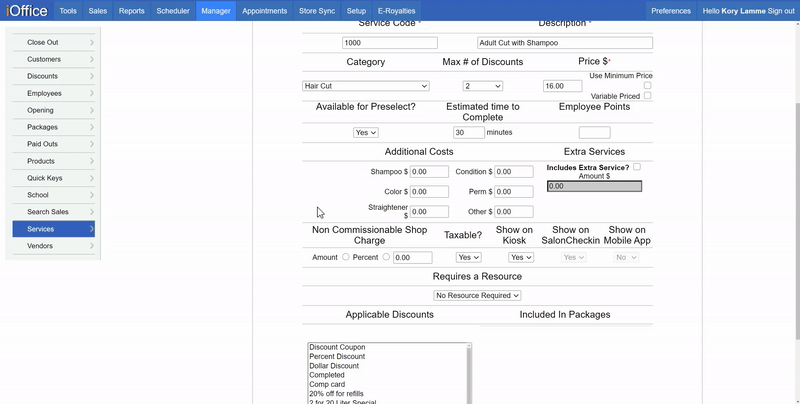 Enter any applicable shop charges, select whether or not this service should be taxed at check out, and enable any of the SuperSalon marketing tools that the salon is using.
Shop charges are usually incurred when a production employee is charged for using products on a service, such as using color products to dye a clients hair. The shop charge is deducted from the commission the employee is awarded for performing a service.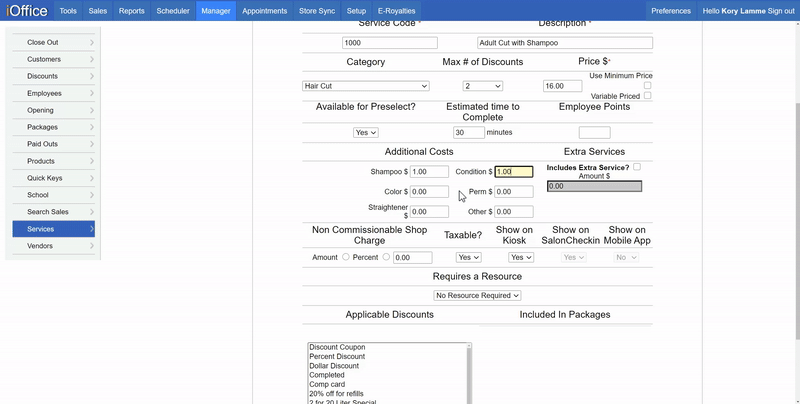 Non Commissionable Shop Charge: Choose whether or not to included a service charge that goes directly to the business, excluding this extra charge from employee commission plans. Leave this setting blank to keep it disabled.
Taxable?: Select whether or not this service should be taxed at check out.
Show on Kiosk: Set to yes to enable this service as available for customers to choose on the self check in kiosk during self check in.
Show on SalonCheckin: Allows this service to be listed as an option that a customer can select when checking in through web check in.
Show on Mobile App: Allows this service to be listed as an option that a customer can select when checking in through mobile app check in.
Requires a Resource: Some services may require an additional resource that you'd like to keep track of, which you can select here.
Determine any applicable discounts and packages. Select the discounts that will be applicable to the sale of this product by clicking them in the list.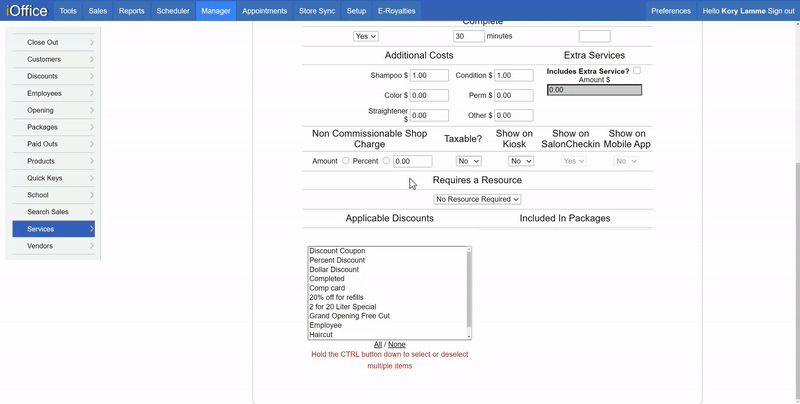 Hold the ctrl key + left click to select more than one discount on the list.
Confirm everything you just set up, and click the Save Service button at the top of the screen.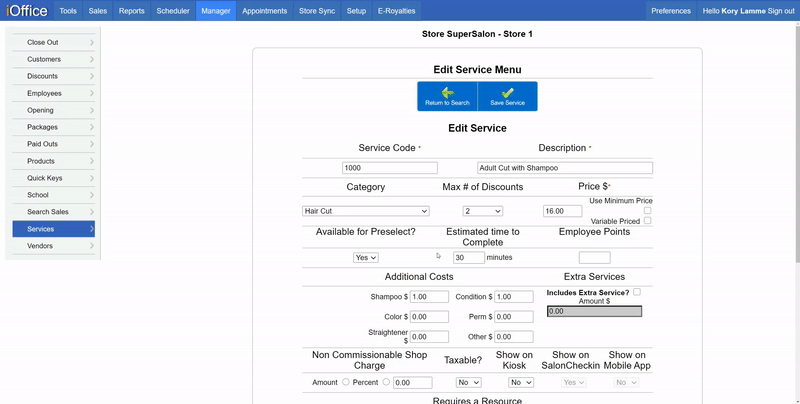 Editing Existing Services on iOffice
Services can easily be edited through iOffice at any time by first going to the Manager tab, and then the Services menu within. Select the store at which you need to edit a service.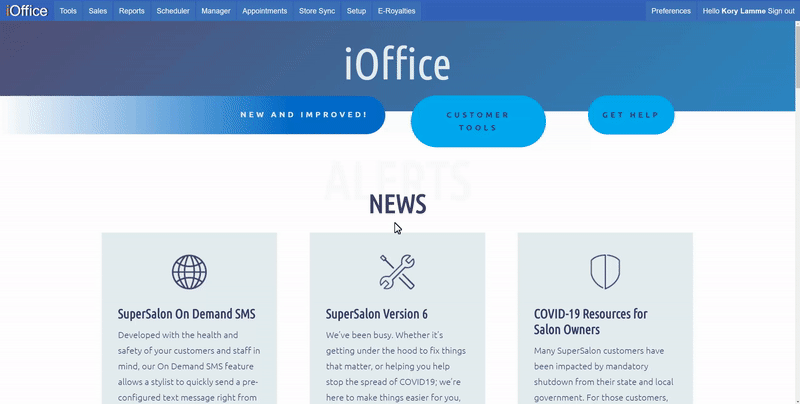 Simply select the service you need to change from the list, make any necessary changes, and then click the Save Service button.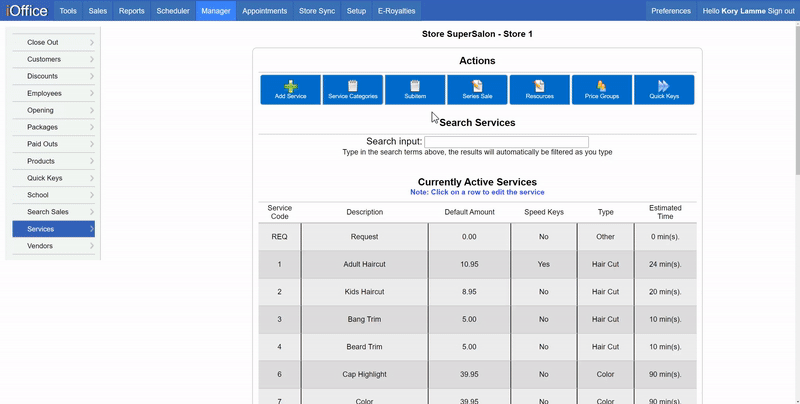 ---
---