Location: Reports > Sales > Weekly
Structured much like the daily report, this report provides the same range of information from close out totals to an hourly break down of individual employee performance.
Use Cases by Role
Salon Owner: This report is good for salon owners who wish to focus on the results of single weeks.
Salon Manager: Salon managers can print this report out at the end of the week as a point of reference.
Salon Employee: Stylists and other front line staff members can use this report to see how many services they have performed in a given time frame of the week.
---
Data Filters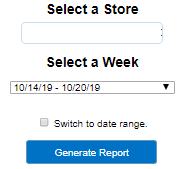 Select Stores: Clicking or tapping here will open the interface that allows the user to select the store(s) that will be be used for the report.
Select a Week: This drop down menu enables users to choose the week they would like to use for the purposes of the report.
Switch to date Range: Filling in this checkbox will replace the "Select a Week" drop down menu with the traditional calendar interface to choose a date range.
Generate Report: Clicking or tapping on this button will generate the report based on the other filter criteria.
---
Metrics Tracked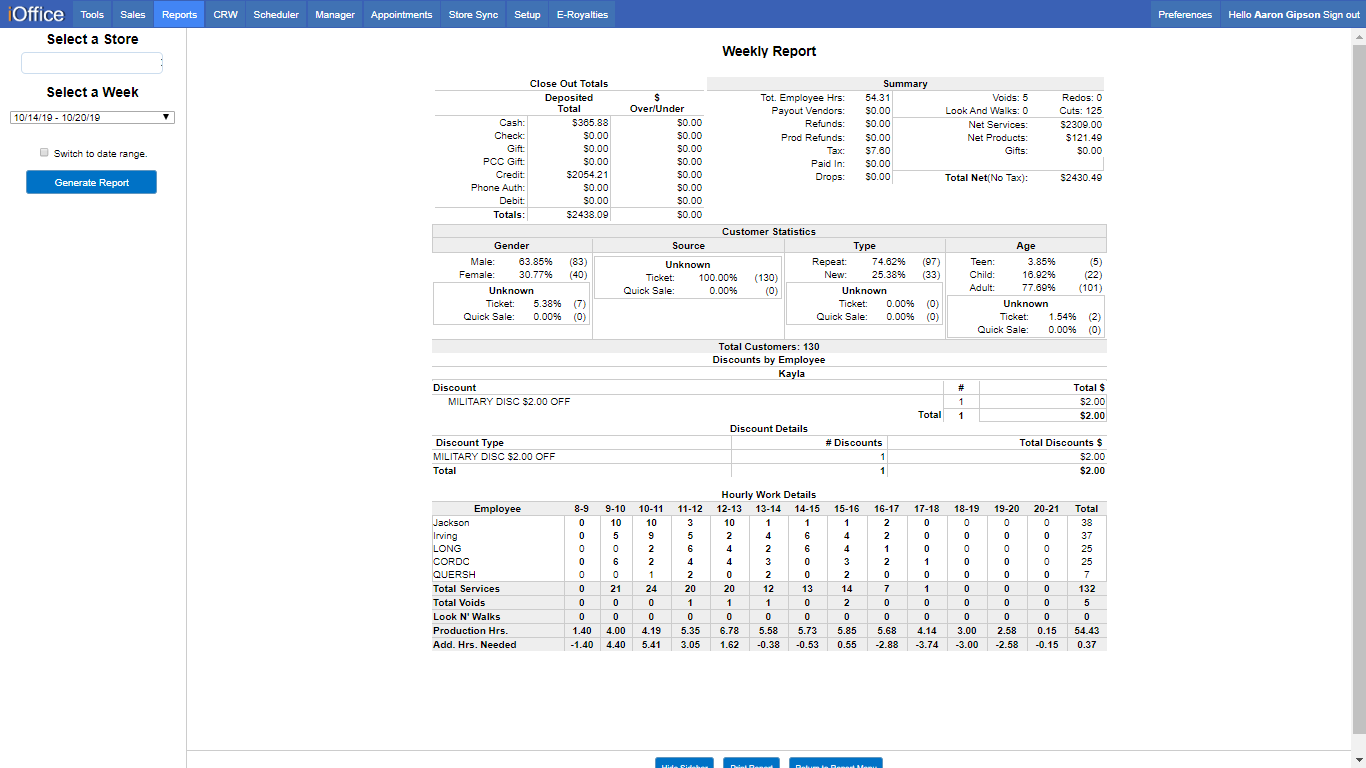 Close Out Totals
This section in the upper left displays both the deposit total and any overages or underages associated with all payment methods. Totals are also included at the bottom row.
Summary
The next area of the report contains a detailed summary of revenue information in addition to employee hours for the given week. All of this revenue is then tallied at the bottom row into a total net value.
Customer Statistics
Statistical information for salon clients is displayed in this central part of the Weekly Report. In addition to totals at the bottom of the section, a breakdown of information is available for the following metrics:
Discount Details
This section of the report shows all discount types that were used during the timeframe, the total number of discounts used, and the total value of revenue that was discounted.
Hourly Work Details
The last section of the report at the bottom will show a detailed breakdown of employee hours for each staff member. There are also totals listed for services, voids, and other metrics.