Transaction Detail Report
Location: Reports > Sales > Transaction Detail
Detailed breakdown of every ticket processed in SuperSalon for a given time frame.
Use Cases by Role
Salon Owner: Salon owners who like to know the details of every single sale that transpires at their locations can find value in this report.
Salon Manager: Salon managers can reference this report if there are any questions on any past transactions from clients or staff.
Salon Employee: Stylists and other frontline salon staff can use this report as a reference point for each ticket their name is on.
---
Data Filters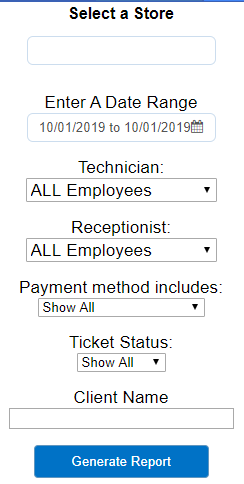 Select a Store: Clicking or tapping here will open the interface that allows the user to select the store(s) that will be be used for the report.
Enter A Date Range: Clicking or tapping into this field will generate a calendar interface for the user to select a single date, or a date range.
Technician: If the user wants to see only tickets processed by a particular technician, they can select them in this drop down menu.
Receptionist: This drop down filter enables users to view tickets that were processed by a particular receptionist.
Payment method includes: All payment methods will be shown in this drop down menu for users to filter results by them.
Ticket Status: This drop down filter enables users to show all tickets, completed ones, or voided ones.
Client Name: Entering a customer name into this text field will filter results for only that client.
Generate Report: Clicking or tapping on this button will generate the report based on the other filter criteria.
---
Metrics Tracked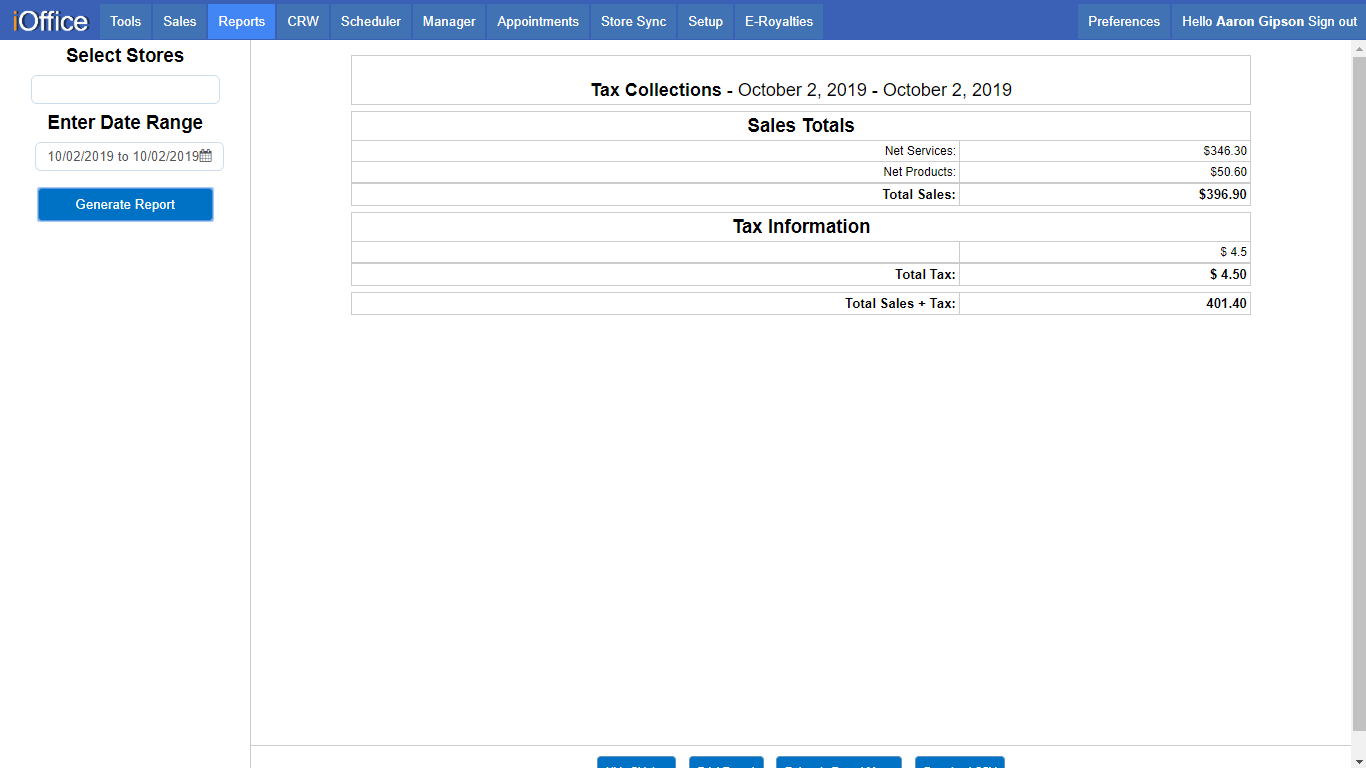 ID: The unique daily ticket number.
Time in: The timestamp from when the ticket was created.
Time out: The timestamp from when the ticket was completed.
Service Time: How long the service took to complete in minutes and seconds.
Receptionist: The name of the receptionist who processed the ticket.
Status: The current status of the ticket from the time of the report.
Client: The name of the customer on the ticket.
Transaction: These rows represent each transaction on this ticket from servicing to tax.
Stylist: The name of the stylist who performed the service on the ticket.
Amount: This column corresponds to the rows of the Transaction column.
Description: This column also corresponds to the rows of the Transaction column.
Ticket Detail: The far right area of the report shows a detailed breakdown of each ticket, much like the Search Sales submenu.