Schedule Forecasting Report
Location: Reports > Sales > Schedule Forecasting
Predictive report that can be used to estimate future salon traffic based on gross sales per hour of previous weeks. That information can then be used to optimize the employee schedule accordingly.
Use Cases by Role
Salon Owner: Salon owners who do their own employee scheduling can find this report useful and money-saving.
Salon Manager: Salon managers can utilize this report to maximize the effectiveness of their staffing while minimizing labor costs for owners.
Salon Employee: Stylists and other frontline salon staff may not see much value from this report other than to see average revenue for previous weeks.
---
Data Filters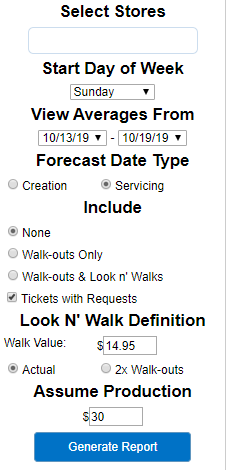 Select Stores: Clicking or tapping here will open the interface that allows the user to select the store(s) that will be be used for the report.
Start Day of Week: This drop down menu enables users to select which day of the week will be used for the starting day of the report.
View Averages From: This set of two drop-down menus are for setting the beginning and end dates of the sampling, based on the start day of the week.
Forecast Date Type: Users have the option of selecting "Creation" or "Servicing" for the purpose of the forecast.
Include: Three bubbles are shown here to allow users to factor in walkouts and look and walks into the equations of the report.
Tickets with Requests: Filling in this checkbox will factor requests into the current calculations of the schedule forecast.
Look N' Walk Definition: This text field is for entering the dollar value of revenue lost when a client walks out.
Actual and 2X Walk-outs: These two bubbles allow users to configure actual walkouts, or a hypothetical double walkout situation into the report's equations.
Assume Production: This text field is for entering the dollar value of assumed production Per hour.
Generate Report: Clicking or tapping on this button will generate the report based on the other filter criteria.
---
Metrics Tracked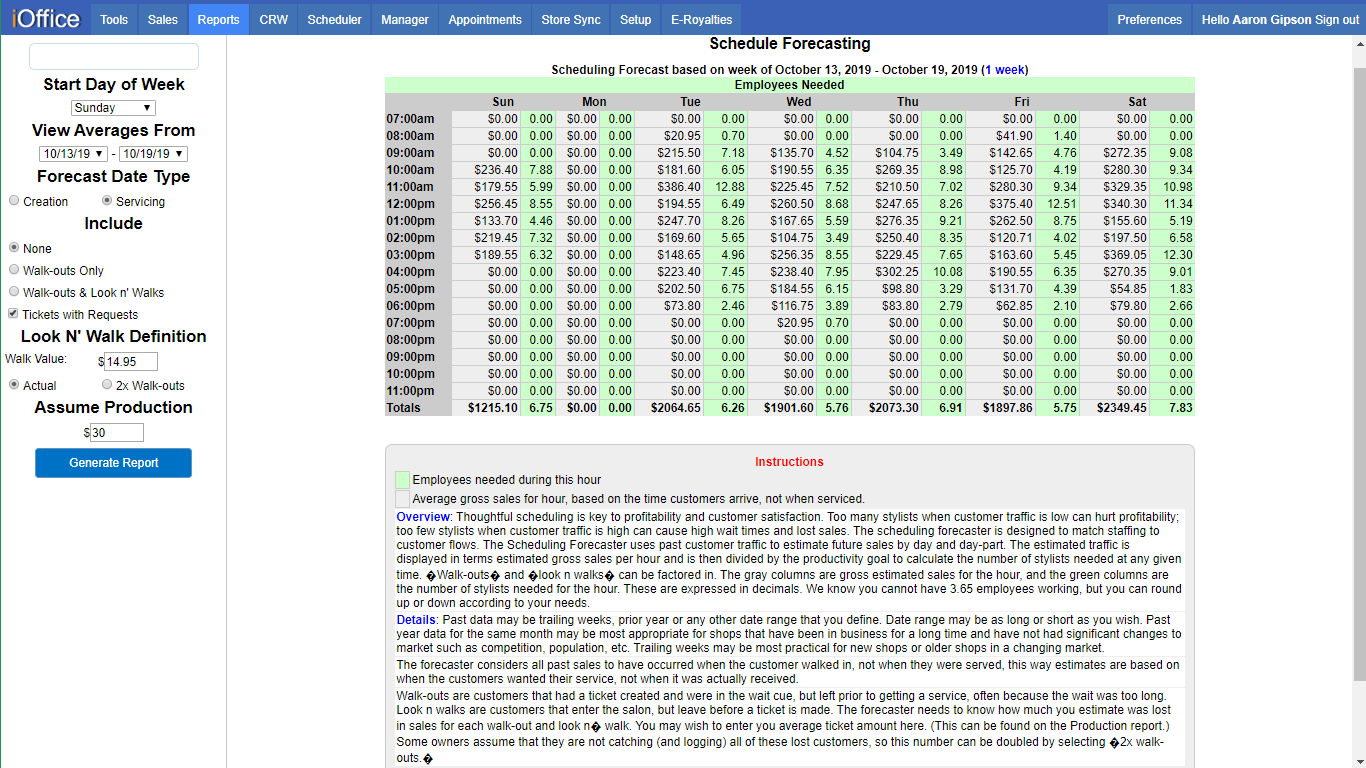 Time of Day: Each hour the salon is open will have a row associated with it for the purposes of this report.
Day of Week: The upper row of the report represents each day of the week, based on the start day established in the initial filters.
Gray Column: The average gross sales per hour that can be expected for this timeslot, based on weeks past.
Green Column: The total number of employees needed per hour to cover the expected production.
Totals: All totals are tabulated for each day of the week at the bottom section of the report.
Instructions: There is more extensive background information and explanation of each metric at the bottom of the report itself.