Update sales and service taxes for all locations within an account, all at once. The sales tax update utility utilizes a spreadsheet import mechanic to quickly apply tax changes to all specified locations.
Call ProPoint Technical Support at 1-888-458-1001 ext. 2 or email us at [email protected] if you are unsure for any reason, or need assistance.
Understanding Sales Tax Data Headers
Sales Tax Headers
DB Name: You can find a store's database name on iOffice by going to Setup > Internet Setup > Office Upload under the Store Username field. You can add the sales tax to multiple salons by creating a row for each store you want to import the tax into.
Rate: The percentage value of your sales tax. Do not include a percentage symbol. Numeric decimal values only.
Name: This will simply be the title of the sales tax you are importing into the salon's data.
AppliesToAllProducts: 1 or 0 value only. Decide whether or not you want to apply this sales tax to ALL products. 1 means yes, 0 means no.
AppliesToAllServices: 1 or 0 value only. Decide whether or not you want to apply this sales tax to ALL services. 1 means yes, 0 means no.
ReplacementTax: 1 or 0 value only. Decide if this tax will act as a replacement tax or not. 1 means yes, 0 means no.
Code: Leave this field blank, or enter a code of your choosing.
Delete: Leave this field blank.
A store's DB Name is unique and must be identical to what's found under Office Upload. If you are importing a tax to more than one salon, you'll need to go and get the DB Name for each store you want it to be imported to with a dedicated row on the .csv file for each one. See the example below.
The Rate field needs to be based off of whole numbers. This means if you are looking to add a 4.75% sales tax, you need to enter a value of .0475 into the spreadsheet!
Example

---
Importing a Tax .csv
Download the corresponding template file below, and carefully review what each data column actually is and what needs to be filled in before you continue. Do not change the column headers or your import will fail.
Step One: Download the sales tax or service tax template file that you need below. Edit it and fill it in based on the requirements outlined above. Save the file.
Step Two: From anywhere on iOffice, select the Tools tab in the overhead toolbar, and then select the Sales Tax Update Utility sub-menu within.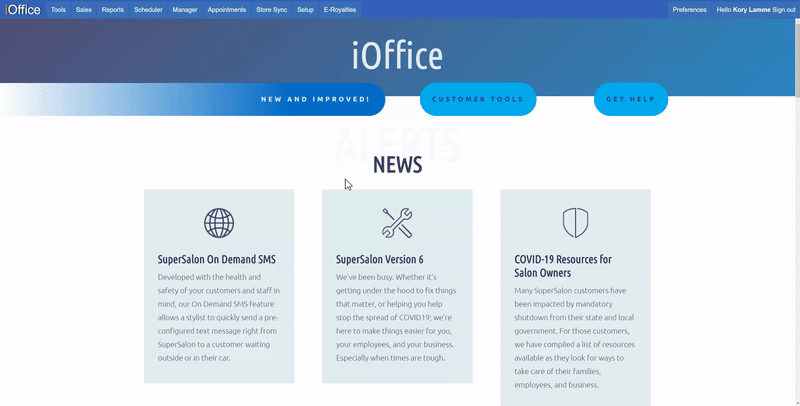 Step Three: Click the Choose File button in either the Sales or Service Tax rows, depending on which one you are importing. Select the .csv file you edited and saved on your computer in step 1, and click open.
Be sure you actually edited and saved the template file, otherwise you won't be importing anything! See the images above for an example of what your file might look like before importing it.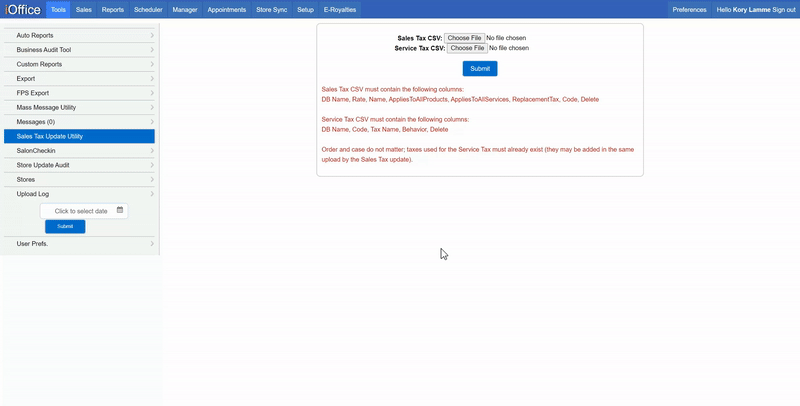 Step Four: Click the Submit button to upload the CSV spreadsheet to iOffice.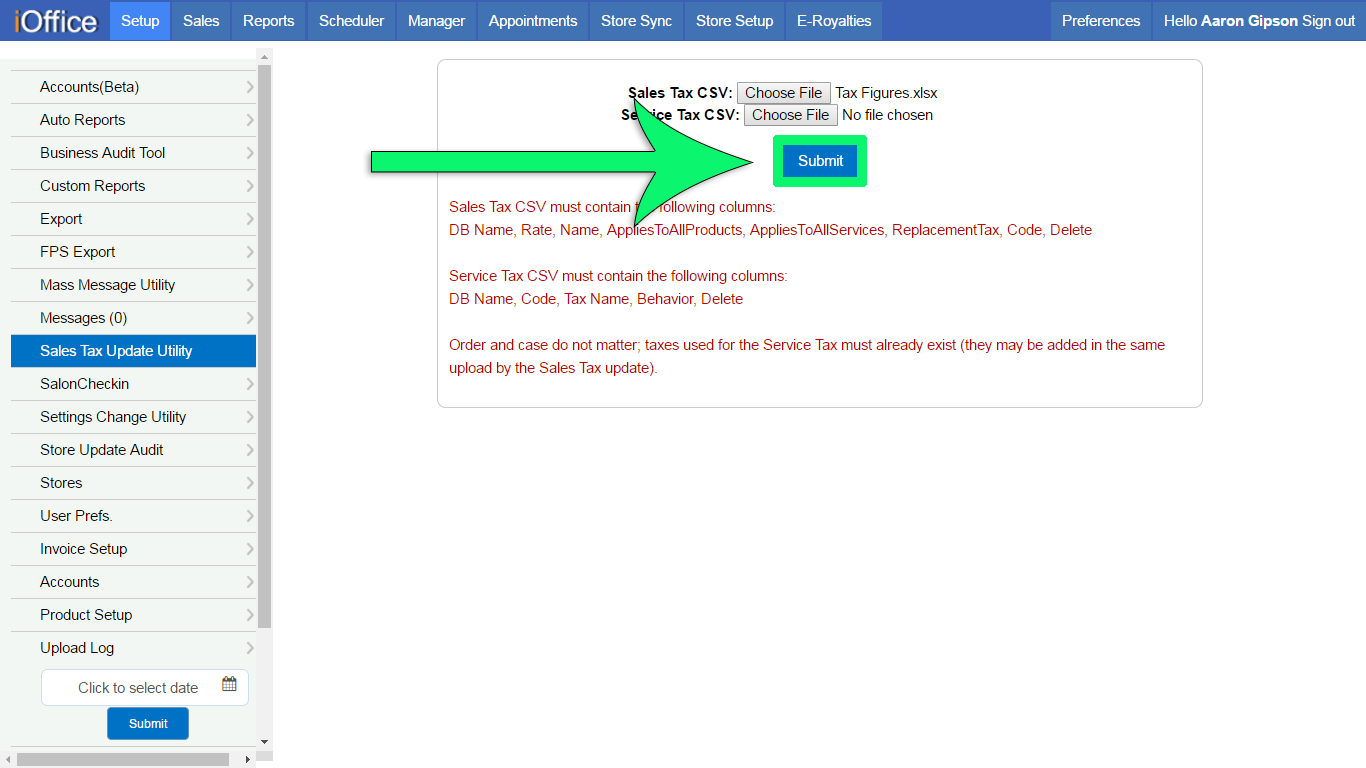 You can check that the taxes were imported correctly by going to one or more of the receiving stores' tax settings on iOffice via Setup > Software Settings > Taxes.