Rate My Visit is one of the oldest enhancement modules for SuperSalon, and also one of the most popular. This feature provides an inexpensive way to get client feedback, and a perspective that can assist with adjusting business models accordingly. When combined with a generous inducement or discount for completing the surveys, and is also a great feature for repeat business.
This is accomplished by adding a link to a survey at the bottom of every receipt footer the location generates. There is a special code provided that, when plugged into the website, will take them to the survey where they can give feedback on their visit. The results of the survey are then sent to the business owner by way of the "Rate My Visit" report in iOffice.
Rate My Visit: At a Glance
Summary of Benefits:
Gives salon customers an easy way to give feedback on their visits.
Gives salon owners the opportunity to see areas of improvement in their business model.
Provides a sense of brand confidence for the general public.
Enhances the possibility of repeat visits by way of the discount, or inducement.
Requirements:
Broadband Internet connection (High-speed)
SuperSalon POS 5.6.x or Newer
Resources Provided:
Automatic installation of the feature after activation.
Access to the survey results via reporting in iOffice.
Customization tools for the receipt footer in SuperSalon and iOffice.
Signs for the front desk, advertising the feature, with the locations branding (Optional) .
Cost and Setup:
Customizing the Rate My Visit Footer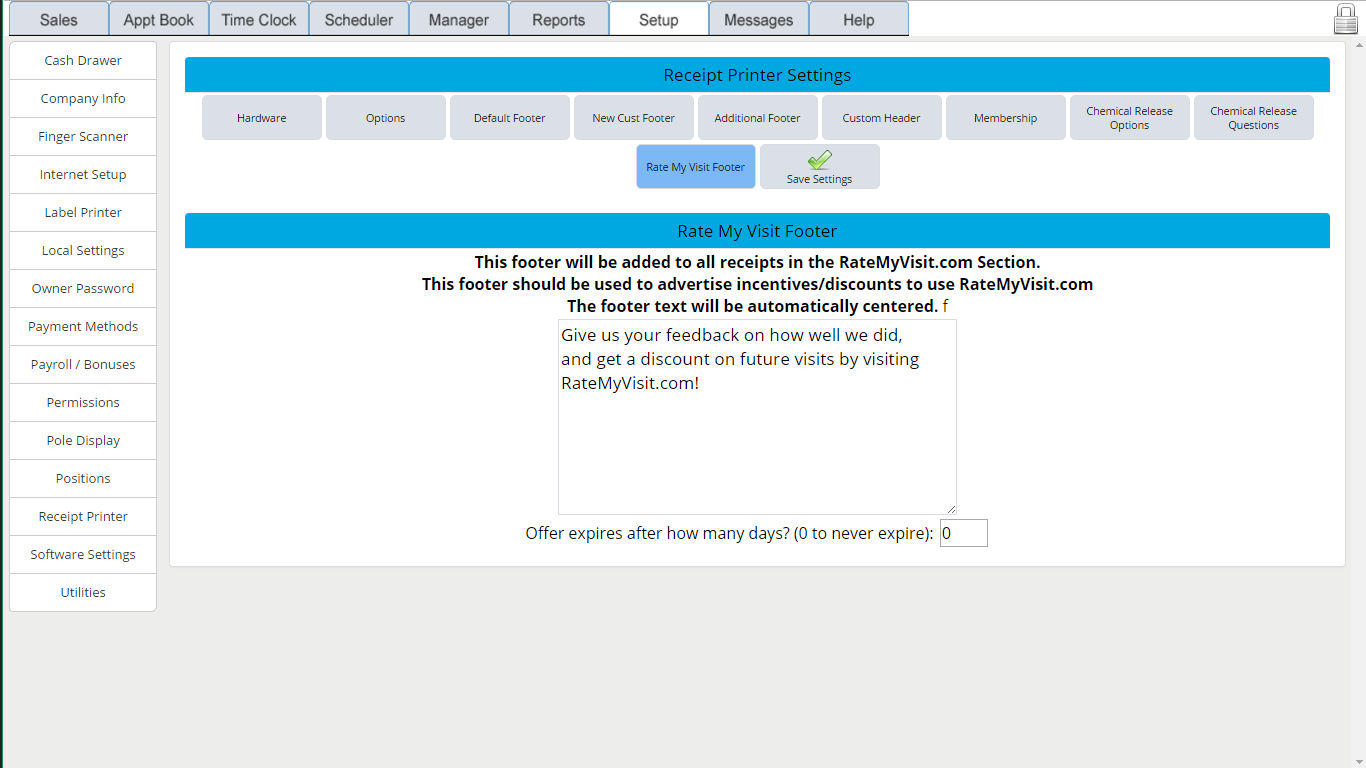 Shown on the right is the area in the SuperSalon point-of-sale where the Rate My Visit footer is customized. Located in Setup > Receipt Printer > Rate My Visit Footer, this text field allows users to not only customize the message they wish their clients to see, but also determine how long the standing offer of the inducement will last after the receipt has been generated.