Location: Reports > Products > Product Sales
Tracks all retail product sales in minute detail, with several filters available to adjust the data reported.
Use Cases by Role
Salon Owner: This report can be valuable for salon owners who wish to know all the ins and outs of their retail product sales.
Salon Manager: Managers can reference this report when looking to give accolades for retail sales performance.
Salon Employee: Stylists and other front line salon staff can reference this report when they want to track how well they are doing with retail sales.
---
Data Filters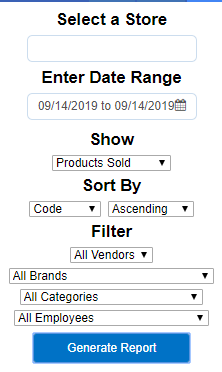 Select a Store: Clicking or tapping here will open the interface that allows the user to select the store(s) that will be be used for the report.
Enter Date Range: Clicking or tapping into this field will generate a calendar interface for the user to select a single date, or a date range.
Show: This drop down gives the user the option to view the report based on these three metrics:

Products Sold
All Products
Product Not Sold

Sort By: These two drop-down menus allow users to sort the report results in ascending or descending order based on the following metrics:

Code
Name
Vendor
Brand
Category
In Stock
Sold #
Cost
Retail
Last Sold

Filter: Four additional drop-down menus enable users to filter the report results based on these metrics:

Vendor
Brand
Category
Employee

Generate Report: Clicking or tapping on this button will generate the report based on the other filter criteria.
---
Metrics Tracked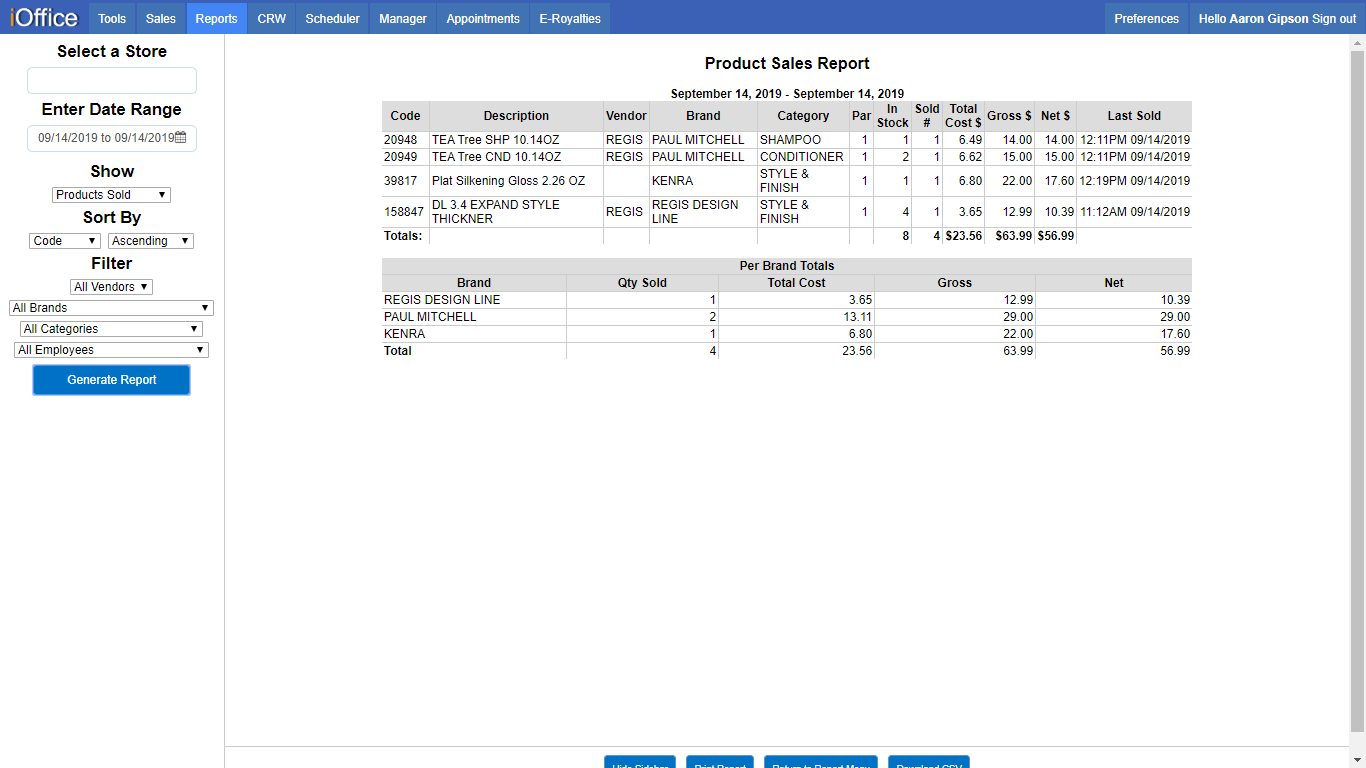 Code: The numeric code associated with the retail item.
Description: The name of the item as it appears in its Product Profile.
Vendor: This column displays the name of the vendor for the product.
Brand: The brand to which the product belongs is listed in this column.
Category: The product category to which the retail item belongs.
Par: The current par number for the retail item.
In Stock: The number of these retail items currently available-for-sale.
Sold #: The number of these retail items sold during the date range of the report.
Total Cost $: The cost of the item for the salon.
Gross $: The gross dollar value of revenue generated by the sale of the item.
Net $: This column displays the net dollar value of the items sold.
Last Sold: The timestamp of both time and day when the most recent purchase of the item was made.