Location: Reports > Products > Product List
Shows a simple roster of all retail products and other inventory items currently registered in SuperSalon, as well as a more detailed view of the product inventory.
Use Cases by Role
Salon Owner: Because this shows all relevant data in a single page, salon owners find this report more useful than the Manager > Products main screen.
Salon Manager: When performing routine inventory tasks, this report can be a useful reference for salon managers.
Salon Employee: Salon staff such as stylists and receptionists can reference this report when they want to familiarize themselves with the products available at their location.
---
Data Filters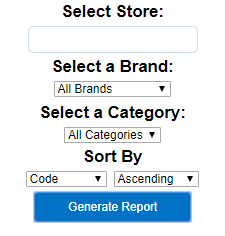 Select Store: Clicking or tapping here will open the interface that allows the user to select the store(s) that will be be used for the report.
Select a Brand: All product brands are listed in this drop down menu, and selecting one of them will show only those items in the report.
Select a Category: This drop down menu allows users to show all product categories, or just specific ones in the report.
Sort By: These two drop-down menus allow users to sort the report data in ascending or descending order, based on the following metrics:

Code
Brand
Description
Category
Vendor
In Stock
Price

Generate Report: Clicking or tapping on this button will generate the report based on the other filter criteria.
---
Metrics Tracked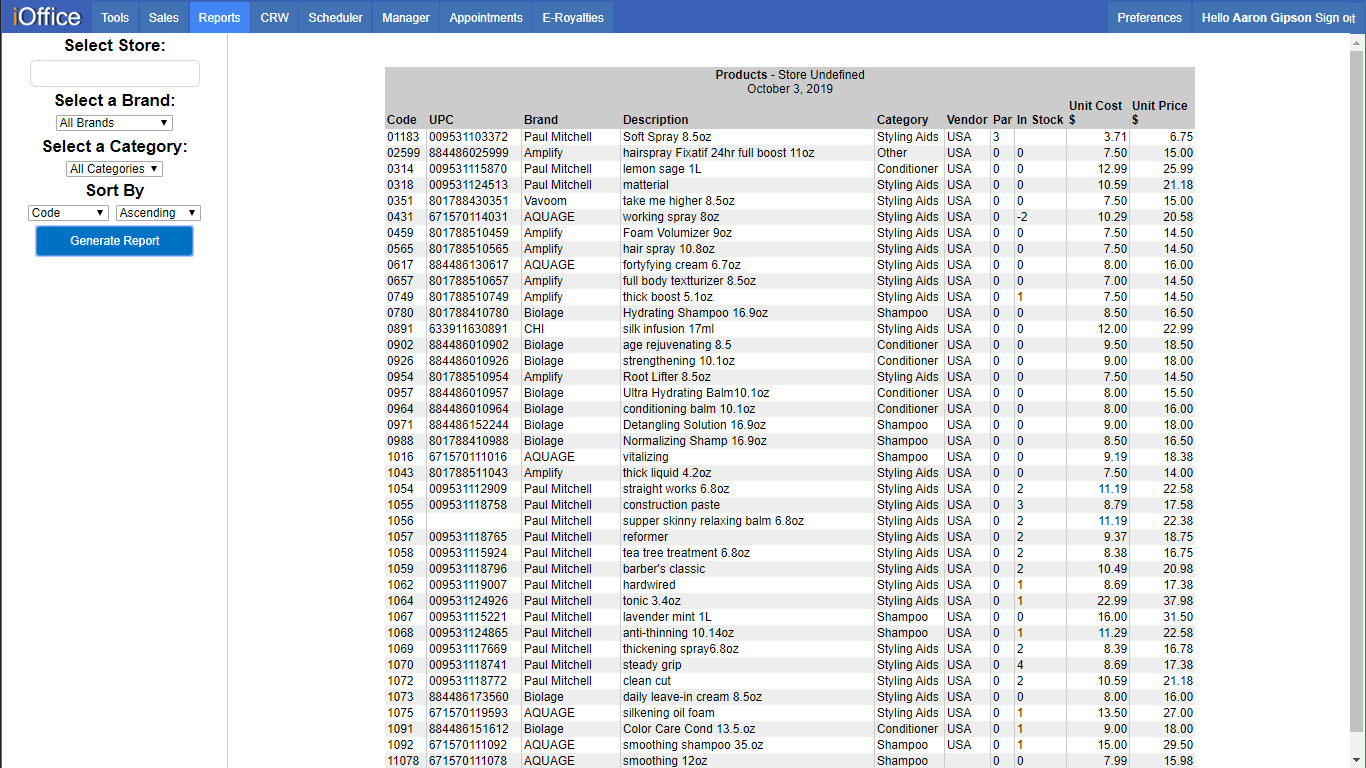 Code: The unique numeric product code associated with this item.
UPC: The UPC code of the item listed in the report.
Brand: The product Brand the item belongs to.
Description: The description of the product, as it appears in its Product Profile.
Category: This column will show which category the product belongs to.
Vendor: The name of the source of the item for the purposes of product orders.
Par: The number of items that are desired to be on the shelf at all times.
In Stock: The current number of items available-for-sale.
Unit Cost: The cost of the item as it relates to the salon.
Unit Price: The amount charged to salon customers for the product.