Overview of SuperSalon's School Features
SuperSalon was designed from the ground up to be used in salon environments, as well as learning institutions. And in the case of most national and privately owned beauty schools, both functions function in tandem, and have to perform exceptionally well. SuperSalon has always excelled in both areas by providing a dependable, easy to use point of sale, AND a powerful database functionality that can be used for both grading and tuition tracking purposes.
Learning institutions like Empire Beauty Schools, and Toni and Guy Schools have used SuperSalon almost since its first release in 2003. Our largest cosmetology school client, Empire, has been educating generations of new stylists since 1946. With over 12 thousand students per year graduating from their 100+ schools, SuperSalon's capabilities have been able to make every grade count; and quantify every interaction between teacher and student.
The following article will provide an overview of SuperSalon's abilities in cosmetology school environments.
Customizable Grading Features
As most learning in Cosmetology schools is done with a hands-on approach, SuperSalon can be configured to work as a fully functioning point of sale in addition to keeping track of student resources such as assigned mannequins. This allows tests on both live subjects and practice runs to treated as equally, or as different as the administrative staff sees fit.
The image below shows grades being assigned at the checkout process, with each individual feature of the service carrying its own grade value. Separate "Service" and "Customer" grades can be tallied from this interface as well, and the grades can be distributed amongst multiple students in instances of group projects and / or assignments.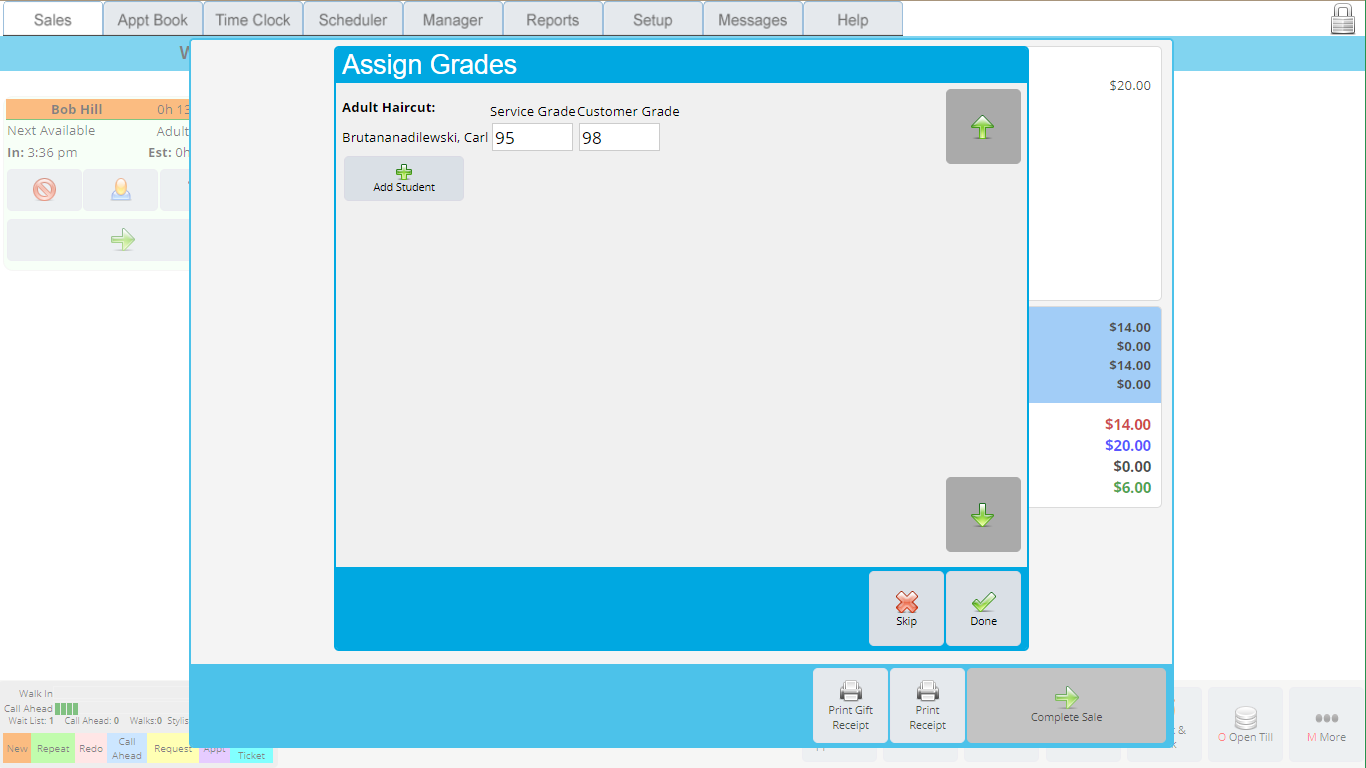 SuperSalon's powerful database can do far more than just keep track of grades performed at the end of a service. Each student's performance is individually measured and tallied from a host of other metrics as well with SuperSalon's indepth reporting capabilities. Over 100 different reports can be used in conjunction with unique lesson plans to prepare students for almost any real-world scenario that can happen in a standard salon.
And due to SuperSalon's current market share, there is a good chance that when students start their professional career, they will also be using SuperSalon at the company where they will be working. Therefore, experience with this point of sale system will go a long way in helping them to hit the ground running.
---
Painless Tuition Management
Cosmetology schools want students to be able to focus on learning, and not have to worry about keeping track of payments and debts. SuperSalon makes this part of the business as painless as possible by allowing the user to configure any number of unique tuitions types and payment plans. Pictured below is an example of a tuition plan, and you can see the variables that can come into play when configuring it.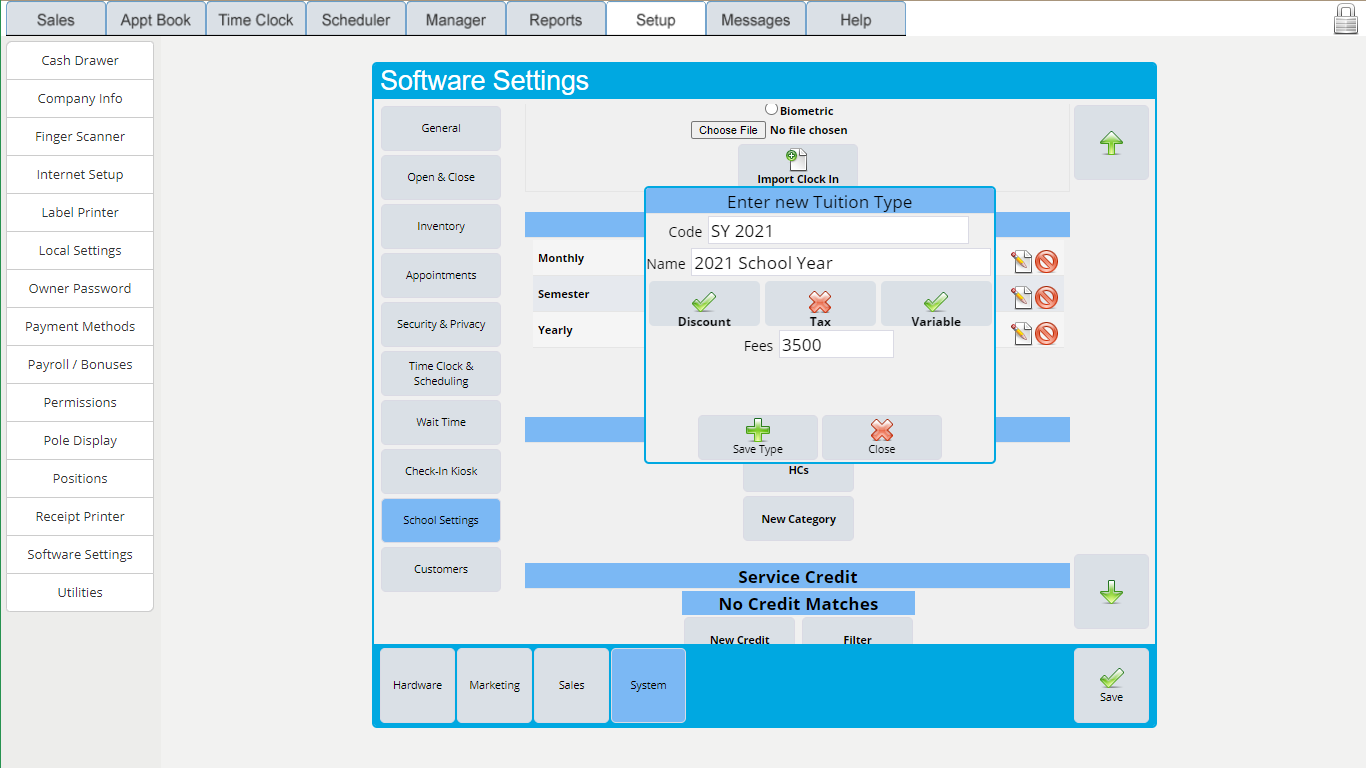 These unique tuition plans can then be assigned to each student on an individual basis, providing both flexibility for them; and peace of mind for you. The image below shows our new tuition plan from the previous illustration being assigned to Carl, one of the students. Making the payment is also possible from this screen, which will then go into the checkout process for final settlement.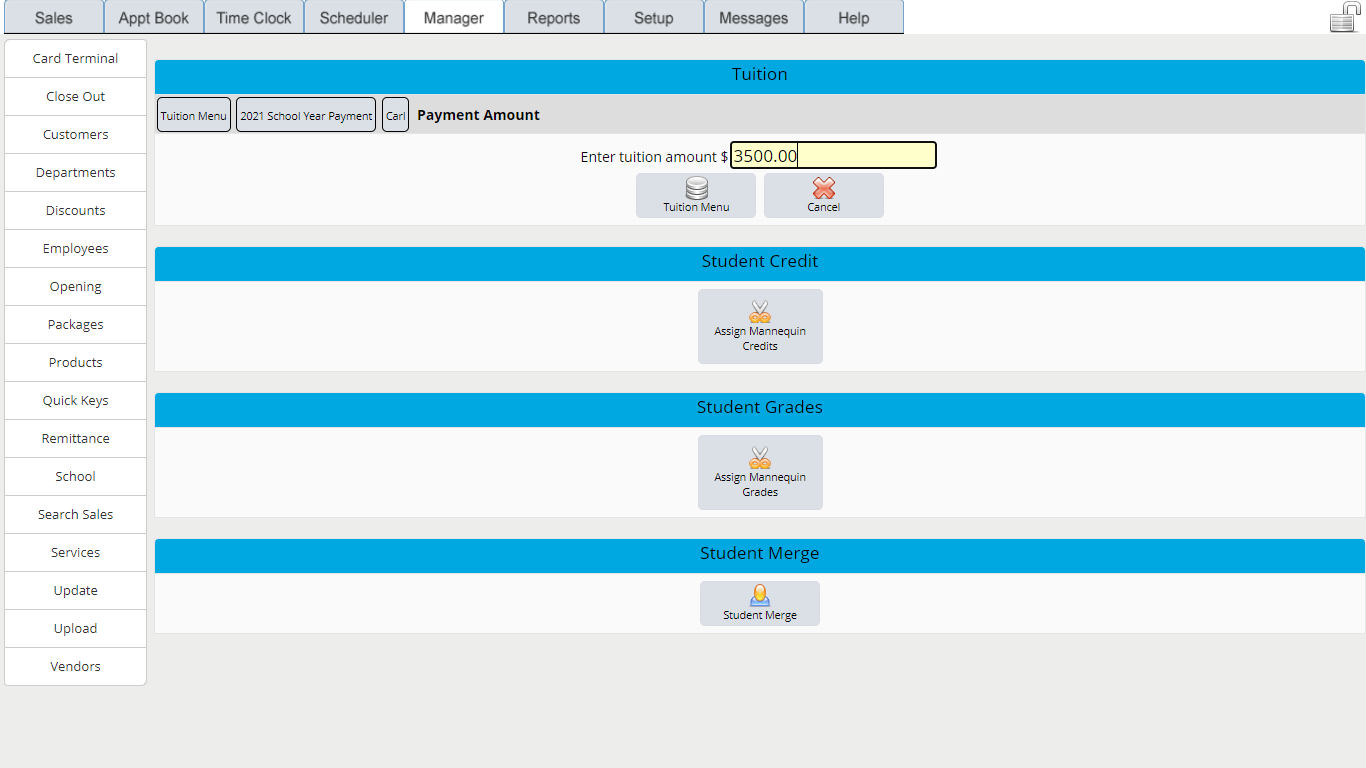 ---
Class Scheduling Made Easy
Each student is entered into SuperSalon as an employee, so the Scheduling Group feature can be used as a method to assign class times to each student in a way that is standardized and flexible. Groups that correspond to different times of day, and / or resources to be used, can be created and edited with the same ease. Shown below is an example that demonstrates an eight month schedule, and a seventeen hour class time.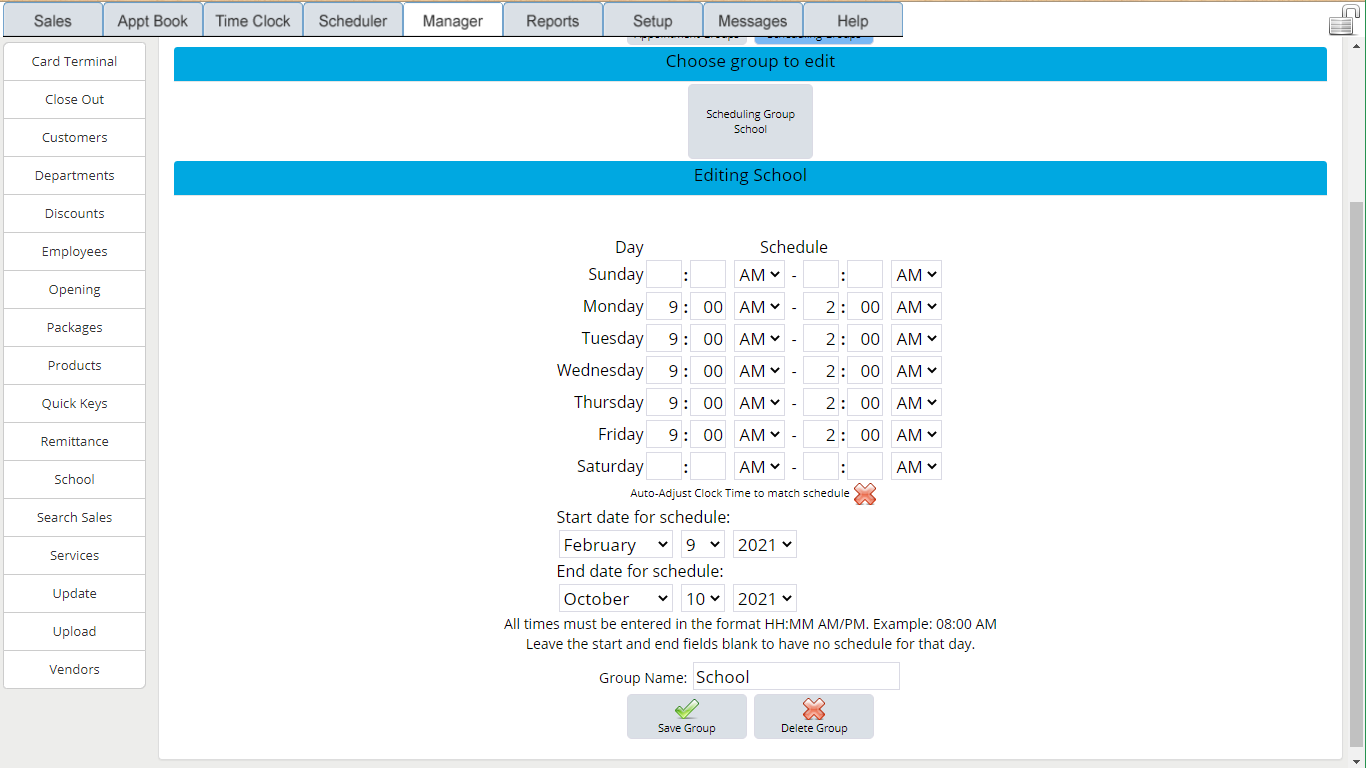 And while seventeen hour workdays aren't recommended to anyone not currently on Jupiter, it goes to show the flexibility offered to SuperSalon users that allows them to create several different schedules to fit all of their students' needs. And much like the tuition plans mentioned in the previous section, these scheduling groups can be applied to the students on an individual basis. The method in this instance is though the student's profile in the Employee section of the Manager tab, as shown below.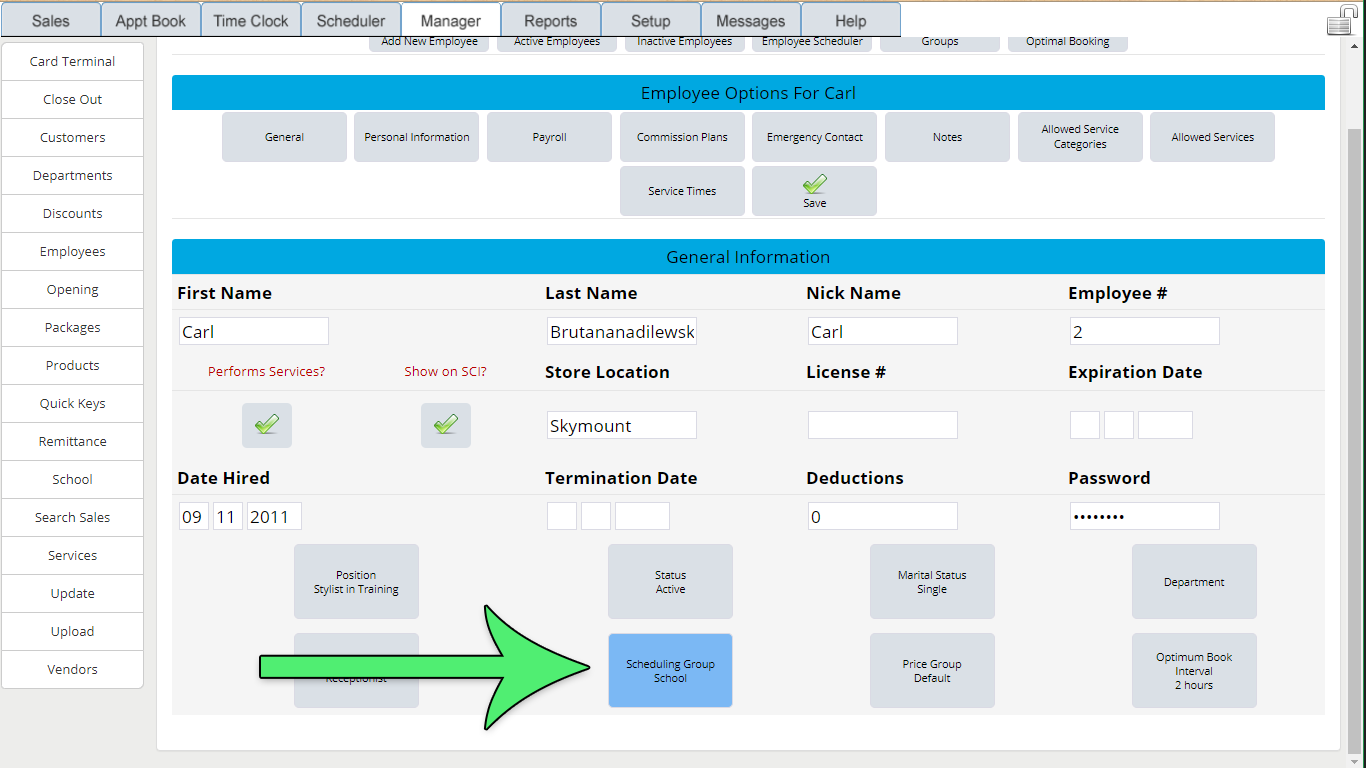 ---
Service Credits
In keeping with SuperSalon's commitments to flexibility and customization, service credits can also be configured for students as both a method of testing and / or reward. Unique services can be created and configured that correspond with each unique credit, making for a varied and challenging curriculum. Credits themselves can also be made to be flexible within each credited service as well!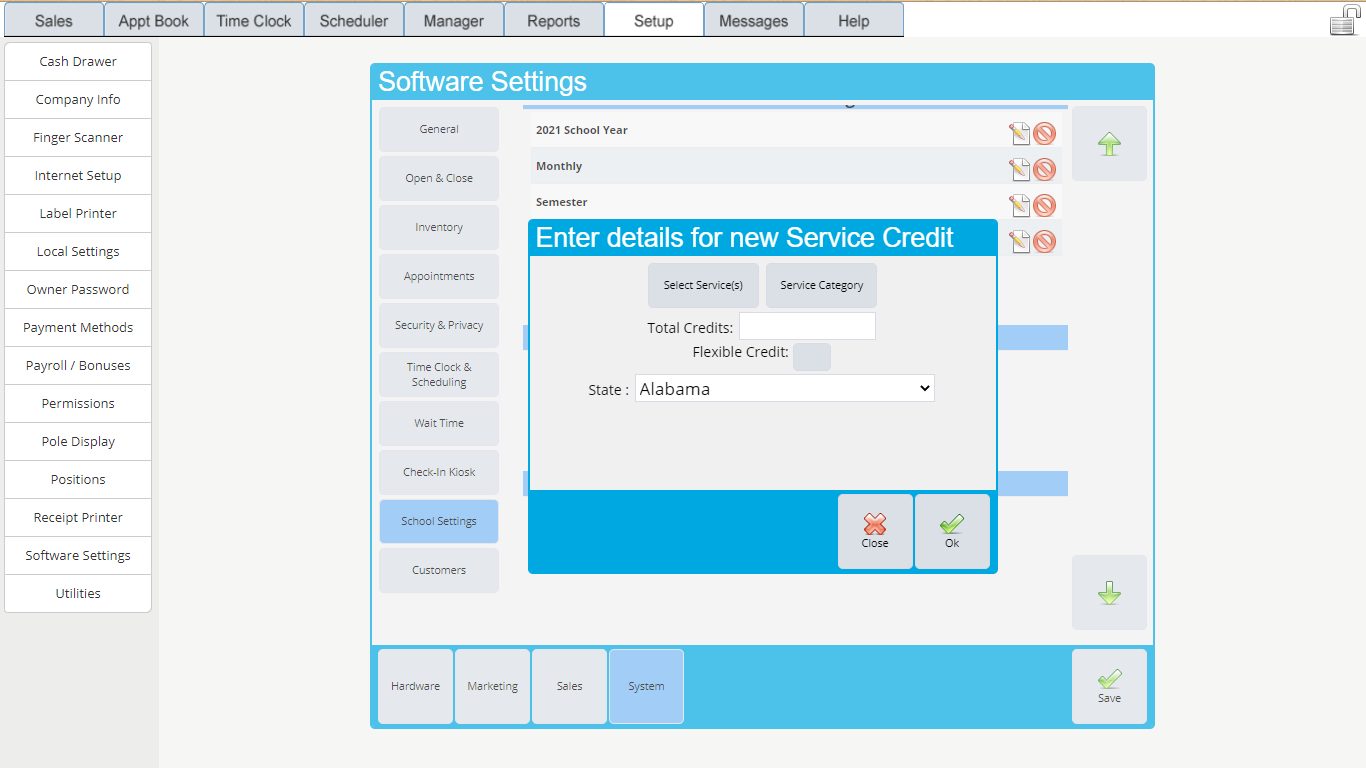 ---
Freedom™ and Premiere™ Compatibility
Compatibility with two of the more widely used educational systems has also been integrated into SuperSalon, much to the delight of business owners who would like to make the change to SuperSalon, but don't want to lose years of critical data. Files from both the Freedom and Premiere systems can be imported into SuperSalon with no issues, and provisions for sharing everything from credits to time clock data across systems is also available to the user.