Multi-Store Service Sales Report
Location: Reports > Multi-Store > Service Sales
Takes multiple locations, and compares their service sales performance using a simple column and row format.
Use Cases by Role
Salon Owner: This report can be used by salon owners to gauge the service sales performance of several locations at once.
Salon Manager: Knowing how their individual location is performing compared to others can help salon managers with their coaching efforts.
Salon Employee: Frontline salon staff such as stylists and receptionists can use this report to see how well their salon is preparing compared to others when it comes to service sales.
---
Data Filters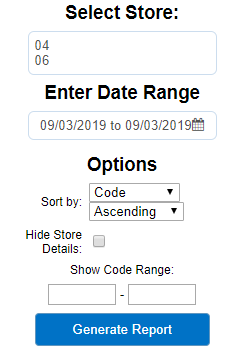 Select Stores: Clicking or tapping here will open the interface that allows the user to select the store(s) that will be be used for the report.
Enter Date Range: Clicking or tapping into this field will generate a calendar interface for the user to select the date range.
Sort by: These two drop-down menus allow users to sort the report, in ascending or descending order, by the following metrics:

Code (Default)
Description
Count
Net

Hide Store Details: Filling in this checkbox will eliminate the columns associated with individual salons, and instead group everything together.
Show Code Range: These two text boxes can be used to filter the report by individual Service Code. Note that the codes should be entered in ascending (lowest first) order.
Generate Report: Clicking or tapping on this button will generate the report based on the other filter criteria.
---
Metrics Tracked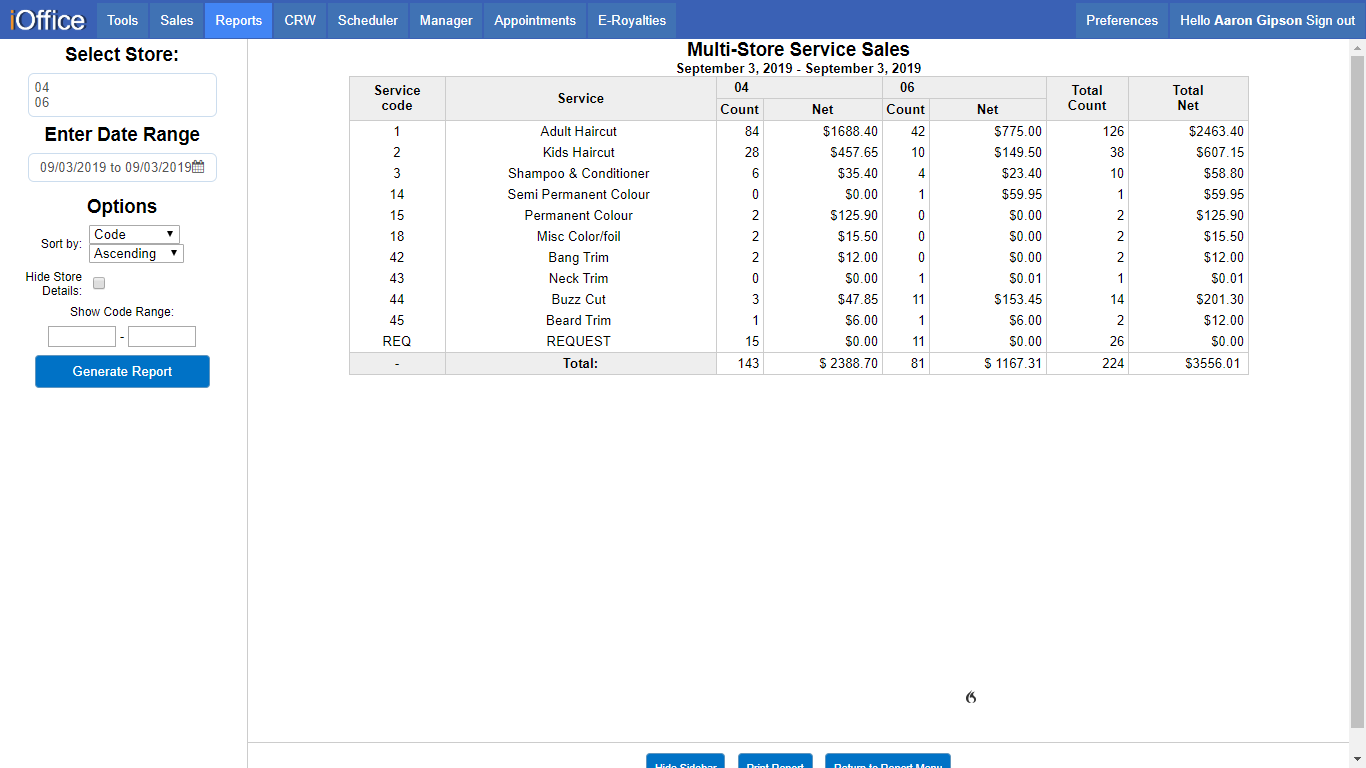 Service Code: The unique code associated with the individual service provided by the salon.
Service: The name of the service, as shown in the "Description" text field of the Service Profile.
Store Results: If no check was placed in the "Hide Store Details" checkbox, each store being used for the report will have its own column representing both count and net values.
Count: The total numeric value of all Services sold for the given row.
Net: The total net dollar value of the Services rendered for each row.
Total Count: The total number of each Service sold for all locations being used in the report.
Total Net: The total net dollar value of all services performed for all locations, separated by row.
Total: Each column will have a grand total at the bottom row of the report.