Multi-Store Product Sales
Location: Reports > Multi-Store > Product Sales
Accurately measures the retail performance of multiple locations at once, and presents the information in an easy to decipher spreadsheet like format.
Use Cases by Role
Salon Owner: This report is excellent for salon owners to keep up with retail performance for each location in their account.
Salon Manager: Salon managers routinely reference this report to see how their teams are performing and retail sales.
Salon Employee: Frontline salon staff such as stylists and receptionists can reference this report to see how well they have done in a given time span for retail sales.
---
Data Filters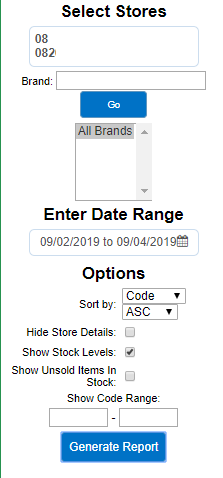 Select Stores: Clicking or tapping here will open the interface that allows the user to select the store(s) that will be be used for the report.
Brand: Entering a Product Brand into this text field will show only the product sales for that particular brand.
Enter Date Range: Clicking or tapping into this field will generate a calendar interface for the user to select the date range.
Sort by: These two drop-down menus allow the user to sort the report results by the following metrics in ascending or descending order:

Code (Default)
Description
Sold
Cost
Retail
Profit
Profit %

Hide Store Details: Filling in this box with a check will not separate the results of the report by individual salon, and instead group them all together.
Show Stock Levels: Filling in this box will display the current stock levels for each product listed in the report.
Show Unsold Items in Stock: Filling in this box will display all currently unsold items for each individual product.
Show Code Range: These two text fields allow users to filter the report by specific product codes. Product codes must be added in ascending (lowest first) numeric order.
Generate Report: Clicking or tapping on this button will generate the report based on the other filter criteria.
---
Metrics Tracked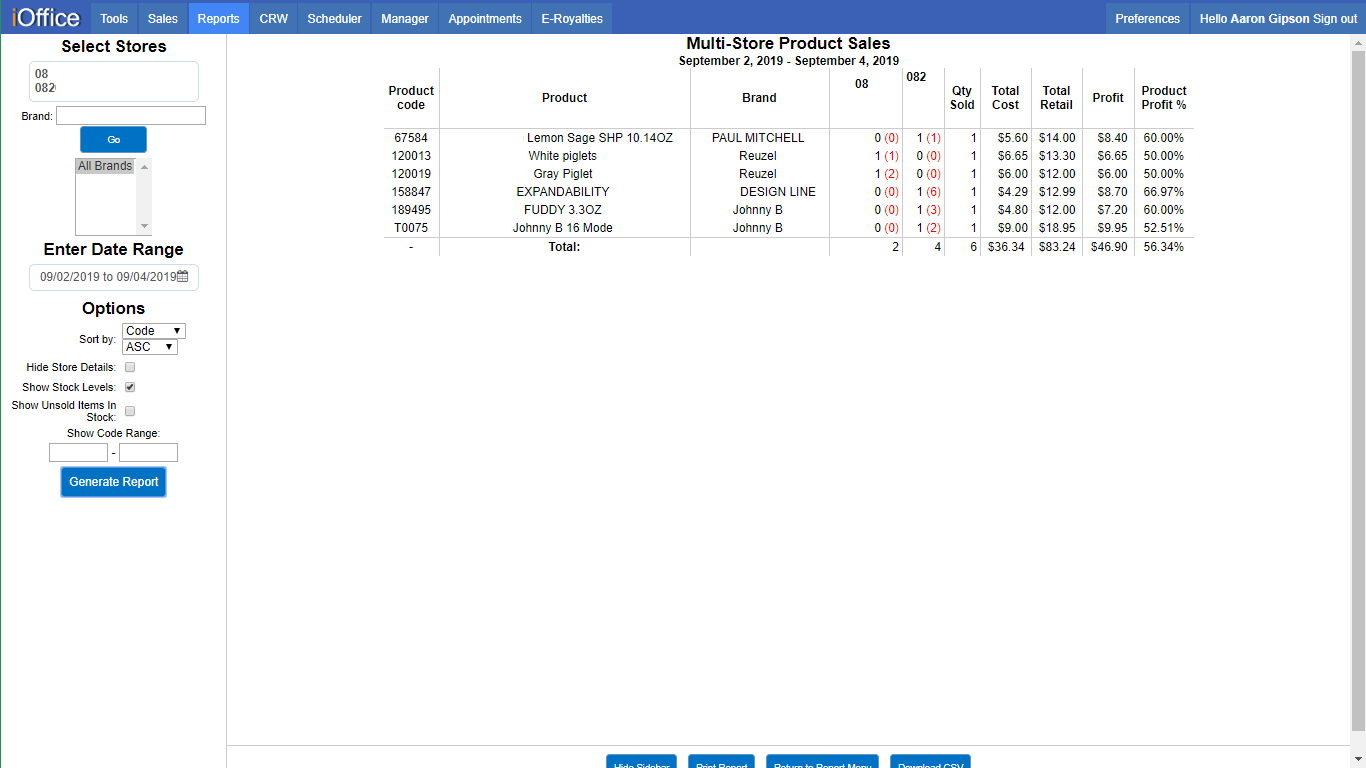 Product Code: The unique numeric code for the individual retail product.
Product: The name of the product, as shown in the "Description" field of its Product Profile.
Brand: The brand to which the retail product belongs.
Store Name: If store details were shown in the filters, as in the illustrated example, each salon will have its own column showing sales totals for each product.
Quantity Sold: The total number of items sold during the time of the report.
Total Cost: The total cost of the sold items to the salon when they were first ordered.
Total Retail: The total retail costs charged to salon clients for each product sales.
Profit: The dollar value of profit gained from the product sale.
Product Profit %: The profit margin of the product sale shown in a percentage value.
Totals: All applicable totals are tabulated at the bottom of each column.
---
Report Calculations
Product Profit %: Profit divided by Total Retail and then multiply that result by 100