Multi-Store Product Orders
Location: Reports > Multi-Store > Product Orders
Total product orders for all the selected salons within the given date range. It also shows their costs and current status, in addition to other metrics. Click any of the rows in the report to get a more detailed view.
Use Cases by Role
Salon Owner: Inventory management for several locations is accomplished quite easily with this report, and salon owners evaluate for the details it carries.
Salon Manager: Salon managers who may have questions about previous orders from multiple salons can reference this report in their investigations.
Salon Employee: Stylists and other online salon staff can reference this report to see how inventory moves into the salon.
---
Data Filters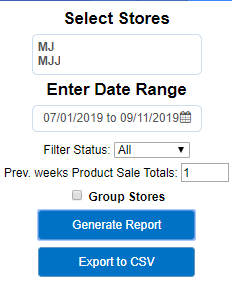 Select Stores: Clicking or tapping here will open the interface that allows the user to select the store(s) that will be be used for the report.
Select a Date Range: Clicking or tapping into this field will open the interface that allows the user to select a single day, or date range for the purposes of the report.
Filter Status: This drop down menu gives users the option to filter the report based on the following order statuses:

All (Default)
Ordered
Creating
Finalized
Submitted
Received

Previous Weeks Product Sales Totals: Entering a number into this text field will take into account the number of product sales when generating the report.
Group Stores: Filling in this box with a check will change the view of the report from a separation of stores, as in the illustrated example below, and instead group them into a single worksheet.
Generate Report: Clicking or tapping on this button will generate the report based on the other filter criteria.
Export to CSV: Clicking or tapping on this button will export the report into a spreadsheet with comma separated values. Note: Microsoft Excel or other spreadsheet program will be required for viewing.
---
Metrics Tracked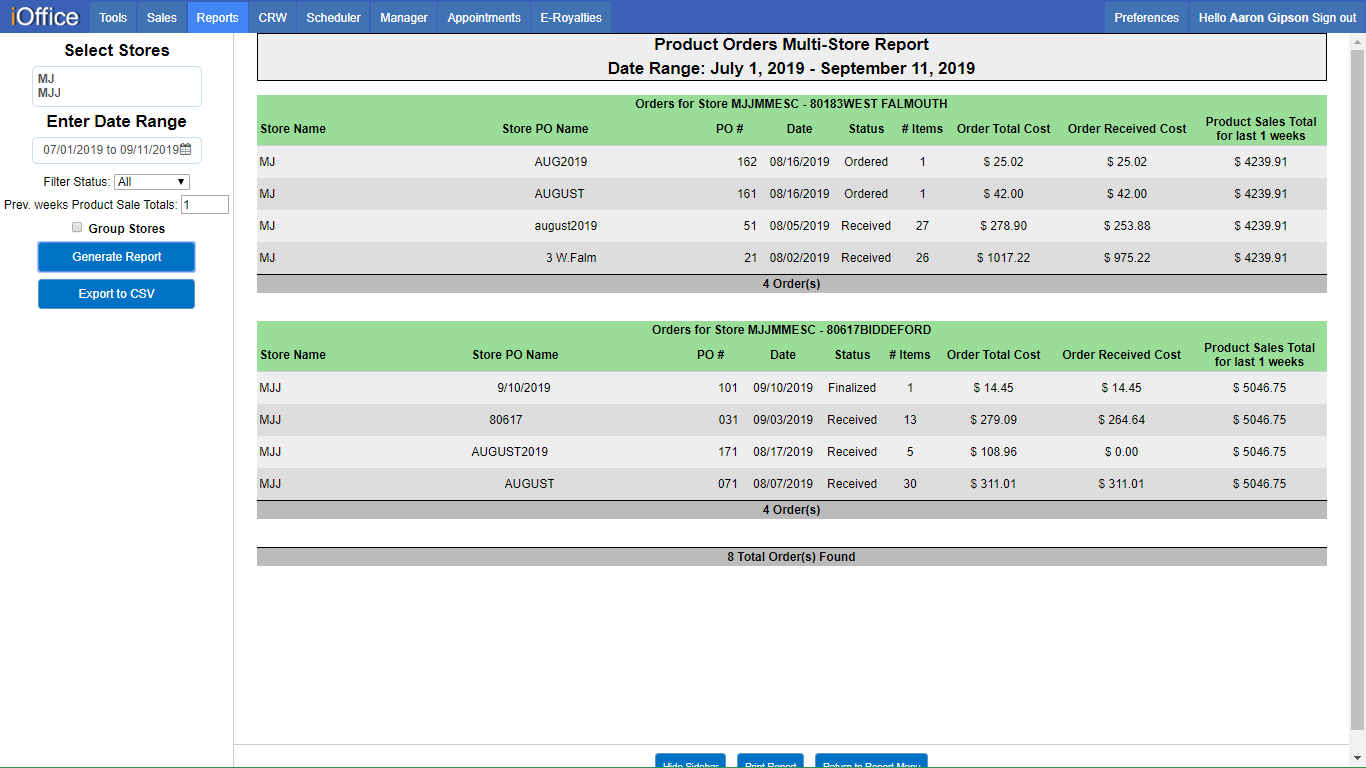 Store Name: This column will display the name of the salons being used for the report.
Store PO Name: The unique name given to the purchase order when it was created in SuperSalon or iOffice.
PO #: The system given numeric identifier for the purchase order.
Date: The date the purchase order was created.
Status: The current status of the purchase order at the time of the report generation.
#Items: The total number of items included in the purchase order.
Order Total Cost: The total dollar amount charged to the salon for the items in the order.
Order Received Cost: The dollar amount charged to the salon when the items were actually received.
Product Sales Total for the last weeks: This column displays the total dollar value of product sales based on the number of weeks entered into the filter.