Location: Reports > Sales > Monthly Trend
Comparative report that analyzes the revenue generation of two or more months, side-by-side.
Use Cases by Role
Salon Owner: This is a very useful report for salon owners who would like to compare progress from month-to-month in a single location.
Salon Manager: Salon managers can use this report as a reference to see if there are any improvements or declines in performance over the course of a given amount of months.
Salon Employee: Stylists and other frontline salon staff may not have access to this report, but can use it to compare monthly performance if they do.
---
Data Filters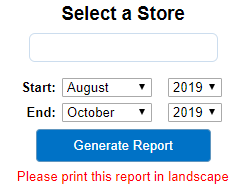 Select a Store: Clicking or tapping here will open the interface that allows the user to select the store(s) that will be be used for the report.
Start and End: This series of four drop-down menus enable users to choose which months and years will be the starting and ending months and years for the report. All months in between the start and end will be displayed.
Generate Report: Clicking or tapping on this button will generate the report based on the other filter criteria.
---
Metrics Tracked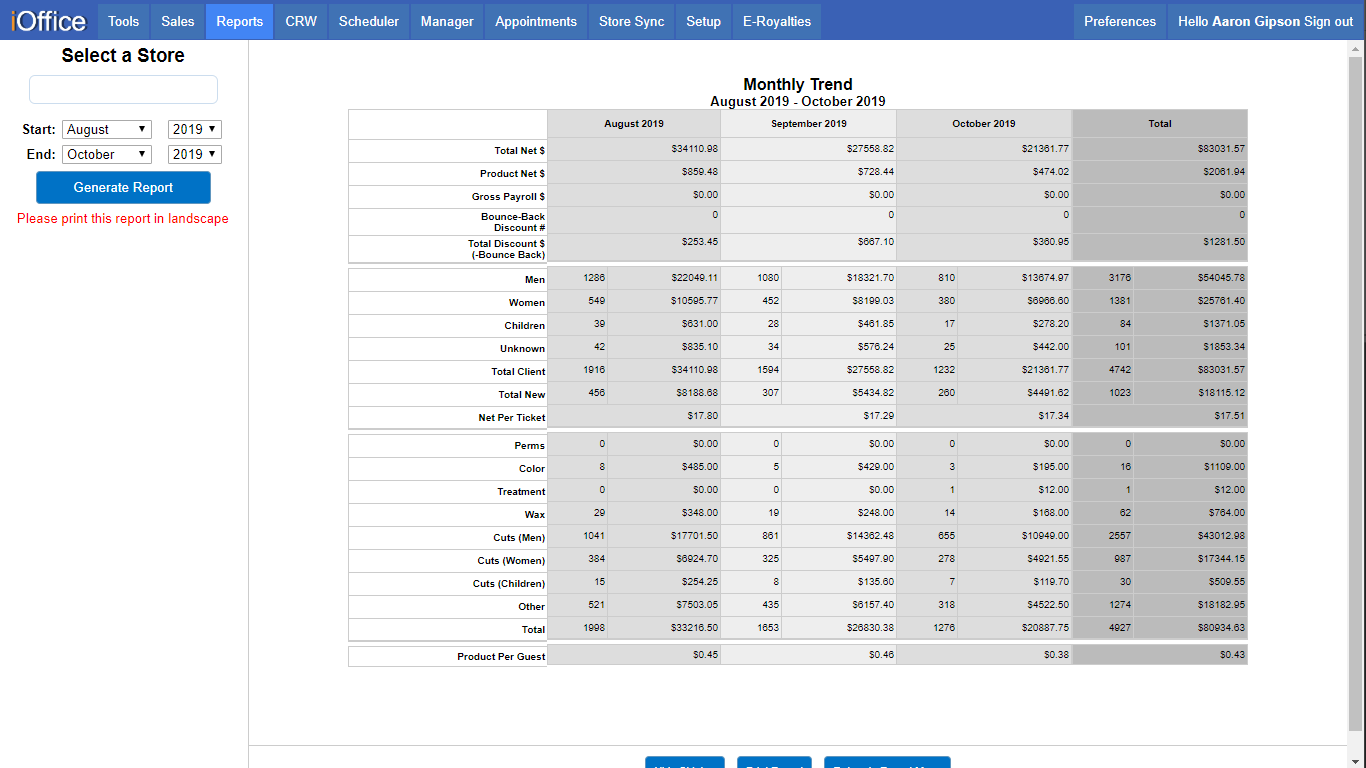 Revenue Rows
Total Net $: This row will display the total net dollar revenue for each month represented by a column.
Product Net $: All net revenue for retail product sales will be shown in this row.
Gross Payroll $: The gross dollar amount of payroll costs are represented in this row for each month.
Bounce Back Discount #: The total number of all bounce back discounts will be represented in this row.
Total Discount $: This row displays the total dollar value of all discounts that were processed for each month.
Demographic Rows
The series of rows in the middle section of the report consist of demographic information that is broken into two sub columns that represent the total number, and in the total dollar value of revenue gained. The demographics by default are as follows:
Men
Women
Children
Unknown
Total Client
Total New
Net Per Ticket: The bottom row of this section will show an average net dollar value of every ticket processed in the given month.
Service Rows
The next section of the report is broken down much the same way as the previous one with each Service Category's totals and revenue numbers side-by-side, and a total for every sub column as well. By default these services are set up as:
Perms
Color
Treatment
Wax
Cuts (Men)
Cuts (Women)
Cuts (Children)
Other
Total
Product Per Guest: The bottom row of this report will display an average dollar value of each product sold per client who visited the location.
Total Column
The far right column will show a tabulated total of all the previous months and rows associated with them.