Monthly Sales Trend Report
Location: Reports > Products > Monthly Sales Trend
Month by month breakdown of product sales that compares this year's product sales to last year's sales, by month (broken down by brand).
Use Cases by Role
Salon Owner: This report is good for salon owners who would like to see how the current year's retail performance compares to last year's.
Salon Manager: Salon managers can utilize this report to motivate their teams to outdo last year's sales figures.
Salon Employee: Stylists and other frontline salon staff can reference this report when they want to concentrate on their retail sales performance.
---
Data Filters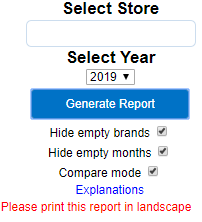 Select Store: Clicking or tapping here will open the interface that allows the user to select the store(s) that will be be used for the report.
Select Year: This drop down menu is used to determine the "current" year for the purposes of the report. Any year selected will be compared to the year prior.
Generate Report: Clicking or tapping on this button will generate the report based on the other filter criteria.
Hide Empty Brands: Brands having no sales associated with them will be excluded from the report when this box is ticked.
Hide Empty Months: If a month in a certain year has no sales associated with it, it will be excluded from the report if this box is checked.
Compare Mode: Filling in this checkbox will exclude months that do not have values for either year.
---
Metrics Tracked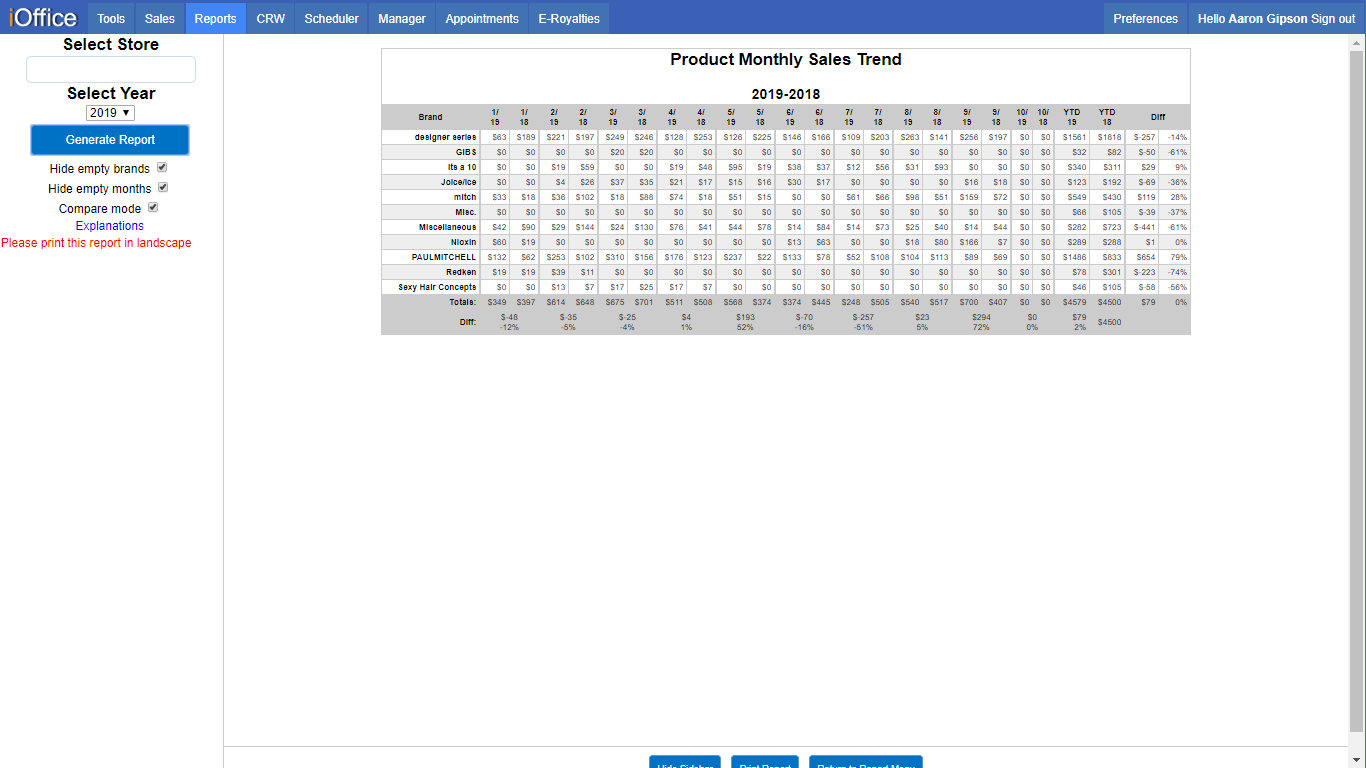 Brand: The far left column will list each brand that had retail sales associated with it.
Month of Current Year: Each month of the current year is represented by a column, and to the total sales revenue generated by each brand for that month.
Month of Previous Year: The column to the right of each current year's month will reflect sales values for the same month of the previous year.
YTD Current Year: The sales revenue generated by this product Brand for the current year.
YTD Previous Year: This column will show the total sales revenue for this product Brand for the previous year.
Diff: Both a dollar value total and a percentage value will be displayed in these two columns, comparing the current year to the previous one.