iOffice Product Management
The retail end of the salon business is just as important as the servicing one, and iOffice can help manage products as tightly or loosely as business owners see fit. Add new products, make changes to existing ones, review and create product orders, manage your salon's inventory, and more.
iOffice Products Sub-Menu Breakdown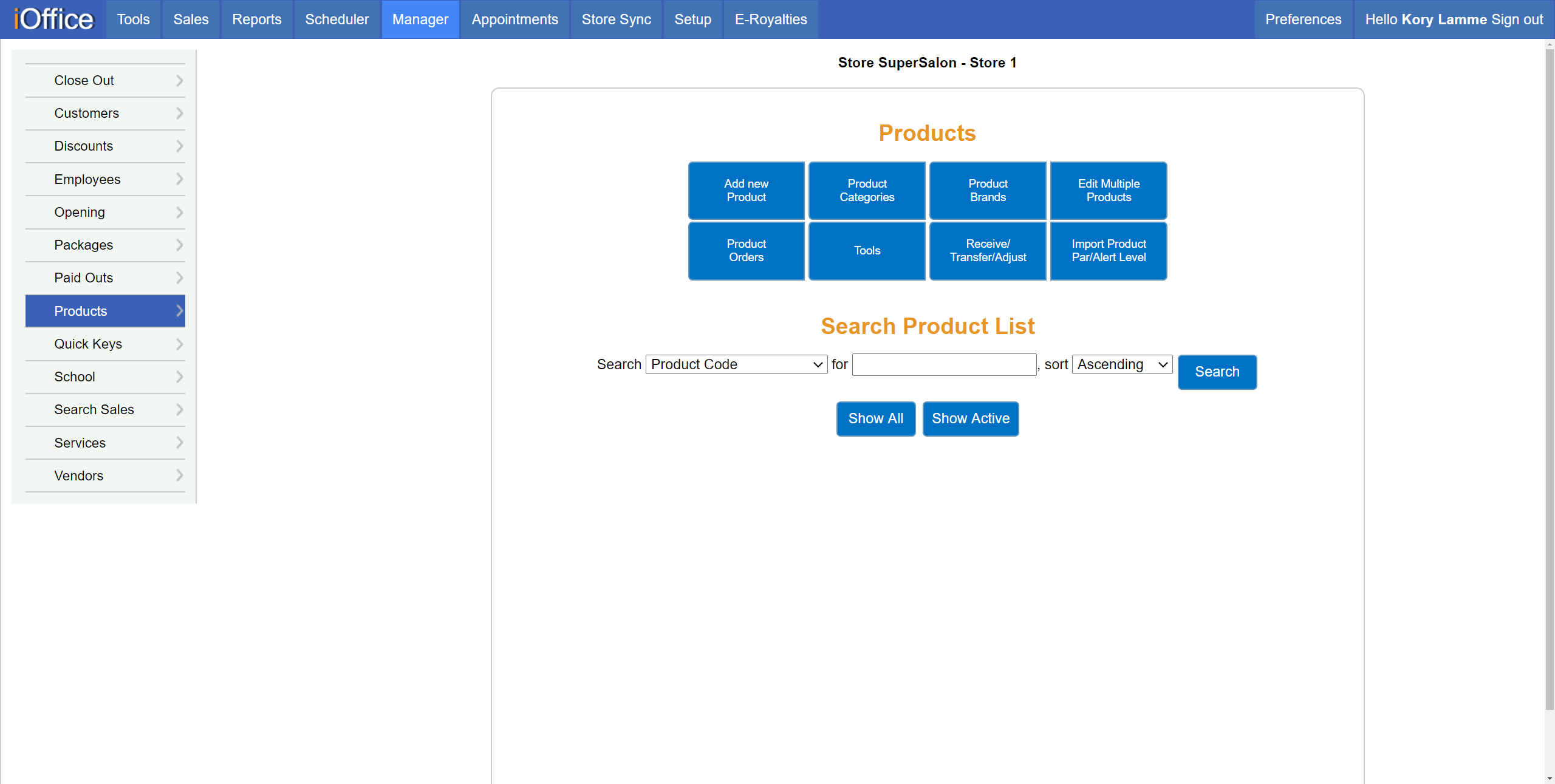 Products Menu
Add New Product: When this button is used, an empty product profile will populate, allowing users to enter a new product into the system.
Product Categories: Create and manage product categories, helping keep an orderly product inventory.
Product Brands: Create and manage product brands that the salon carries or can order.
Edit Multiple Products: This button takes the user to an interface that allows for the quick editing of multiple products' simple information.
Product Orders: This button brings up the interface that allows users to order new products for their salons.
Tools: When this button is used, the user is taken to an interface where they can keep a record of transfers from other locations, resolve duplicate SKU's, and more.
Receive / Transfer / Adjust: This button takes the user to one of the most effective tools in iOffice and SuperSalon's product management features, the Inventory Manager.
Import Product Par / Alert Levels: This button populates the Import Inventory Count screen where inventory counts can be imported as CSV files.
Search Product List
This text field allows users to search for individual products by the following criteria:
Brand
Vendor
Description
Product Code
UPC
Preset Searches
The two buttons enable users to fine-tune product searches, based on the following criteria:
Show All
Show Active
Export Products to Excel
Products Roster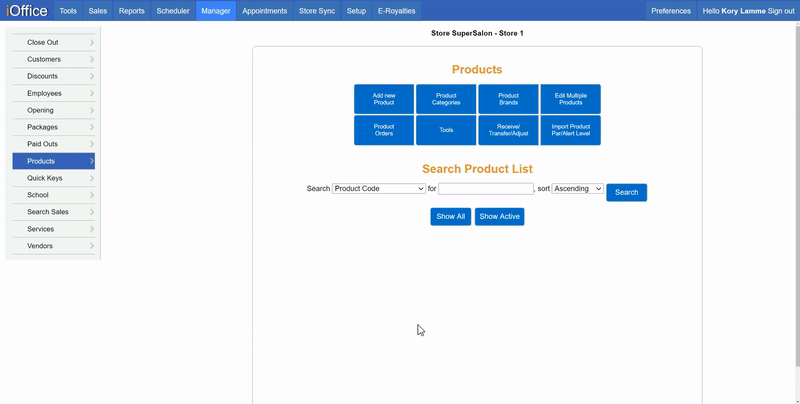 Shown in a standard column and row format, this list of products is filtered based on the Preset Searches. Clicking on an individual product will bring up its product profile, allowing users to make edits or adjustments as needed.
---
Tools
The product Tools menu is meant to assist with inventory management, and is a very useful feature for keeping a tab on products that may have a problem with their inventory in one way or another, and making changes to them on one screen.
Fix Extreme RAT Entries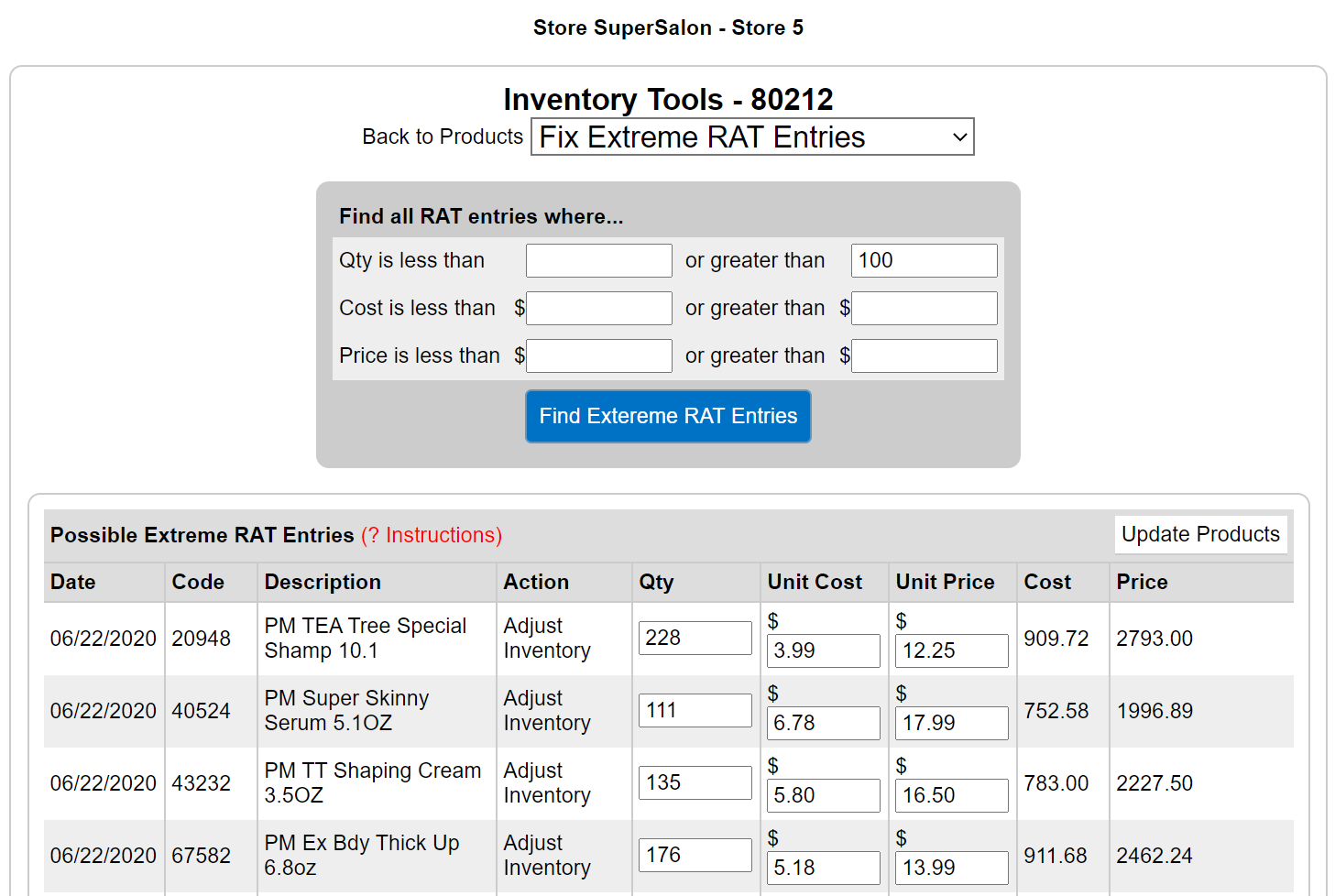 Finds products that had were transferred in using the Inventory Manager or on a product order, that have an out of the ordinary count. An easy mistake like typing the product code into the count field can cause this, but should also be addressed when discovered.
Balance Inventory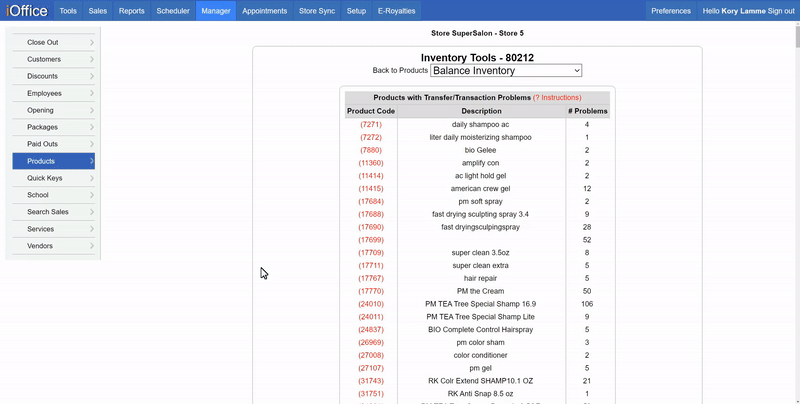 Finds inventory cost and price problems and allows you to fix them, one product at a time. If a product was transferred in with a cost or price of zero, the Balance Inventory tool will find them for you and allow you to select listed item and make individual changes.
Fix Deleted Product Quantities

Find all deleted products with an out of balance inventory count, price, and cost, that should actually be set to 0 since the product is no longer in the inventory. Click the Adjust Inventory button to automatically set all of these values to 0, balancing out the deleted product.