Inventory Turnover Report
Location: Reports > Products > Inventory Turnover
Product sale quantities along with their corresponding par levels to better gauge turnover rates for inventory purposes.
Use Cases by Role
Salon Owner: Salon owners can reference this report to see what retail items are performing best in their salons.
Salon Manager: Salon managers can utilize this report to predict the number of items they may need to order when the time comes.
Salon Employee: Frontline salon staff such as stylists and receptionists can use this report to see the par levels of items that have been recently sold.
---
Data Filters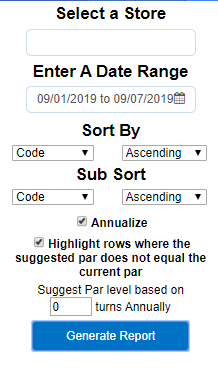 Select a Store: Clicking or tapping here will open the interface that allows the user to select the store(s) that will be be used for the report.
Enter a Date Range: Clicking or tapping into this field will generate a calendar interface for the user to select a single date, or a date range.
Sort By: These two drop-down menus allow the user to sort the report results by the following metrics in ascending or descending order:

Code
Brand
Category
Description

Sub Sort: This report contains a second set of filter drop downs to add another layer of organization to the report results, using the same metrics listed above.
Annualize: Filling in this checkbox will add another column to the report to reflect anticipated sales over the course of a year, as shown in the provided illustrated example.
Highlight rows where the suggested part does not equal the current par: Filling in this box will add a red indicator showing suggested and actual par levels being incongruent.
Suggest Par level based on: Entering a number into this text field will add it to the equation when determining annual turn levels.
Generate Report: Clicking or tapping on this button will generate the report based on the other filter criteria.
---
Metrics Tracked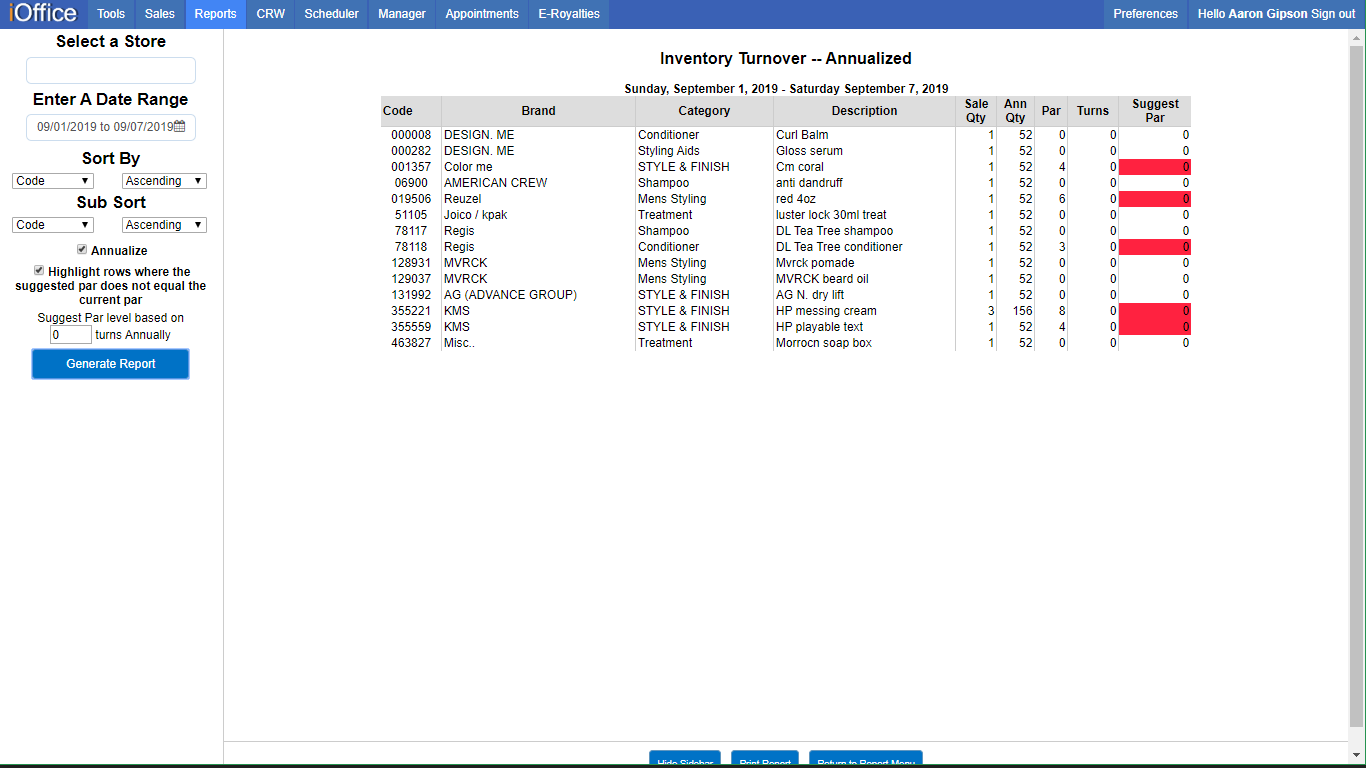 Code: The unique numeric product code associated with the retail item.
Brand: The brand the retail item belongs to.
Category: The product category associated with the retail item.
Description: The retail item's description, as it appears in its Product Profile.
Sale Qty: The number of items sold in the date range of the report.
Ann Qty: The annual amount of items predicted to be sold, based on current sales figures.
Par: The current par level of the item, indicating what quantity of the item is expected to be on the shelves at all times.
Turns: The number of times the item has turnover in the date range of the report.
Suggest Par: The suggested par level of the item, based on current sales data.