Gift Certificate Usage Report
Location: Reports > Gift Certificates > Usage
Note that this report is for Gift Certificates only, not Gift Cards. In contrast to the Gift Certificates Report which shows just a current snapshot, the Usage report shows all payment and usage statistics for gift certificates, broken down and presented by date range.
Use Cases by Role
Salon Owner: This detailed report is helpful for salon owners who would like to gauge the strengths and weaknesses of their gift certificate program.
Salon Manager: Salon managers can utilize this report to research transactions involving gift certificates over a long period of time.
Salon Employee: Frontline salon staff such as stylists and receptionists can use this report to answer any questions clients may have about their gift certificate usage.
---
Data Filters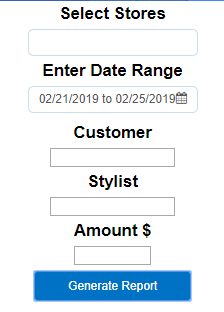 Select Stores: Clicking or tapping here will open the interface that allows the user to select the store(s) that will be be used for the report.
Select Date Range: Clicking or tapping here will open the calendar interface to allow users to choose a single day, or a date range for the report data.
Customer: Entering a customer name into this text field will filter the report by that particular client.
Stylist: This text field can filter the report results by stylist, if their name is entered into the text field.
Amount $: Filtering the report by a specific dollar value of the gift certificate can be accomplished with this text field.
Generate Report: Clicking or tapping on this button will retrieve the report data.
---
Metrics Tracked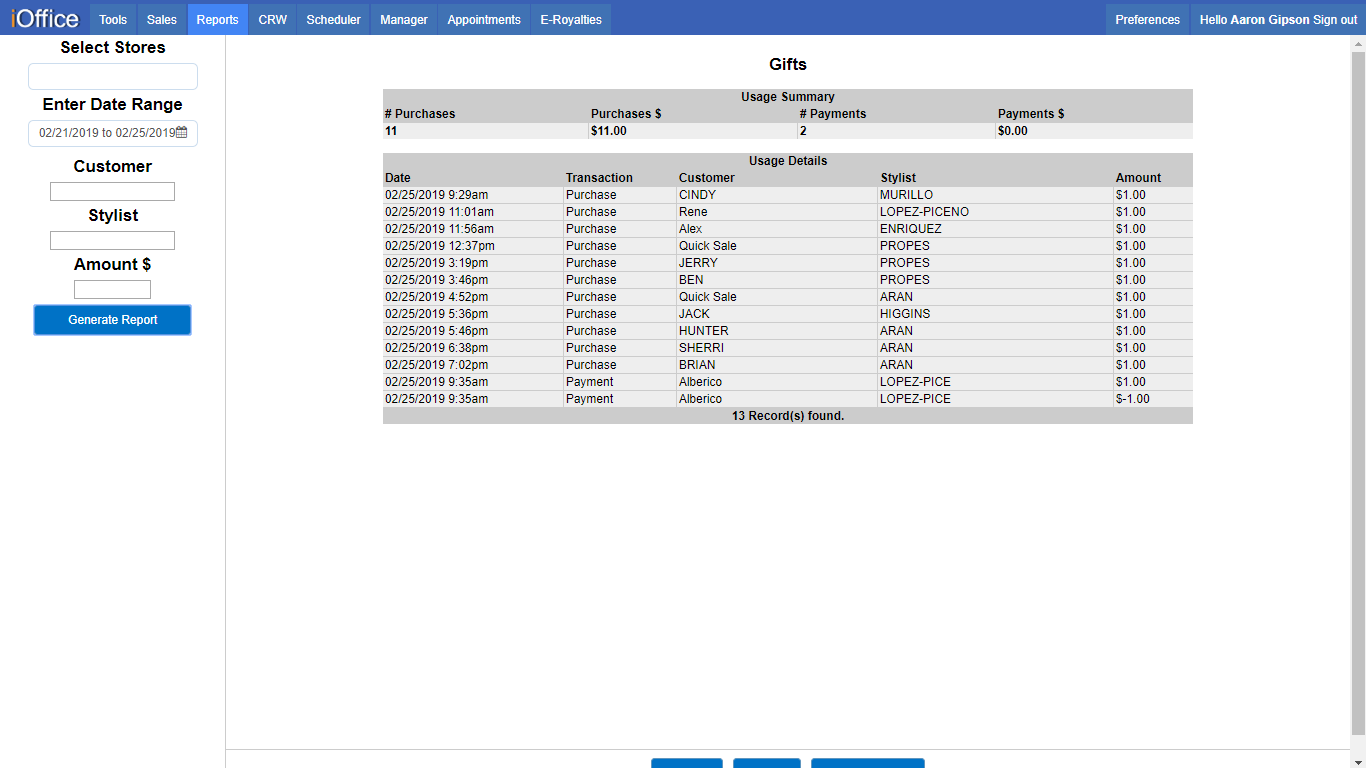 Usage Summary
Number of Purchases: The total number of gift certificates that were purchased within the date range of the report.
Purchases $: The total dollar value of all gift certificate purchases within the timeframe.
Number of Payments: Number of times during the date range of the report when a gift certificate was used as a payment method.
Payments $: The total dollar value of all gift certificate payments within the date range of the report.
Usage Details
Date: The exact date and time a given gift certificate transaction occurred.
Transaction: This column will show whether the transaction was a purchase or a payment.
Customer: The name of the customer whose gift certificate experienced a transaction.
Stylist: The name of the stylist who oversaw the sale involving the gift certificate transaction.
Amount: The total dollar value of the transaction that occurred with this particular gift certificate.