Location: Reports > Sales > End of Day
All tickets that were processed for the given day, displaying them in a spreadsheet format for easy reference.
Use Cases by Role
Salon Owner: The simplicity and ease of use this report affords makes it great for salon owners who just want to know quick facts about a salons performance for a day.
Salon Manager: This report is great for salon managers to offer a printable summary for a given day's performance.
Salon Employee: Stylists and other frontline salon staff who perform the close out for the day can reference this report as a quick summary.
---
Data Filters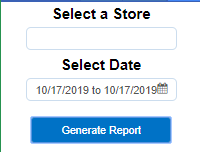 Select a Store: Clicking or tapping here will open the interface that allows the user to select the store(s) that will be be used for the report.
Select Date: Clicking or tapping into this field will generate a calendar interface for the user to select a single date, or a date range.
Generate Report: Clicking or tapping on this button will generate the report based on the other filter criteria.
---
Metrics Tracked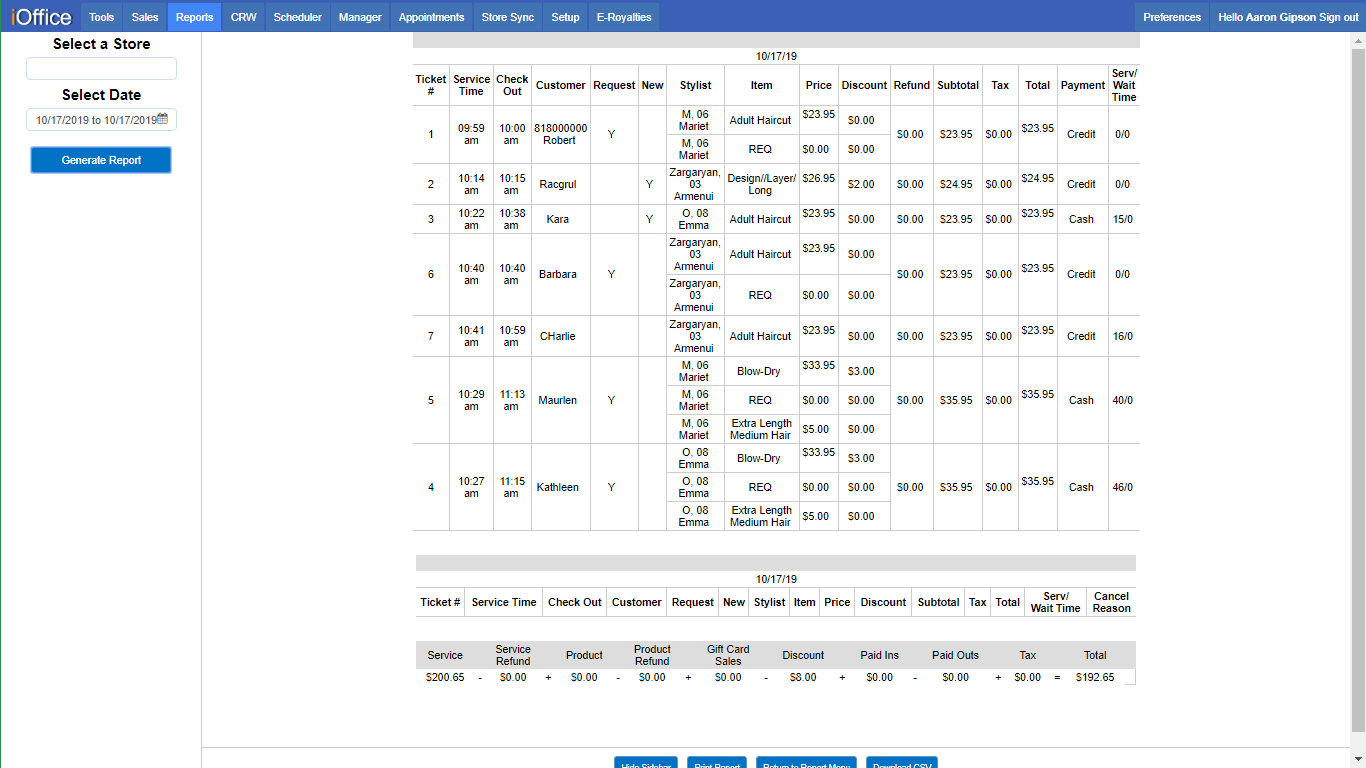 Ticket #: This column displays the daily ticket number for each sale listed.
Service Time: The timestamp signifying what time the client received their service.
Check Out: This timestamp signifies when the ticket was settled.
Customer: The name of the salon client will be listed in this column.
Request: A "Y" for yes, or a "N" for no indicates whether or not this client specifically requested their stylist.
New: A "Y" for yes, or a "N" for no in this column indicates whether or not the client was new or a repeat visitor.
Stylist: The name of the salon staff member who serviced the client is shown here.
Item: This column will display what services and/or products were sold in the ticket.
Price: The dollar value of the price paid by the salon client is shown in this column.
Discount: This column shows the dollar value of any discounts applied to the ticket.
Refund: Any refunded dollar amounts will be shown in this column.
Subtotal: The total dollar amount charged to the client, prior to tax.
Tax: The total dollar value of any taxes attached to the sale.
Total: The total amount paid by the client with taxes and all other charges.
Payment: The payment method which was used for settling the ticket will be shown in this column.
Serv/Wait Time: This column will show the amount of minutes taken for the client to be serviced compared to the time they waited.
Voids: The bottom section of the report shows all voided tickets, with all of the metrics listed above included with the exception of Payment method which is replaced by the cancel reason.