Employee Production Detail Report
Location: Reports > Payroll > Employee Production Detail
Detailed employee performance numbers for a given date range, and arranges these statistics in a column and row format.
Use Cases by Role
Salon Owner: The level of detail this report shows makes it a valuable resource for determining labor costs.
Salon Manager: Salon managers can use this report for employee reviews, and to see coaching opportunities as well.
Salon Employee: Salon staff such as stylists and receptionists can see a quick snapshot of their performance by referring to this report.
---
Data Filters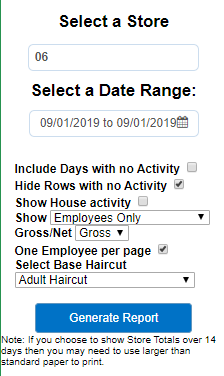 Select a Store: Clicking or tapping here will open the interface that allows the user to select the store(s) that will be be used for the report.
Select a Date Range: Clicking or tapping into this field will generate a calendar interface for the user to select a single date, or a date range.
Include Days with no Activity: Checking this box when the report is set for a date range will factor in empty hours, such as closed days, Intuit's equations.
Hide Rows with no Activity: Checking this box will prevent the report from displaying rows with no value.
Show House activity: Filling in this checkbox will show statistics for the "House Sale" profile in addition to employees.
Show: This drop down menu gives users the option to show results for the following:

Employees Only
Employees and Store Totals
Store Totals Only

Gross/Net: This drop down gives users the option to show the report numbers in terms of gross or net revenue.
One employee per page: Filling in this checkbox will consolidate the data for one employee for each page of the report.
Select Base Haircut: This drop down will give users a selection of the different haircuts they offer to use as a baseline for production numbers.
Generate Report: Clicking or tapping on this button will generate the report based on the other filter criteria.
---
Metrics Tracked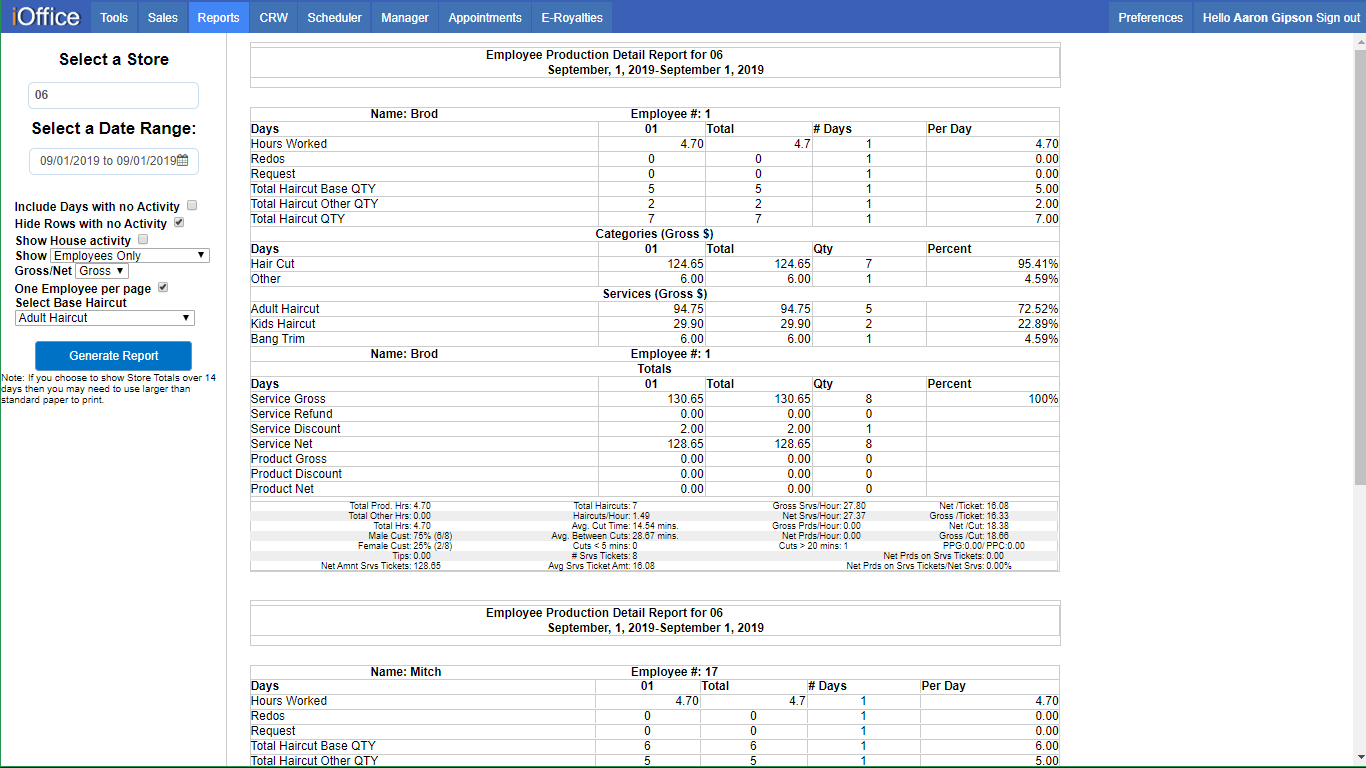 Name and Employee #: This header marks the different sections of the report, and displays the name of the staff member last name first, along with their employee numbers when applicable.
Days: Breaks down each day and puts a header for the column based on the date in question

Hours Worked: The amount of hours they worked on each day as well as a total for the date range and an average
Redos: The amount redo services each day as well as a total for the date range and an average
Requests: The times the stylist was requested specifically on each day as well as a total for the date range and an average
Total Haircut Base Qty: The amount of haircut category services performed from the selected Base (the base is one of the options when you are getting ready to generate the report)
Total Haircut Other Qty: The amount of haircut category services performed that are not the Base selected, thus they are Other (the base is one of the options when you are getting ready to generate the report)
Total Haircut Qty: The sum of the Base and all Other services in the Haircut category.

Categories (Net $): The main Supersalon categories Net sales amounts (after discounts) broken down by date as well as a count of each of the services and the percentage of sales it represents for those services. The main categories for Supersalon are Hair Cut, Extra Services, Treatment, Wax, Style and Color. Custom services categories will not display here.
Services (Net $): The Net sales amounts (after discounts) broken down by date as well as a count of each of the actual services and the percentage of sales it represents for those services.
Totals:

Service Gross: The total gross service sales (before discounts)
Service Refund: The total amount of services that were refunded
Service Discount: The total amount of discounts used on services
Service Net: The total net service sales (after discounts)
Product Gross: The total gross product sales (before discounts)
Product Discount: The total amount of discounts used on products
Product Net: The total net service sales (after discounts)
---
Report Calculations
Total Production Hours: Total amount of hours clocked into a production position
Total Other Hours: Total amount of hours clocked into a non-production position
Total Hours: Total Production Hours + Total Other Hours
Male Cust: The numbers in brackets here calculate the %, Male Customer Count divided by Service Ticket Count then multiply that result by 100
Male Cust: The numbers in brackets here calculate the %, Female Customer Count divided by Service Ticket Count then multiply that result by 100
Tips: This tip number is calculated on tips that the staff member actually claimed in the software.
Net Amnt Srvs Tickets: Service Net + Product Net
Total Haircuts: This is the count of services in in the "Hair Cut" category
Haircuts/Hour: Total Haircuts divided by Total Prod Hrs
Avg Cut Time: This is the average cut of all services in the "Hair Cut" category. To calculate this you would need to go to Manager>Search Sales and set filters to the employee and add up all the service times for tickets with haircuts on them and then divide that number by the Total Haircuts count.
Avg. Between Cuts: This is the average time or "downtime" between services in the "Hair Cut" category. To calculate this you would need to go to Manager>Search Sales and set filters to the employee and add up the difference between the Time Complete on one ticket and then the Time Served on the next ticket by the same employee for all tickets within the Hair Cut category and then divide that number by the Total Haircuts count.
Cuts < 7 Mins: This is a count of all services in the "Hair Cut" category that take less that 7 minutes from Time Served to Time Complete.
#Srvs Tickets: This is the number of tickets that had any Service on them, not just "Hair Cut" category
Avg Srvs Ticket Amount: Net Amnt Srvs Tickets divided by #Srvs Tickets
Gross Srvs/Hour: Service Gross divided by Total Prod Hrs
Net Srvs/Hour: Service Net divided by Total Prod Hrs
Gross Prds/Hour: Product Gross divided by Total Prod Hrs
Net Prds/Hour: Product Net divided by Total Prod Hrs
Cuts < 20 Mins: This is a count of all services in the "Hair Cut" category that take less that 20 minutes from Time Served to Time Complete.
Net/Ticket: Service Net plus Product Net divided by #Srvs Tickets
Gross/Ticket: Service Gross plus Product Gross divided by #Srvs Tickets
Net/Cut: Service Net plus Product Net divided by Total Haircuts
Gross/Cut: Service Gross plus Product Gross divided by Total Haircuts
PPG/PPC: PPG (Product Per Guest) Product Net divided by Male Cust + Female Cust. PPC (Product Per Cut) Product Net divided by Total Haircuts
Net Prds on Srvs Tickets: This is the total Net amount of Products sold on tickets that also included a service on the same ticket
Net Prds on Srvs Tickets/Net Srvs: Net Products divided by Net Services and then multiply that result by 100