Employee Product Sales Report
Location: Reports > Products > Employee Product Sales
Breaks down product sales by employee with both gross and net revenue displayed as dollar values. It can also be made as detailed or simplistic as needed by using the various filters.
Use Cases by Role
Salon Owner: This report can be utilized by salon owners who would like to see which employees perform best with retail sales.
Salon Manager: Salon managers can use this report to get a feel for who are the most talented salespeople on their team.
Salon Employee: Front line salon staff such as stylists and receptionists can reference this report when they would like to see how well their product sales performance compares with others.
---
Data Filters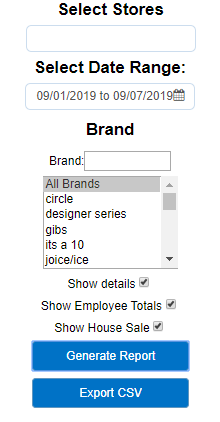 Select Stores: Clicking or tapping here will open the interface that allows the user to select the store(s) that will be be used for the report.
Select Date Range: Clicking or tapping into this field will generate a calendar interface for the user to select a single date, or a date range.
Brand: The text field and scrolling menu in this section of the filters allows users to customize the report to show only the desired brands.
Show Details: Checking this box will show a more detailed breakdown of each product sale, as in the illustrated example provided.
Show Employee Totals: Filling this box with a check will include a totals feature for each staff member in the report.
Show House Sale: Having this box filled or not will determine whether "House Sale" will also be represented in the report.
Generate Report: Clicking or tapping on this button will generate the report based on the other filter criteria.
Export CSV: Using this button will open a save dialog for the user to save the report as a spreadsheet with comma separated values.Microsoft Excel or other spreadsheet program will be needed in order to read this .csv file.
---
Metrics Tracked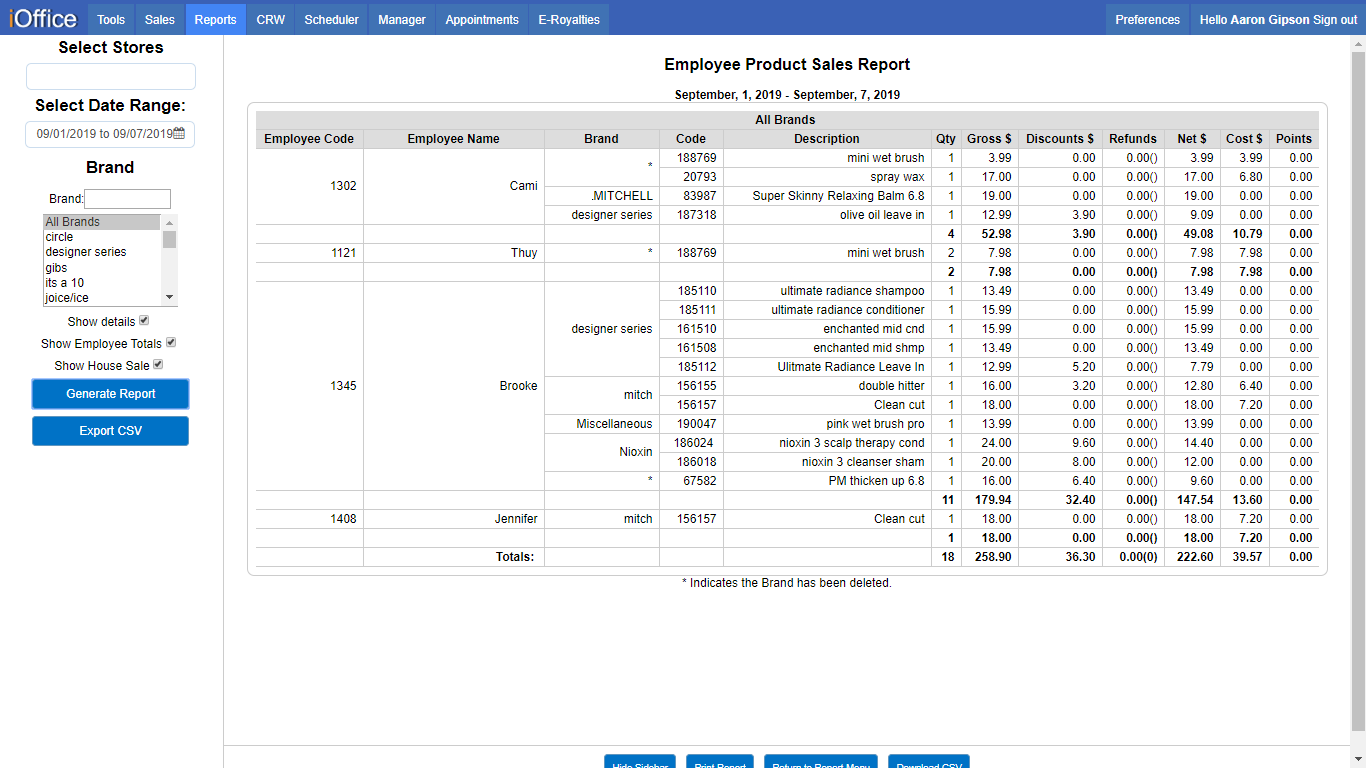 Employee Code: The unique payroll number for the given staff member.
Employee Name: This column will display each salon staff member who had retail product sales in the given date range, last name first.
Brand: This column lists the brand to which the retail product belongs.
Code: The unique product code is displayed in this column for reference purposes.
Description: This column displays the description of the product, as it appears in its product profile.
Qty: The total number of these products sold in the date range.
Gross $: The gross dollar value of revenue generated by the product sale.
Discounts $: The total dollar value of any discounts that may have been applied to the sales.
Refunds: If a product was refunded, it's dollar value will be represented in this column.
Net $: The net dollar value of the product sale in this row.
Cost $: The dollar value of the cost of the product to the salon.
Points: Locations that utilize employee points as sales incentives will see the value represented in this column.
Totals: All totals for each applicable column will be represented in this bottom row.