Location: Reports > Payroll > Points
Displays all Employee Points that are current for the given date range. They are further broken down by several metrics, and totals are displayed where applicable.
Use Cases by Role
Salon Owner: Salon owners can utilize this report to check up on salon staff performance, and how many points have been accumulated by top performers.
Salon Manager: This report is valuable for salon managers who would like to use Employee Points as an incentive for their team members.
Salon Employee: Stylists and other front line salon staff can reference this report if they have questions about their Employee Points, or their performance for a given time.
---
Data Filters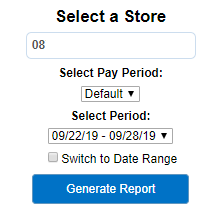 Select a Store: Clicking or tapping here will open the interface that allows the user to select the store(s) that will be be used for the report.
Select Pay Period: For locations that utilize different pay periods for different roles, this drop down will allow the user to switch between them for the purposes of the report.
Select Period: This drop down contains a selection of past pay periods the user can choose from for the report.
Switch to Date Range: Filling in this box will allow users to run the report for a desired date range, using the traditional calendar interface.
Generate Report: Clicking or tapping on this button will generate the report based on the other filter criteria.
---
Metrics Tracked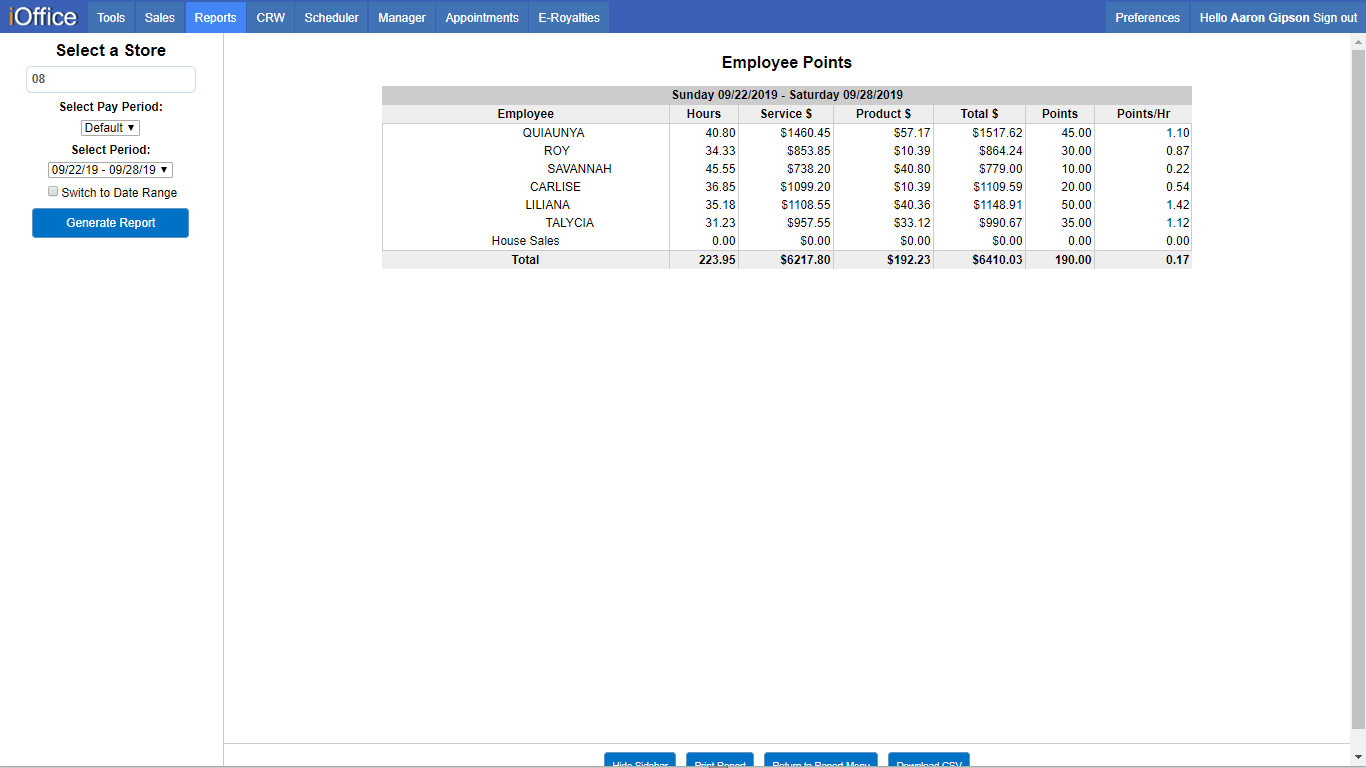 Employee: This column will list all of the staff members who have accumulated points for the given date range.
Hours: The total number of hours worked by this salon employee.
Service $: The total revenue generated by this staff member for Service sales.
Product $: The total dollar value of all retail products sold by the employee.
Total $: The total dollar value of both product and service revenue generated by the employee for the given date range.
Points: The total number of Employee Points listed for the staff member.
Points/Hr: This number reflects an average of how many points the staff member has accumulated per hour of working.
---
Report Calculations
Points/Hour: Points divided by Hours