Location: Reports > Sales > Deposit Summary
Provides a detailed look at all deposit information for a single month, or a customized date range.
Use Cases by Role
Salon Owner: This report gives a very simple readout of all deposit information for several days, and is valuable for salon owners who prefer a quick reference.
Salon Manager: Managers of salons can reference this report for past days to see if there have been any discrepancies in deposits.
Salon Employee: Stylists and other salon staff might not get very much value from this report as it is all revenue numbers, and not necessarily sales.
---
Data Filters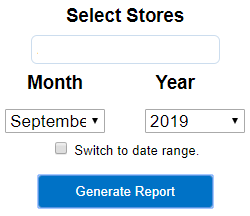 Select Stores: Clicking or tapping here will open the interface that allows the user to select the store(s) that will be be used for the report.
Month and Year: These two drop-down menus enable users to select the month and year for the purposes of the report.
Switch to date Range: Filling in this box will remove the "Month" and "Year" drop-down menus, and instead generate a calendar interface for the user to select a single date, or a date range.
Generate Report: Clicking or tapping on this button will generate the report based on the other filter criteria.
---
Metrics Tracked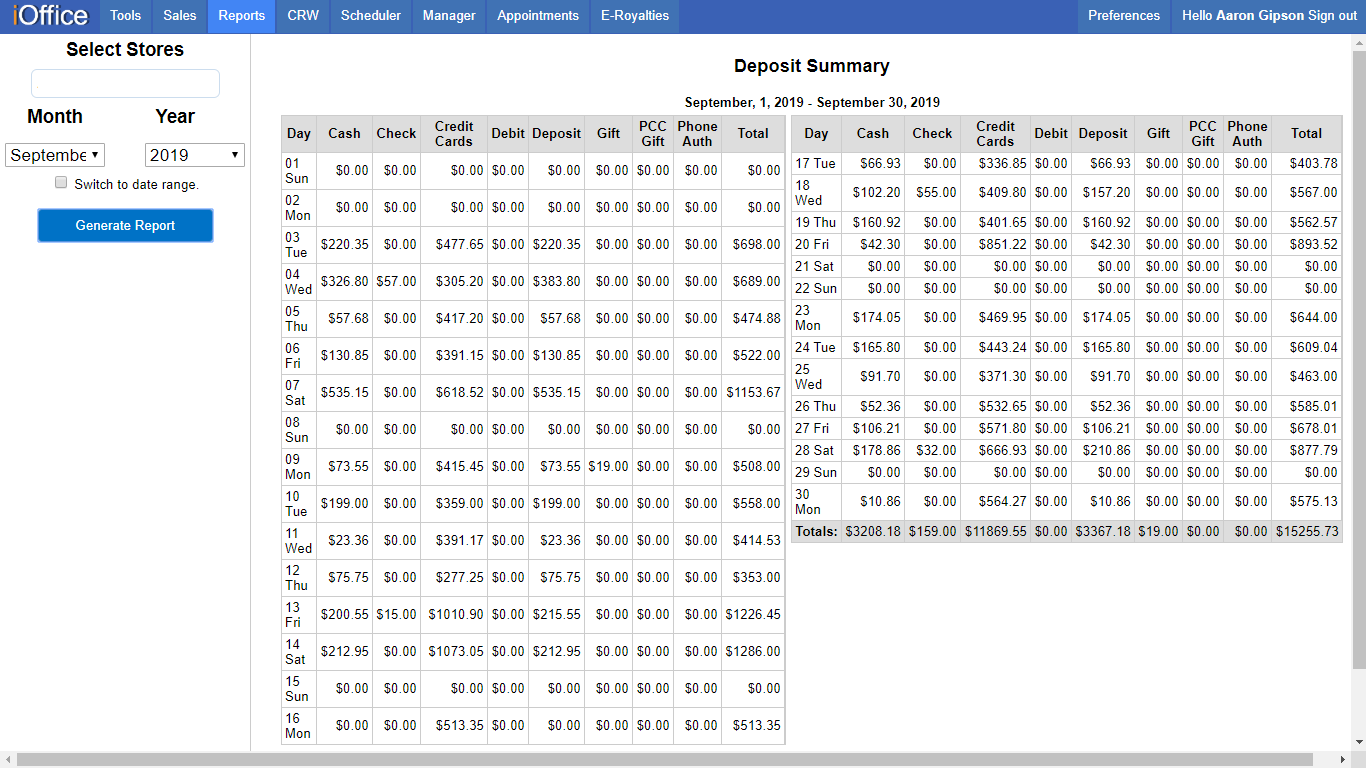 Day: This column will display both the numeric date and day of the week for the purposes of the report.
Cash: This column tabulates all cash that was deposited for the given day.
Check: All check revenue that has been deposited for the day will be shown in this column.
Credit Cards: This column will display all credit card revenue that has come into the register.
Debit: Revenue generated by debit cards will be displayed in this column.
Deposit: The total cash deposit for the day will be shown in this column.
Gift: Gift certificate revenue is displayed in this column for each day.
PCC Gift: Users of PCC Gift Cards will see the deposits for these payment methods tabulated in this column.
Phone Auth: Any phone authorizations that have been performed for the day will have their revenue values displayed in this column.
Totals: Totals for all payment methods and other metrics are tabulated on the far right column, and in the very final row.