In order for the physical cash drawer attached to the register to function correctly, it must first be set up from this interface. This is generally set up by the SuperSalon implementations team during the initial installation of the system.
The Cash Drawer Submenu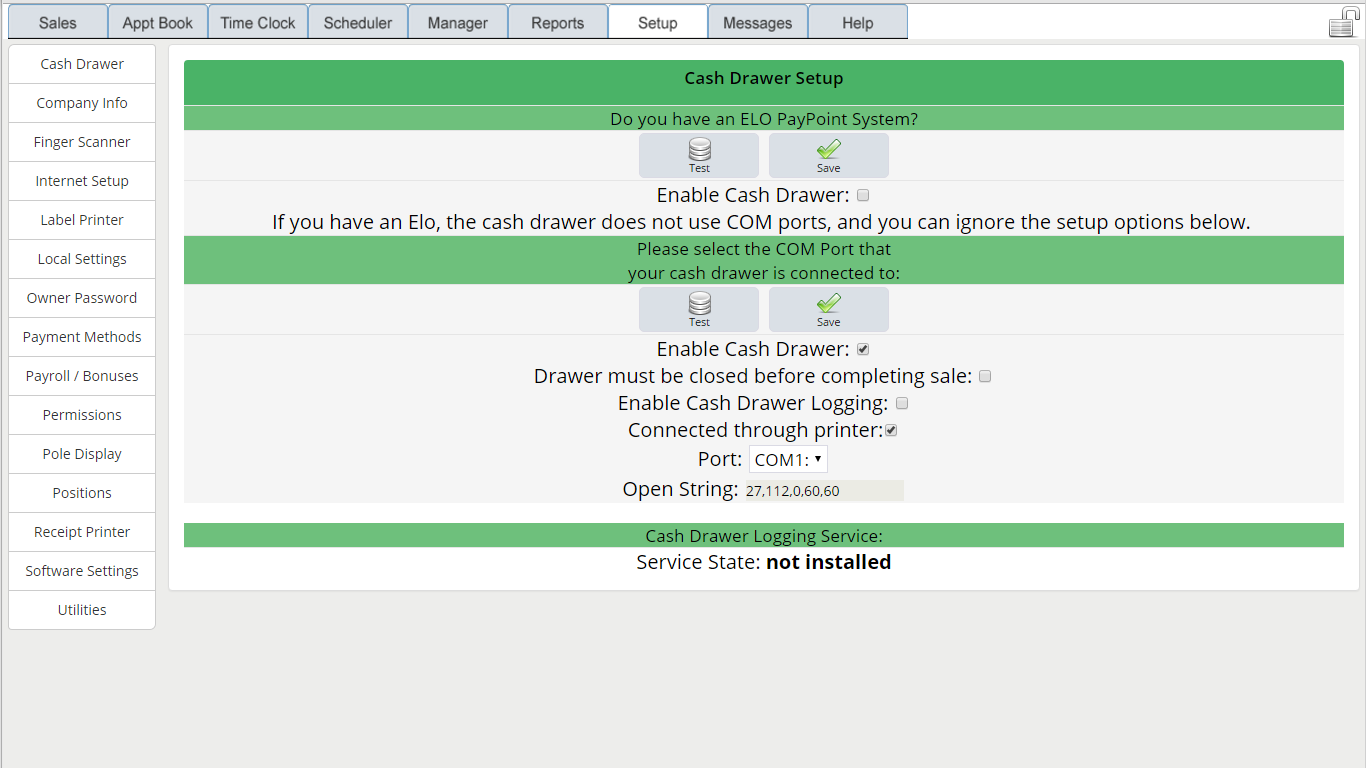 Test: This button allows users to make sure their settings are correct by opening the drawer when pressed.
Save: This button saves any changes that of been made to the interface into SuperSalon.
Enable Cash Drawer: This box can be checked, or unchecked, to control whether the physical cash drawer is currently active.
Drawer must be closed before completing sale: This checkbox, when enabled, will prevent a sale from finalizing until the drawer is physically closed.
Enable Cash Drawer Logging: when enabled, this service will keep a log in the hard drive located at C:\SuperSalon\ssproject\logs\CashDrawerLogger that will show the times of opening and closing the cash drawer.
Connect through printer: when enabled, this setting will allow the physical cash drawer to be daisychained with the receipt printer for initial connection.
Port: This drop-down menu allows users to determine which communication port the cash drawer will be using to connect with the SuperSalon PC.
Open String: This numeric code serves as the activation signal for the cash drawer, and is unique to each manufacturer.
Connecting the SuperSalon Cash Drawer
As stated previously, the initial installation of the cash drawer is generally done by the SuperSalon implementations or sales team. In the event of changing equipment, however, determining what type of connector the cash drawer has is the best first step. Drawers that utilize a DB-9 connector that plugs into the COM port on the back of computers are very common, but some of them also need to be connected to a power source.
Epson and POS X brand printers allow for a cash drawer connection to go through them, and then communicate with the POS. These are the devices most recommended by Roger Software Development for use with the SuperSalon system. Systems that opt for this kind of cash drawer connection should keep the "connected through printer" setting checked, which will gray out the COM port choices.