Average Weekly Sales Report
Location: Reports > Sales > Average Weekly Sales
Average revenue of a salon, displayed by either department or individual technician. Set how many weeks to use for the average values in the filters.
Use Cases by Role
Salon Owner: Owners who are concerned about drooping the sales numbers can reference this report to see what timeframe any slumps began to take place.
Salon Manager: Salon managers can use this report to motivate their teams to outdo themselves from weeks prior.
Salon Employee: Stylists and other salon staff can use this report to see how they are performing currently, compared to other weeks in the past.
---
Data Filters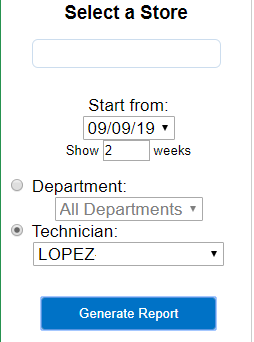 Select a Store: Clicking or tapping here will open the interface that allows the user to select the store(s) that will be be used for the report.
Start from: This drop down menu enables users to determine the start date for the sampling of the report. The number of weeks involved is determined by the number value entered into the text field below the drop down menu.
Department: If users would like for the report results to be filtered by individual department, they can fill in the bubble, and select the department from the choices available in the drop down menu.
Technician: Users who would prefer to have the report results filtered by staff member, can fill in the bubble next to the drop down menu, and either select the individual technician, or all of them for the purposes of the report.
Generate Report: Clicking or tapping on this button will generate the report based on the other filter criteria.
---
Metrics Tracked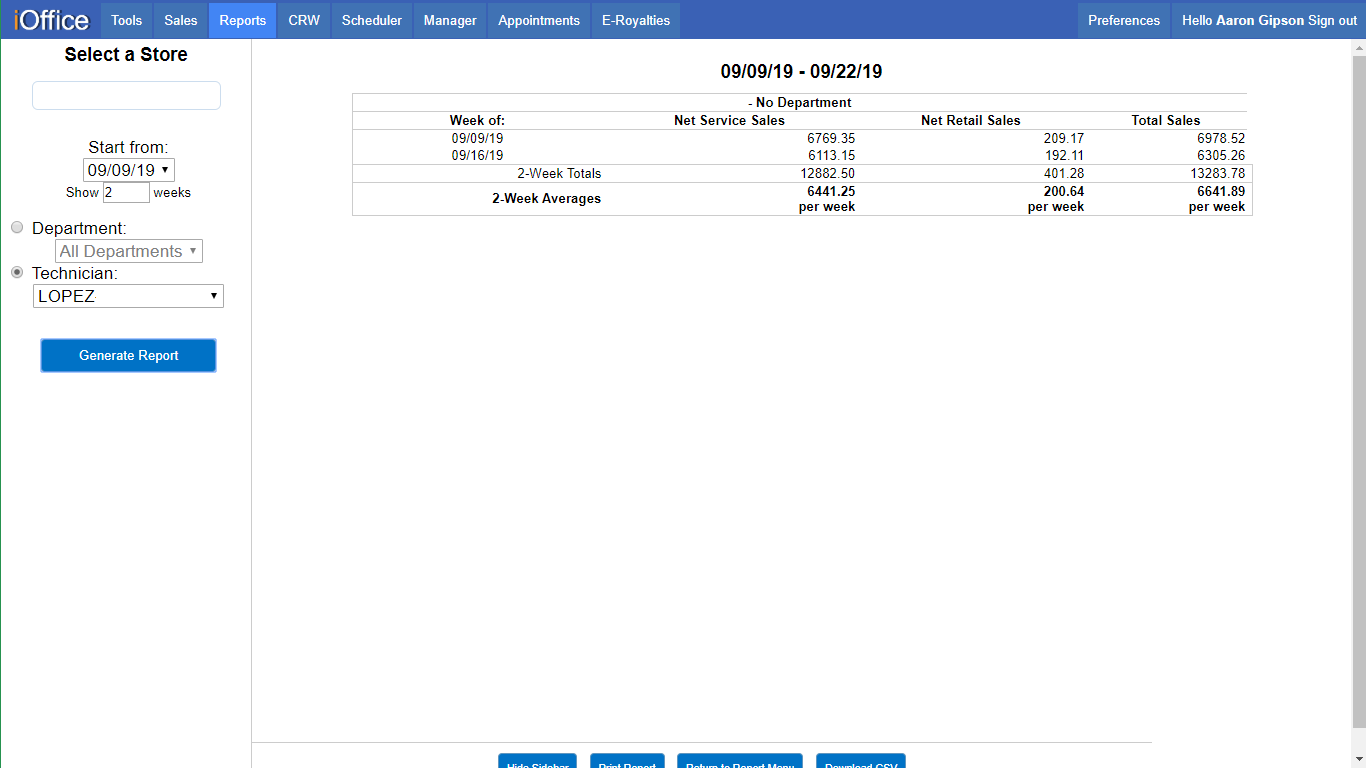 Week of: This column will display the individual weeks involved in the sampling, determined by the filters.
Net Service Sales: The total net dollar value of all service sale revenue generated during the given week.
Net Retail Sales: The total net dollar value of retail product sales generated during the given week.
Total Sales: The total combined dollar value of retail and service sales, in net, for the given week.
Totals: The second to last row in this report will give a tally of each of the metrics listed above.
Averages: Depending on the number of weeks selected for the report sampling, this final row will display the average dollar value of each column.
---
Report Calculations
Total Sales: Net Service Sales plus Net Retail Sales
Averages: Add up the all the numbers in the column and divide by the number of weeks selected