If for any reason your auto report wasn't delivered and you think you may need help from our support team, you can quickly generate the report you need directly on iOffice and print it to a .pdf file if needed – no waiting necessary. Click here to learn about our reporting.
Enables users to make sure key staff members are always up-to-date on important sales, logistical, and performance related statistics for each location. Reports are automatically sent to a predetermined email list, at a predetermined time, establishing a chain of information that can be reviewed at any time.
They're a great tool for a business owner who knows which reports are most useful to them, and would prefer a quick daily/weekly/monthly email over logging into iOffice and running reports manually. It can also be effectively utilized to provide key production and sales metrics to people who might not need full iOffice access, such as:
Salon managers
Production staff
Third party accountants or business auditors
Anyone else who falls into this category
Just add their email to the list using the guide below, and they'll be set up to receive auto reports – it's that easy.
Available Auto Reports
Daily Report
Discount Usage Report
Salon Dashboard
Production
Store Overview
52 Week Tracking Report
Having a problem with an auto report not being delivered? Scroll down or click here to see some troubleshooting to make sure your email provider isn't blocking the email from being received.
---
Creating a New Auto Report
Setting up a new auto report for yourself and/or your staff is simple, follow the instructions below to learn how to configure one from start to finish.
Step One: From anywhere on iOffice, select the Tools tab in the overhead toolbar, and then select the Auto Reports sub-menu within.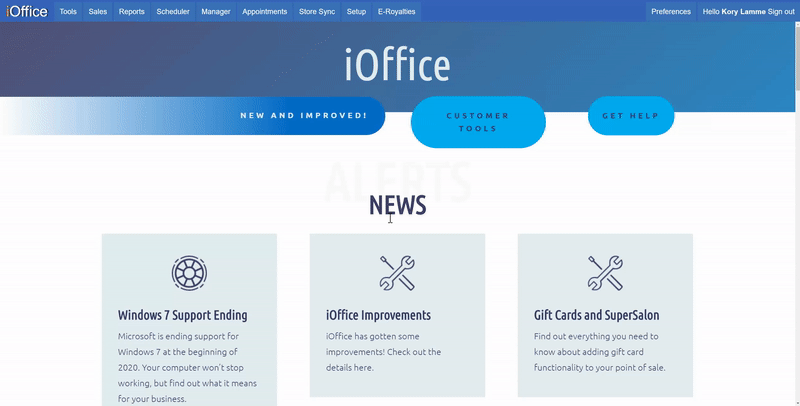 Step Two: Once you're in, click the New Auto Report, and then select the which auto report you'd like to receive via email. Click the Next button.
You can click the Previous button at any time before finishing to go back to any of the previous steps.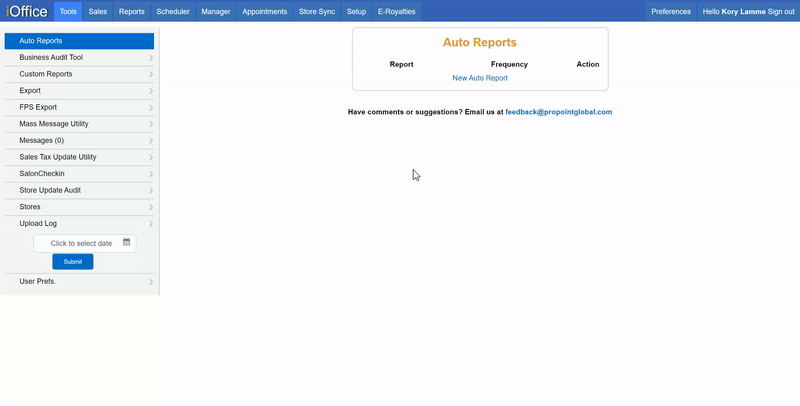 Step Three: Here you'll select which stores will have their data included in the auto report. Choose one or more stores, and then click the Close button. Click Next.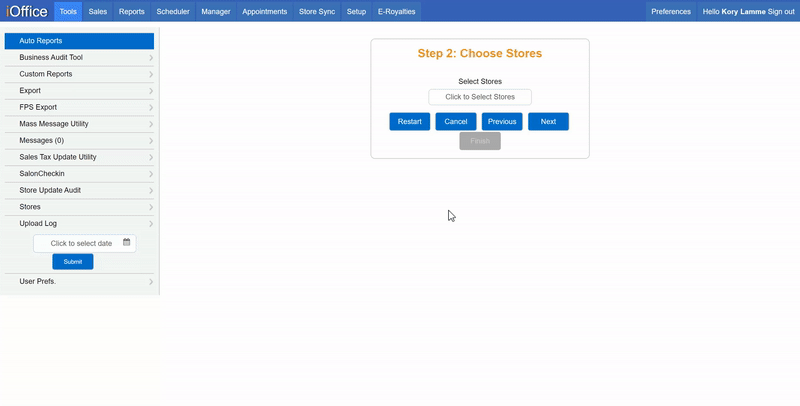 Step Four: Using the Frequency drop-down menu, select whether the report will be sent daily, weekly, or monthly, and then click the Next button.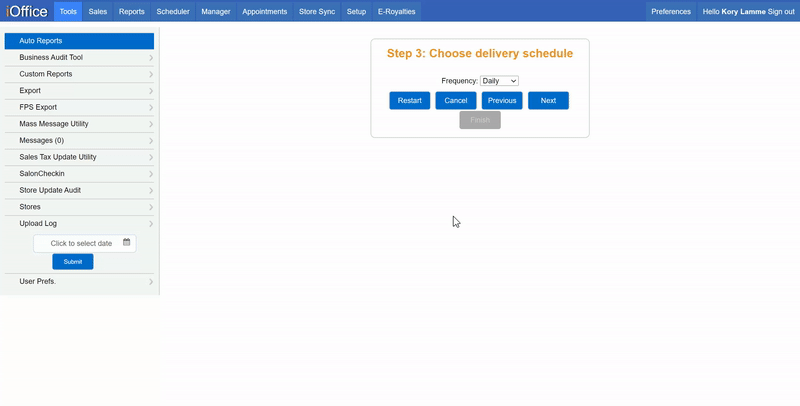 Step Five: Next you can choose which day of the week the report should be delivered to it's recipients on. Click Next.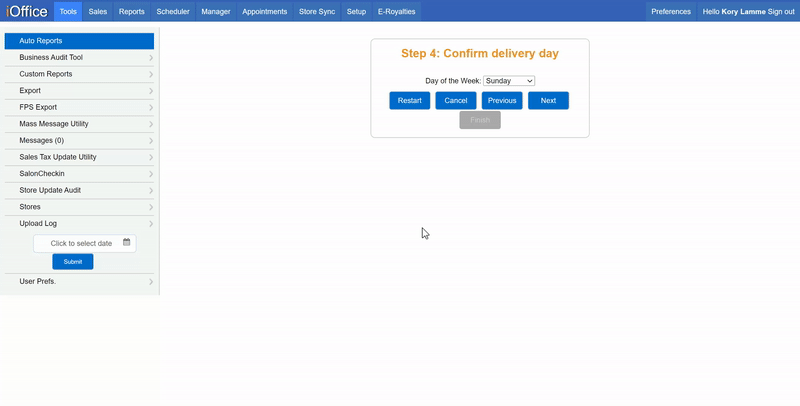 Step Six: Using the given text field, enter the email addresses that the report will be sent to, separating multiple entries with commas. When finished, click the Next button.
Press the Restart button to go back to the very beginning of the configuration process and start from scratch.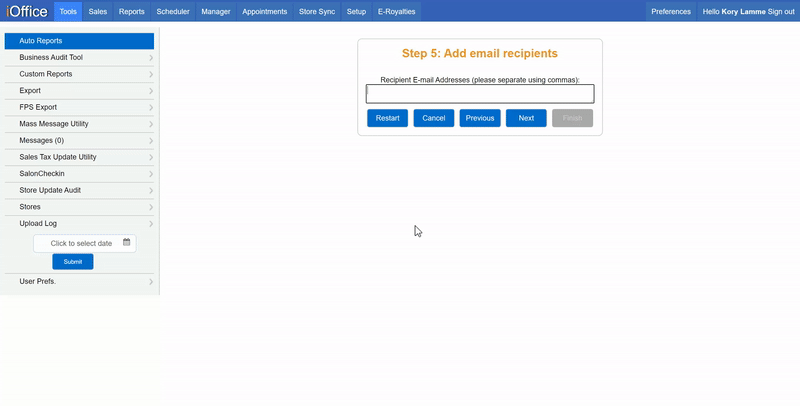 Step Seven: Next you'll be selecting any Additional Parameters that may be applied to the particular auto report being set up.
Discount Usage Report: Choose whether or not to include full service and product breakdowns in reporting totals or not.
52 Week Tracking Report: Select which base haircut to use as a comparison to other services in the reporting data.
None of the other auto reports have any parameters to be configured here, so for those you can just click the Next button.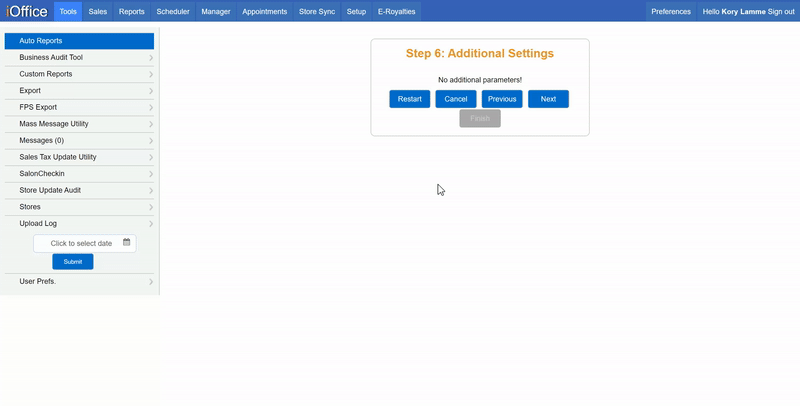 Step Eight: Confirm all information is correct, and make any appropriate changes if needed. If all looks good, click or tap on the Finish button to establish the Auto Report.
Press Cancel if you see a mistake in the Confirmation page or want to back out at any time, for any other reason.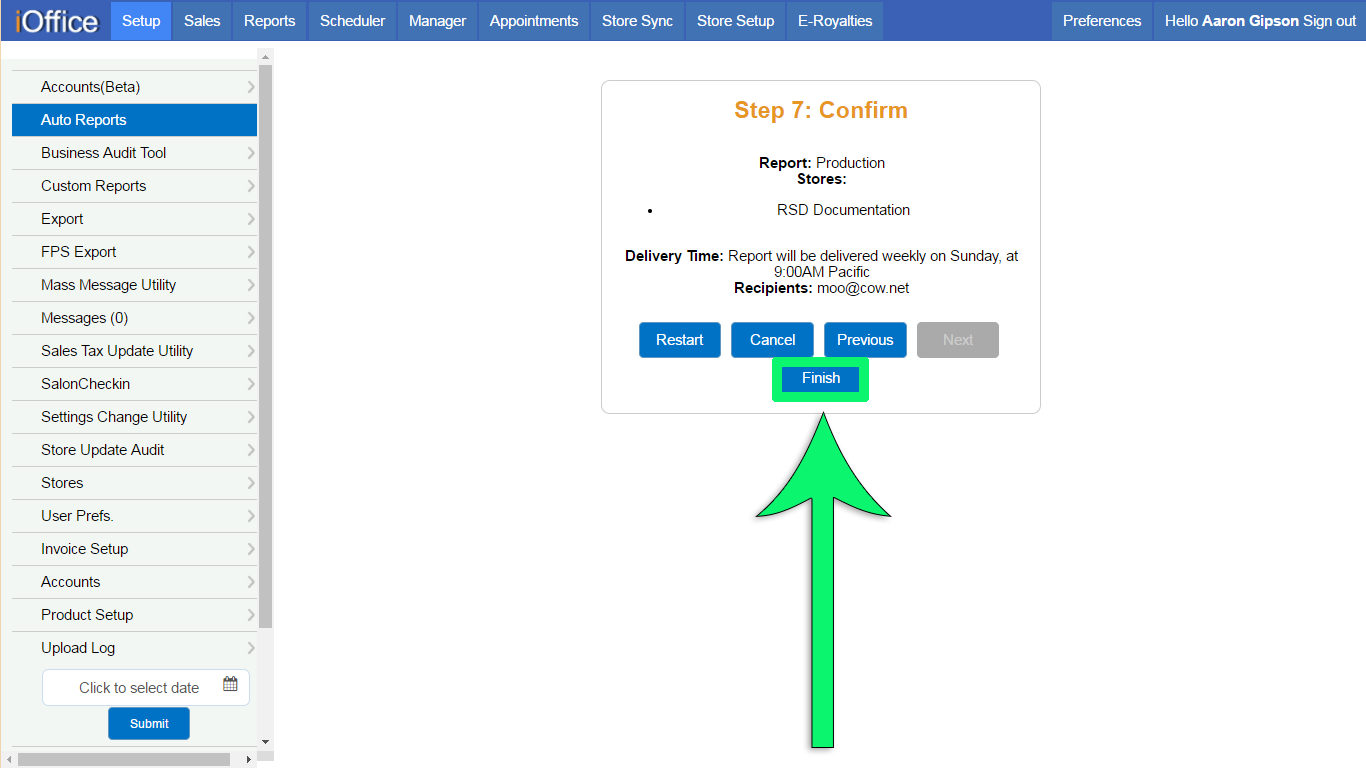 ---
Editing an Existing Auto Report
Making changes to an auto report that's already been set up is just as easy as making a new one, the only difference is clicking the Edit button instead of the New Auto Report button.
Once you click Edit, you will be given the option to change any of the variables you chose during the initial set up of this report.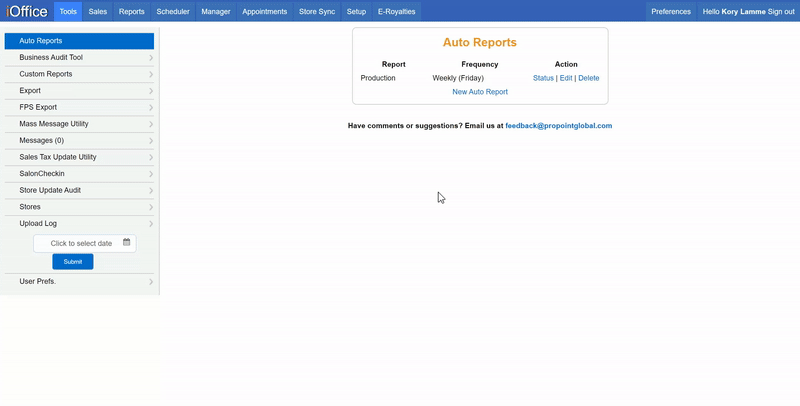 ---
Troubleshooting
Since Auto Reports have a number of configurations that can be made to them, and they are delivered to email recipients through your email filter, there are a few situations that might warrant a little bit of troubleshooting.
Auto Report not Delivering to one or More Recipients
Step One: Check that the report has been configured properly to include any email addresses expecting to receive the auto report by editing the auto report, and make the addresses are separated from one another by a comma. Example: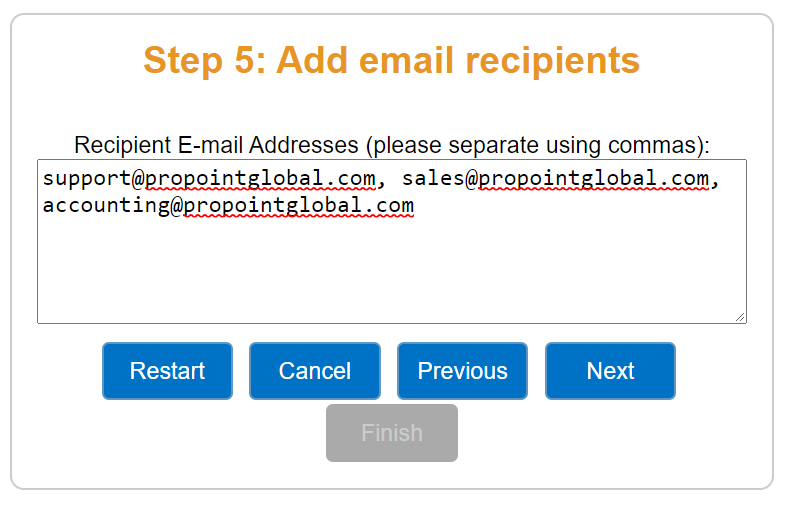 Step Two: Make sure that the auto report wasn't delivered to the recipient's junk mail. They may need to flag the auto report email as safe, or otherwise turn down their junk mail filter to allow it to go into their inbox.
Auto Report Delivered on the Wrong Day of the Week
This can likely be fixed by checking that you have the correct day set in the report's configuration, you can learn how to do that by checking out the Editing an Existing Auto Report section above.
One or More Store's Data Delivered with all 0's
For a store to deliver correct production and sales data via an auto report, the store will need to have completed their closeout for any days in the expected date range, and the salon's computer will need to have uploaded that data to iOffice.
Prevention: The closeout needs to be completed every night for reporting totals to calculate as expected. The salon also needs a stable internet connection and upload interval time to deliver that data to iOffice, and subsequently through an Auto Report.
Resolution: Confirm that the salon staff is following proper closeout procedure, and ensure that an upload takes place through a stable internet connection before the POS is turned off for the night. This can be done by going to the Manager tab, clicking the Upload button and waiting a few minutes for it to complete.
If you're still having problems with an auto report after giving these troubleshooting steps a try, please call our technical support team at 1-888-458-1001 ext. 2 or email us at [email protected]