The Auto Close Out tool allows a salon have their nightly till counts completed automatically, making the nightly closeout process a snap. SuperSalon will calculate all payment types, ticket totals, discount totals, paid ins, paid outs, and deposit amounts autonomously and fill out the closeout page to simplify the close out process for you and your salon(s).
Always review close out data for accounting purposes and to ensure accuracy – the Monthly Financial Report is a great place to get reporting on close out totals!
Auto Close Out Settings
You can find the Auto Close Out settings on SuperSalon through Setup > Software Settings > System > Open & Close on the bottom half of the page.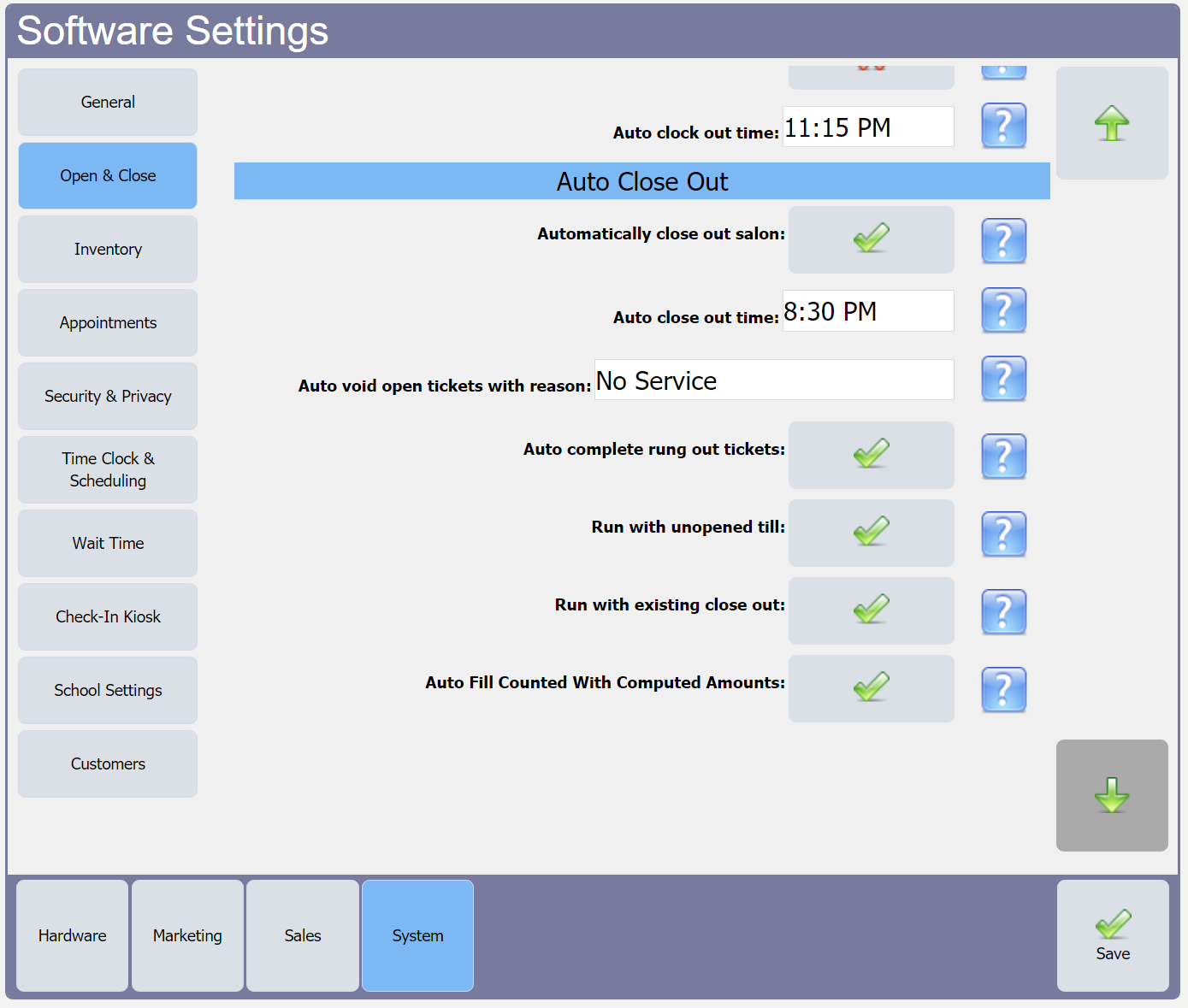 Automatically closeout salon
This is the master switch for using Auto Close Out. It needs to be enabled for any of the other auto close out settings to function. Disable it again at any time by toggling it back off, saving the settings change, and pressing the F5 key on the keyboard.
Auto close out time
Prescribed time at which the auto close out should take place. So if the salon closes at 8 PM but a customer may sometimes be in a chair until 8:15 PM, an optimal time for the auto close out might be 8:30 PM or later.
HH:MM AM/PM format – Example: 8:30 PM
Auto void open tickets with reason
This setting defines the reason for voiding any tickets that are left in open status when the auto close out process runs. This includes tickets in waiting, servicing, and any others that have not had a payment applied to them at check out.

Leave this setting blank to not void open tickets – they will remain in open status instead, and can be dealt with manually the next day.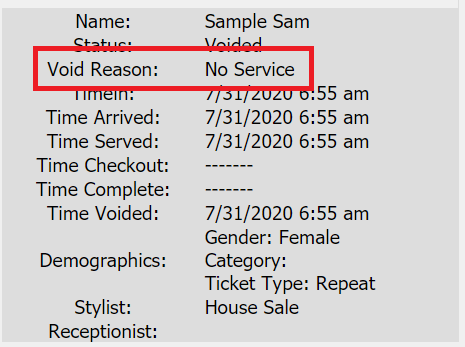 Auto complete rung out tickets
Setting this to "Yes" will automatically complete any tickets that are still in check out – meaning they were paid for by a customer, but not yet put into the completed status by the salon staff.

This is compatible with "Auto void open tickets with reason" setting – rung out tickets will be completed before open tickets are voided
Run with unopened till
If set to "Yes", the auto close out process will run regardless of whether or not the till has been opened for the day. Set this value to "No" to prevent auto close out from running on days that your salon is not open, unless you do not require opening till counts.
Run with existing close out
If set to "Yes", the auto close out process will run even if the salon has already been closed out for the day.
Since the auto close out process does not update your over/short counts, setting this to "Yes" may make your over/short appear inaccurate.
Auto fill counted with computed amounts

Program the auto close out process to use the Computed column of the close out (sales totals by payment type calculated by SuperSalon), and automatically fill them into the End-Day Count column.