Adding Products on iOffice
Adding products to a salon is a fundamental skill that any iOffice user can quickly learn themselves. There are a number of options and variables available both when adding a new product, and editing an existing one.
Adding a New Product to iOffice
Step One: From anywhere in iOffice, click the Manager tab, and then the Products menu within. Select the store that you'd like to add a product to.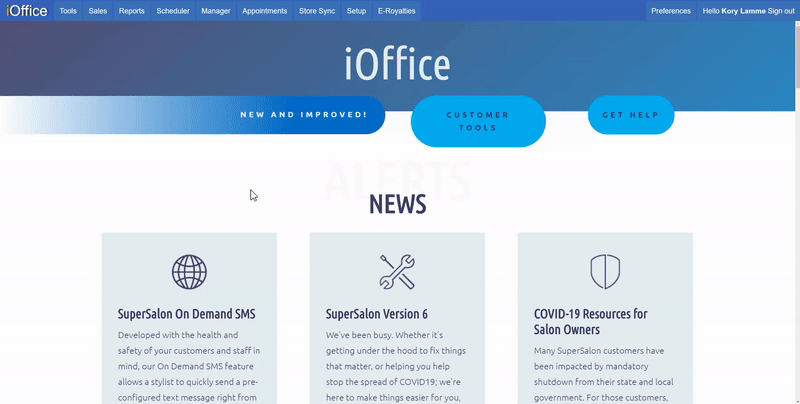 Step Two: Click the Add New Product button.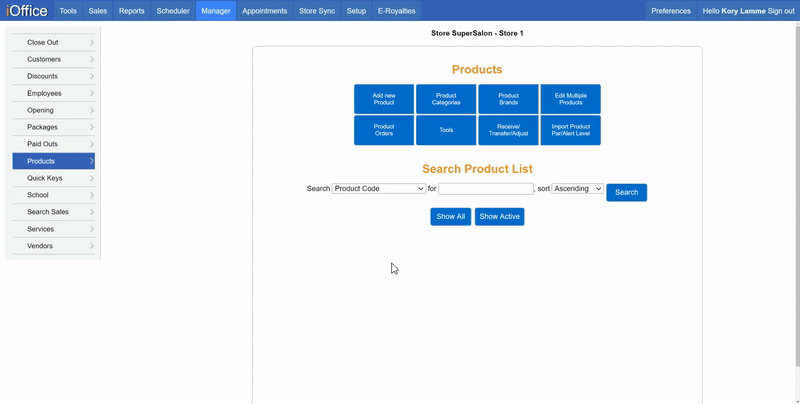 Step Three: Enter product details for inventory and reporting purposes.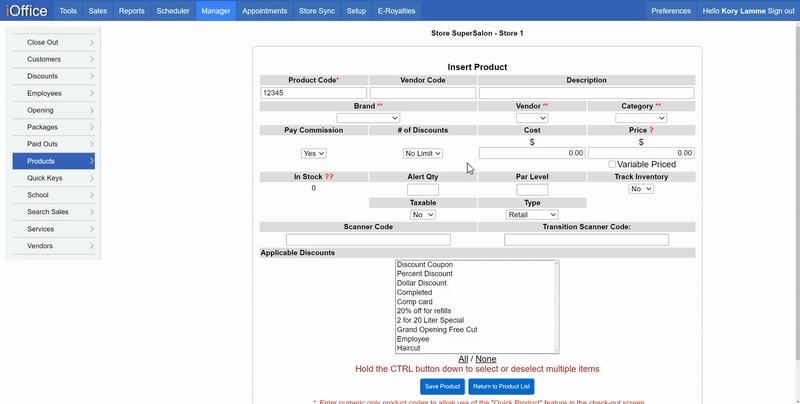 Product Code: Required. Numerical code assigned to the product manually during product creation, or automatically using the Item Master or through a product sync from another store that already has the product.
Vendor Code: Assign a vendor code based on a preexisting vendor the salon has in their database.
Description: Recommended. Short description of the product.
Brand: Recommended. Assign a brand from the brands roster that the salon has in their database.
Vendor: Recommended. Assign a vendor from the vendor list.
Category: Recommended. Assign a pre-configured product category based on the salon's product category list.
Step Four: Determine if the product is eligible for commission, as well as cost and pricing details.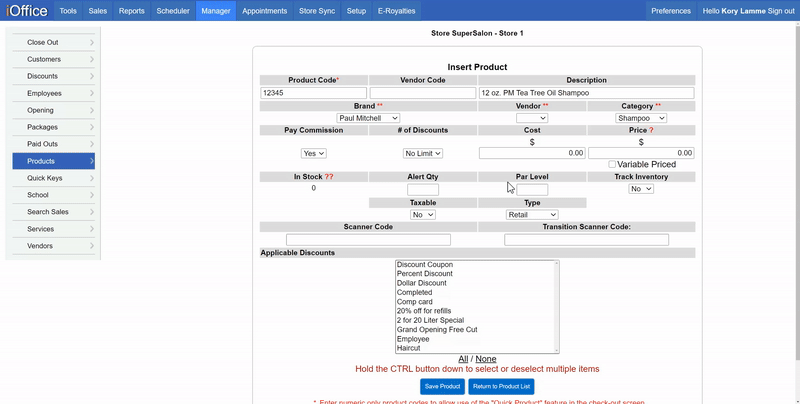 Pay Commission: Yes or No. Determine whether or not the product will be available for employee's to receive a commission from.
# of Discounts: Set a limit to how many discounts can be applied to this product during each sale.
Cost: How much the salon pays the vendor to purchase this product.
Price: What customers pay for the product, pre-tax.
Variable pricing is a great option for a salon who has a more flexible pricing system, and allows salon staff to enter a price manually at check out. Base price is established by what is entered into the price field, and the price can't go lower than this value.
Step Five: Consider inventory settings, helping you easily track and order the product when needed.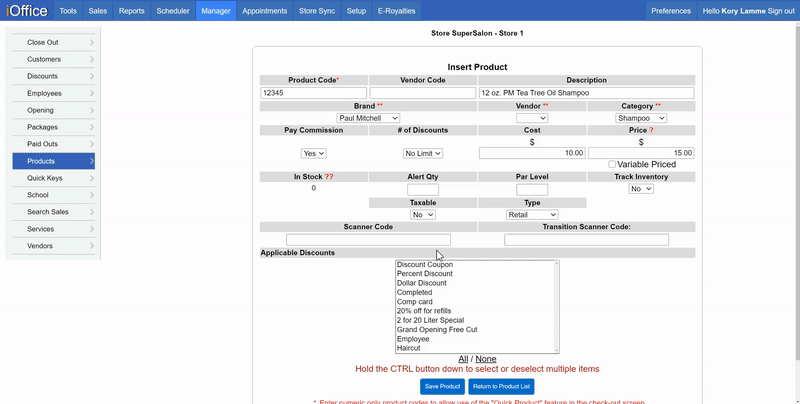 In Stock: Number of this product in stock at the salon. This is a read-only value, and is determined by inventory management.
Alert Qty: Determines the minimum acceptable amount of this item to be placed on the shelves. When in stock numbers drop below this quantity, the product will automatically be added to product orders.
Par Level: Numeric amount of this product that should reflect maximum acceptable in stock numbers.
Track Inventory: Recommended. Determines if this product will be considered in inventory management, product ordering, and product reporting.
Step Six: Set whether the product should be taxed at check out, choose a product type for more refined inventory tracking, and enter bar code details for quick product check out.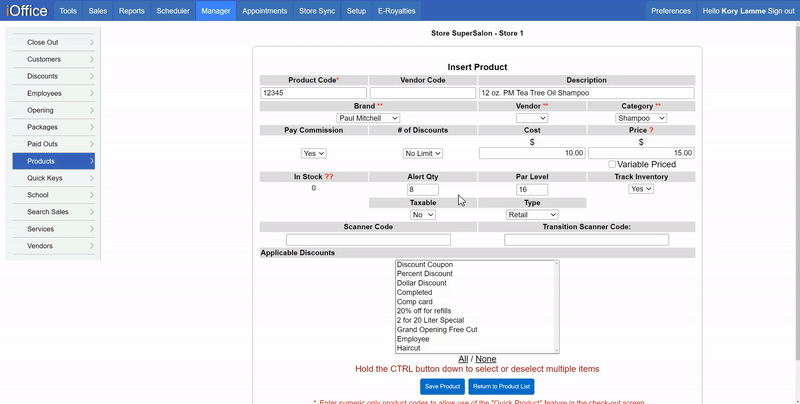 Taxable: Yes or No. Adds a pre-configured tax to the product automatically at check out, usually required by state or local law.
Type: Retail, back bar, color, promotional, tanning. Helps parse out this product based on type, in product reporting.
Scanner Code: The UPC code on the product's bar code, allowing the product to be quickly scanned at check out.
Transition Scanner Code: A secondary bar code numer for a product with multiple UPCs.
Step Seven: Determine any applicable discounts. Select the discounts that will be applicable to the sale of this product by clicking them in the list. all and none are also options, and multiple discounts can be selected by holding down the ctrl key + left clicking.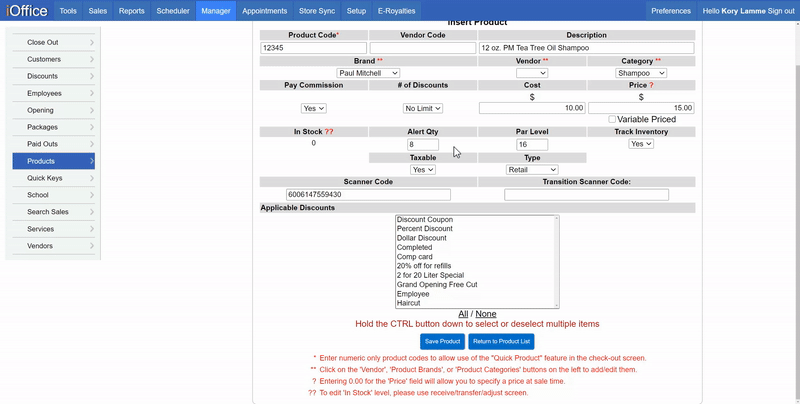 Step Eight: Save the product profile, submitting it to the product inventory by clicking the Save Product button.