Adding Discounts on iOffice
Adding discount to a salon is a fundamental skill that any iOffice user can quickly learn and start taking advantage of immediately. There are a number of options and variables available both when adding a new discount , and editing an existing one. Learn more about which ones might be most useful for you and your business here.
Adding a New Discount to iOffice
Step One: From anywhere on iOffice, click the Manager tab, and then the Discounts menu. Select the store at which you will be creating the discount.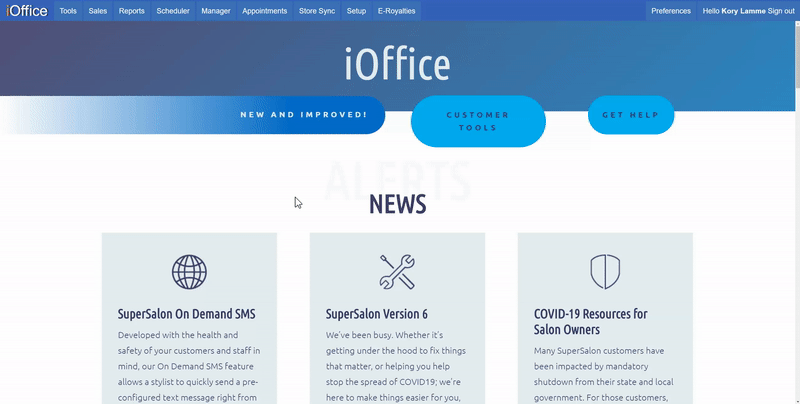 Step Two: Click or tap on the Add New Discount button.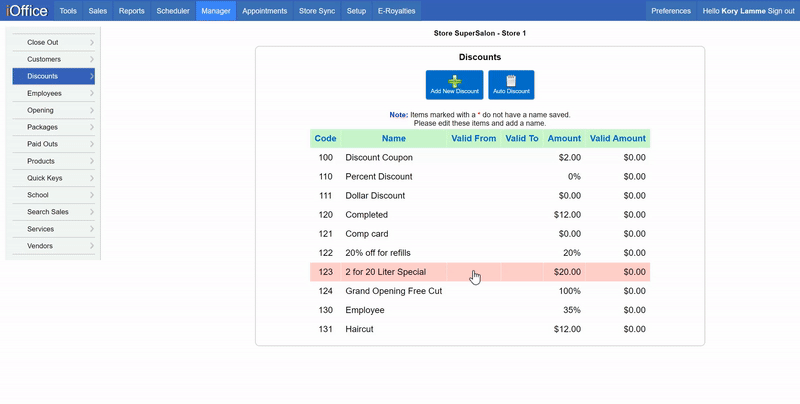 Step Three: Fill out the basic information of the discount you are creating.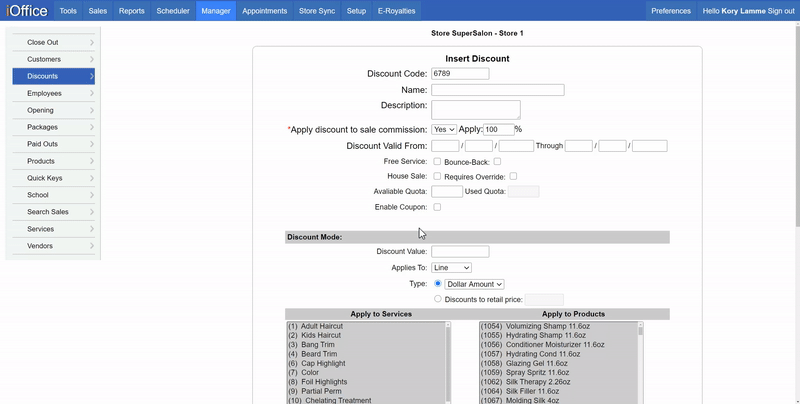 Discount Code: Required. The discount code can be any unique numerical code, in any organizational pattern that is preferred.
Name: This is the name of the discount as it will appear in most reporting and on the sales and checkout screens.
Description: Short description of the discount.
Apply Discount to Sale Commission: This setting enables users to determine how this Discount will affect the commission paid on a product or service, after the discount has been attached.
Example: if an employee sells a $15.00 item with a $1.50 discount, they are paid commission on the $13.50 sale. In other words, 100% of the discount was removed from the commission. If this is set to Yes, a lower percentage amount can be selected to affect the commission. This is useful when products and services are heavily discounted, and employees can still get a reasonable commission.
Step Four: Configure a few of the finer details of how the discount will work.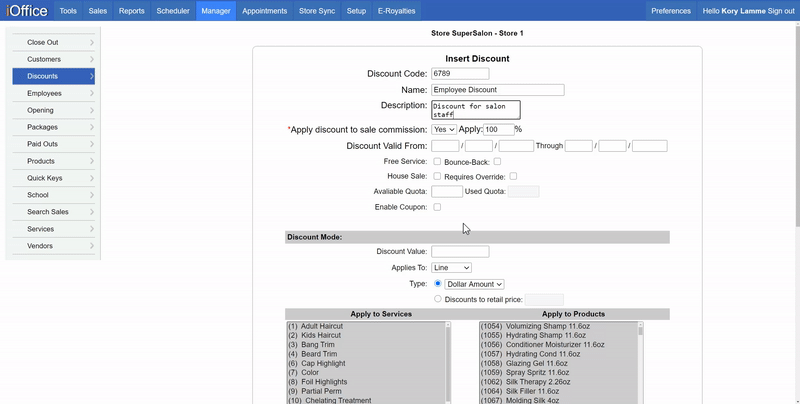 Discount Valid From/Through: Set a start date and expiration date for this discount, after which it will no longer be available for selection at check out. Change the date to extend it, or leave it blank if you want the discount to have no date limit.
Free Service: When this box is checked, SuperSalon's reporting will record this as a free service.
Bounce-Back: These generally refer to coupons given to customers at the salon, offering a discount on a return service. This box should be checked if users would like to see bounce-back discounts listed in the discount reports.
House Sale Only: House sales generally refer to tickets that are processed without employee commission attached. This box should be checked if the discount applies only to the sale.
Requires Override: This box should be checked if the discount will require management staff to approve of its use in a ticket.
Available Quota/Used Quota: This setting allows you to limit the number of times a discount can be used at the salon by any/all customers. Used quota gives you a numerical value of how many times it's been used since it's creation.
Enable Coupon: Enter a start and end number which allows you to release a series of coupons with coupon numbers in between the start and end value. The discount can only be used if one of the coupon codes is entered at check out.
Step Five: Configure the discount value and how it will apply to products and/or services.
Use the ctrl key + left click to select multiple services or products.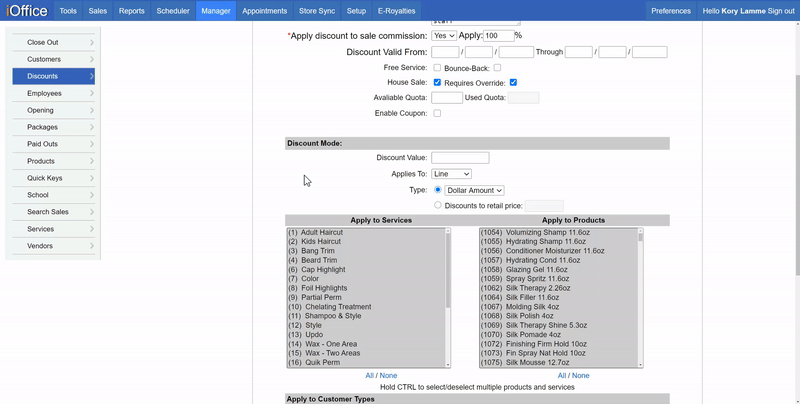 Discount Value: Controls how much the discount will actually be. If the discount type (see below) is set to percentage, the discount value field acts as a percentage. If the discount type is set to dollar amount, the discount value can be set to any dollar amount.
Applies to: Can be set to line, or subtotal. Determines whether the discount is applied to a single item on a ticket, or to the entire subtotal of a ticket.
Type: Controls whether the discount is percentage or dollar based.
Discounts to Retail Price: Use this to override the other discount mode settings, allowing you to configure the discount to bring a product or service to a specific, set price.
Step Six: Choose which products, services, and customer types the discount can be applied to at check out.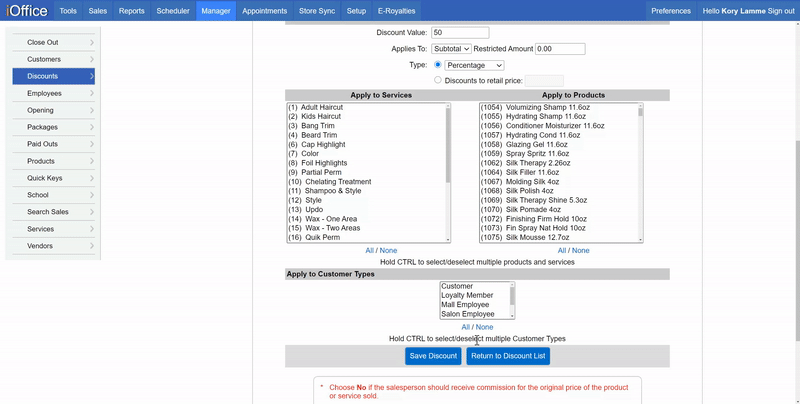 Apply to Services: Choose which services the discount can be applied to at check out.
Apply to Products: Select the individual retail products the discount can be applied to at check out.
Apply to Customer Types: Choose which customer types the discount can be applied to at check out.
Customer types are a discount restriction tool. They can be used to restrict or allow discounts that can be applied to products or services based on customer type, as assigned in a customer's profile.
Step Seven: Save the discount by clicking the Save Discount button at the bottom of the screen.